One Table Oodles of Dishes:
WASARA
By far the most beautiful of the single use dinnerware available in late 2020, is WASARA from Japan. Originally designed by Shinichiro Ogata in 2008, the dishes and utensils are manufactured in China from sugar cane fiber, bamboo, and reed pulp. They are deemed by their manufacturer to be biodegradable, compostable, tree-free, and sustainable. With their careful attention to aesthetics, it seems a shame to only be able to use them one time.
According to the WASARA website, the word WASARA is a compound word formed from two beautiful soft sounds in Japanese. "WA" signifies "Japanese," and "SARA" means "dish."

WASARA describes their product as "tableware for the moment." The design is based on the philosophy of creating tableware that perfectly complements the cuisine being served and fosters an inviting and comfortable atmosphere. The traditional Japanese aesthetic and values are the foundation for WASARA tableware. One sees in each piece the embodiment of traditional Japanese craftsmanship, unrivaled technical skill, and the utmost devotion to hospitality and courtesy toward others. While created with refined Japanese cuisine in mind, the serving of lasagna and French fries on WASARA can elevate the entire dining experience.
There are more than a dozen sublime dinnerware forms, each complementing the next, including tumblers, bowls, kaku (rectangular/square plates) in small, medium, large, maru (round plates) in small, medium, large, compotes, wine cups, choko (soba cups), coffee cups, wasara (compartmental triangular plate), and nagakaku (trays). New elegant forms appear periodically, such as the hachi (large bowl), kozu (taster), and oval bowl. There are also bamboo utensils that each have a notch to gently attach them to a plate or bowl.
Shinichiro Ogata was born in Nagasaki Prefecture. Although he has claimed he is neither an architect or chef, the descriptors, "Tokyo-based architect, designer, restaurateur and chef" always seem to begin an introduction to any story about him and his current project. After he completed his studies in interior design, he traveled frequently to New York City. He has admitted to being a fan of American architect, Frank Lloyd Wright, who, in 1923 designed the Imperial Hotel in Tokyo. In 1998 Ogata established Simplicity Co., Ltd. His projects are many and his accomplishments all reveal his overarching intention to redefine the next generation of Japanese culture and design. He has developed his own Japanese dining club and tea house in Tokyo. Ogata has created his own brands and product lines. His additional projects involve architecture, interiors, products, packaging and graphic design for museums, universities, and hotels. He has won numerous awards, including the Good Design Award from the Chicago Athenaeum: Museum of Architecture and Design 2010. A January 2, 2020, article in the New York Times described one recent tour de force, a multi-story complex in Paris, comprised of a tea salon and tea shop, a pastry shop, a bar, a full-service restaurant, a crafts and houseware store, and an art gallery. Not surprisingly, it is called "Ogata."
References: website wasara.jp; thejapantimes, October 1, 2020; The New York Times Style Magazine, "The Best of Japanese Dining and Design Under One Parisian Roof," by Thomas Chatterton Williams, January 2, 2020.
essay by Margaret Carney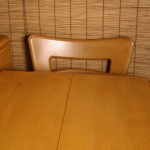 Click on a thumbnail to see another place setting.