One Table Oodles of Dishes:
Vadna of California
During and immediately following World War II, with imports cut off from European and Asian markets and bigger industrial pottery companies enlisted to aid in the war effort, there were hundreds of small family-owned and medium-sized pottery companies that emerged in the United States to fill the need for tableware and giftware. By 1948, the peak year for the pottery industry, there were over 800 ceramic companies in operation throughout California alone. Vadna of California was one of these small family-owned pottery companies.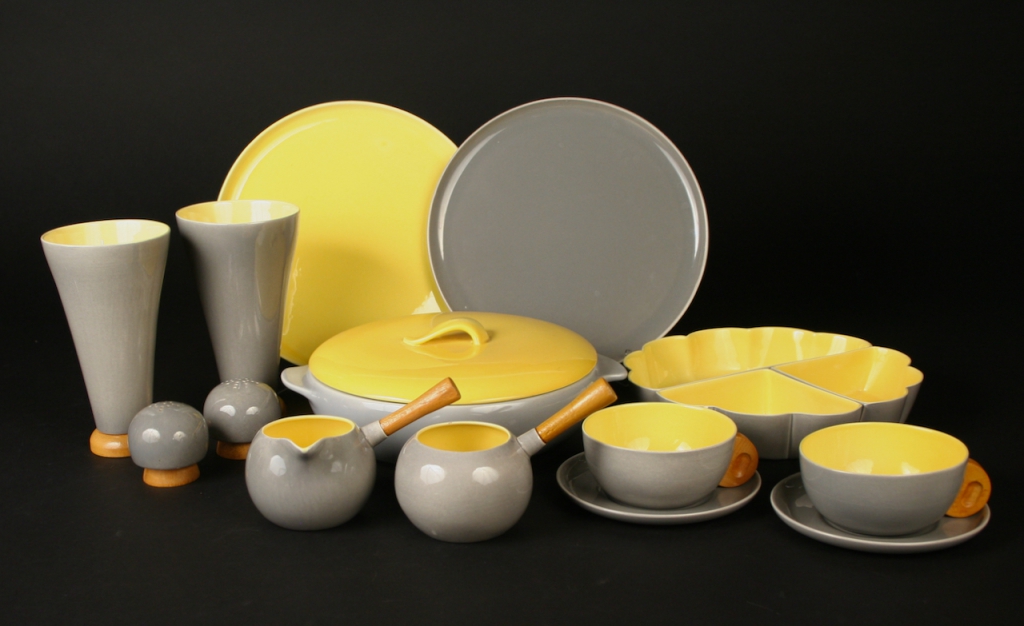 Dissatisfied with their jobs at a local bank, and with a desire to produce beautiful and functional things, William Hardesty Humfreville (1907-1982) and his wife Vadna Elder Humfreville (1914-1998), of Pasadena, California, decided to change careers and start their own business. They initially considered manufacturing wood products, but seeing a need in the market and with readily available materials, they decided to pursue pottery manufacturing. With no previous creative experience or background in the industry, they took pottery classes at the local college and studied ceramics from many technical books on the subject. One of the books given to Bill from Vadna was inscribed, "Dear Bill, May this little book help you fulfill your dreams. With love, Vadna, Christmas 1945."
By 1946, after immersing themselves in the subject, they opened Vadna of California in Los Angeles, California, where they designed and produced all sorts of aesthetically modern ceramic products including dinnerware and decorative giftware. Bill designed all of the ceramic shapes taking care to make sure that they were functional and that wall thicknesses were as thin as possible, while still maintaining durability. To the dinnerware he added unique wooden handles and bases…an innovation that originated from their initial idea to manufacture wood products. Vadna, with a fine visual sense, formulated the glaze colors and designed their hand-painted dinnerware patterns.
Bill and Vadna continued living in Pasadena with Bill's daughter Ann (born in 1931) from his first marriage, and Vadna's mother Mabel Elder (1888-1968). It was not uncommon for Bill and Vadna to work at the company twelve hour days, seven days a week…but it was their dream and a labor of love. Along with an employee or two, Mabel, Josephine Hardesty Green (Bill's mother; 1879-1977), Ann and eventually Lynn (Bill and Vadna's daughter; born in 1949) would work at the family-run company.
Introduced sometime in 1946, Vadna of California dinnerware, with its fresh modern design found quick success with national distribution and promotion. Bill and Vadna wisely enlisted the services of Wally Blodgett, a prominent and successful housewares sales representative, who placed the dinnerware in many specialty and department stores in California and throughout the Central and Western United States.
Thin-walled, semiporcelain Vadna of California dinnerware was offered in two-tone color schemes or in single colors with hand-painted patterns. Available pieces in the line included: coupe-style plates in five sizes, cereal bowl, fruit bowl, medium and large serving bowls, cup and saucer, handled mug, covered sugar, creamer, coffee pot, teapot, vase, tumbler, salt and pepper shakers, five candlestick holder, individual ashtray/sauce dish, large ashtray and a covered cigarette box. They were bottom stamped Vadna of California. In a 1947 J. M. Biow Company, New York promotional journal it was described as "… a smartly-styled line of open stock tableware in highly-fired, almost china-like weight of pottery. Blond finished hard wood handles permanently attached […] to cups, soup bowls and sugar and cream sets […] and as the base of tumblers and salad bowls give this informal potter great distinction. The attractive colors have great appeal too for their two-tone color schemes of dubonnet with chartreuse, pink with blue, chartreuse with blue and grey with yellow."
A Dunlap's Decorator Shop announcement in the Avalanche Journal (Lubbock, Texas; September 21, 1952) called Vadna of California dinnerware "something pretty special" and "although conservative, it combines fine quality of design, line and color." It was noted that pieces were sold in open stock…cup and saucer–$2.25, plate–$2.25, cereal bowls–$1.75, bread and butter–$1.50, vegetable bowls–$5.00, salt and pepper–$1.75 the set, sugar and creamer–$3.50 the set, teapot–$6.00, tray–$3.00, goblet–$1.50, and many odd pieces.
In 1954, after deciding "that Pasadena had become too crowded for tolerable living conditions" and in search of a better school system, Bill and Vadna moved their family and business to Leucadia, a small beach community located near Encinitas, California. To take advantage of Leucadia's tourist trade, Bill and Vadna added a small retail store where they sold their own pottery as well as objects from other potters, artisans and local companies.
Favorable trade agreements toward Asian countries contributed to inexpensively-priced, imported ceramic wares flooding the United States market in the 1950s. Along with many other pottery companies, Vadna of California found it difficult to stay competitive with their labor-intensive dinnerware. At some point during the mid-fifties, they stopped dinnerware production and concentrated on selling ceramic giftware, especially drip-glazed and custom mugs. In an effort to promote their new location, they started marking their pottery Vadna Ware, Leucadia, California.
Vadna's became an important part of the Leucadia community and an anticipated destination for weekend visitors, who would stop in to buy pottery and a mug or two. For many years Bill and Vadna sponsored a Little League team. Each team player would receive a commemorative Vadna mug regardless of how the team finished. Custom Vadna mugs were made for the participants in the annual Encinitas Christmas Parade (now called the Holiday Parade).
During the summer of 1968, Bill Humfreville suffered a heart attack and was hospitalized for several weeks. Although he recovered, later that fall, Bill and Vadna decided to close the business, retire and sell the property.
References: Interview with Lynn Humfreville Zenick (with Scott Vermillion and Jim Drobka, December 31, 2020); Archival Research and Materials, many thanks to Jim Drobka (Los Angeles, California, 2020); Buzz Blodgett Email (to Scott Vermillion, January 3, 2021); Vadna Elder Humfreville Obituary (North County Times, Oceanside, California, January 9, 1998); California Pottery: From Missions to Modernism, Bill Stern (Chronical Books, First Edition, Second Printing, 2001); California Pottery, Jack Chipman (Collector Books, 1999); California Pottery Scrapbook: Identification and Value Guide, Jack Chipman (Collector Books, 2004); Home Furnishing Trends: Interpreted for Merchandise, Promotion, Display Departments (The J. M. Biow Company, New York City, 1947)
essay by Scott A. Vermillion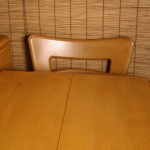 Click on a thumbnail to see another place setting.