Past Exhibitions
from the International Museum of Dinnerware Design
---

Dining In Dining Out
at the Stone Chalet in Ann Arbor, April 15-17, 2018
There were fifteen reasons to visit the International Museum of Dinnerware Design's special 3-day-only exhibition, Dining In Dining Out. It was a true celebration of dining experiences guaranteed to make the viewer smile. Fifteen dining vignettes were presented free to the public April 13-15, 2018 in the beautiful Mid-Century Modern events space, part of the Stone Chalet at 1917 Washtenaw Avenue in Ann Arbor. The free public reception was Friday evening 5:30-7:30 p.m. Each minimalist vignette was intended to remind the viewer of a memorable dining experience.
LINK to Dining In Dining Out Page
---


Timeless Dinnerware Design
at SOFA Chicago 2017, Navy Pier, November 2-5 2017
Timeless Dinnerware Design is special exhibition by the International Museum of Dinnerware Design for SOFA Chicago 2017, focusing on dinnerware created since the 1930s; each object or set, a masterpiece in dinnerware design that has proven to be lasting, classical and eternal and exudes timelessness in its presentation – work that captures our imagination whether it is futuristic, nostalgic, or of the moment. Curated from the permanent collection, the exhibition is a sample visual exploration of dinnerware designed duringthe last 100 years. Some were intended to adorn our fine tabletops for all eternity, and others were created to be less permanent, despite attracting qualities and design success and accolades galore.
LINK to Timeless Dinnerware Design Page
---

Barware
at Morgan & York, 1928 Packard, Ann Arbor, Michigan
September 11 – October 14, 2017
The International Museum of Dinnerware Design's specialBarware exhibition at Morgan & York, a fine wine and specialty foods establishment in Ann Arbor, offers a perfect opportunity to see a sampling of well-designed objects from its permanent collection intended to be used in making or serving cocktails, beer, or sake. Each has an element of beauty, and often there is an additional element of celebration and fun. These barware objects for special occasions remind one instantly of the 1930s, 40s, 50s, and 60s in the United States, Europe and Asia. All are made from glass, ceramic, metal and/or plastic/bakelite.
---

Dining Mid-Century
at the Stone Chalet in Ann Arbor, Michigan
May 12 – 14, 2017
Dining Mid-Century is a very temporary 3-days-only pop-up exhibition which captures the flavor and essence of dining in the 1950s and 1960s, including furniture, dishes, glassware, flatware by leading mid-century designers and an occasional tableau of special dining moments possibly involving ants, a TV, and more.
LINK to Dining Mid-Century Page
---

a la carte: from the studio to the table
The Student Center Building at Washtenaw Community College, 4800 E. Huron River Drive, Ann Arbor, Michigan
January 9 – February 18, 2017
The special exhibition a la carte: from the studio to the table, features 15 ceramic artists, including (alphabetically) Fong Chow, Val Cushing, Paul Eshelman, Gerry Eskin, Julia Galloway, Steven Godfrey, Ursula Hargens, Brigitte Lang, Clay Leonard, Beth Lo, Pete Scherzer, Jon Singer, Chris Staley, Irma Starr, and Marie Woo. Their work varies from the sublime to fun and/or whimsical. Each artist has created a utilitarian masterpiece that will be used and cherished for generations to come. In this case, these pieces have been acquired, catalogued, and photographed and will be appreciated as one enduring aspect of the permanent collection of the Dinnerware Museum.
LINK to a la carte Page
---

Cake
The Museum on Main Street, 500 N Main St., Ann Arbor, Michigan
April 9 to September 4, 2016
Sponsored in part by "JIFFY" Mixes of Chelsea Milling Co., Zingerman's Community of Businesses, Plum Market, and Trader Joe's of Ann Arbor.
When one thinks about cake, a celebration comes to mind. The Ann Arbor-based Dinnerware Museum, the only museum in the world devoted to all-things for the table, in partnership with the Washtenaw County Historical Society's Museum on Main Street, presents Cake, a celebration of cake and all its related tableware – featuring an invitational and juried exhibition of cake stands and cake sculpture, created by contemporary artists working in ceramic, glass, and plastic (think Legos), as well as vintage cake stands, all displayed amidst sweet and delicious details about the history of cake, cake idioms, and related utensils and paraphernalia. Expect some cake sculpture, too. And, yes, there will be cake!
---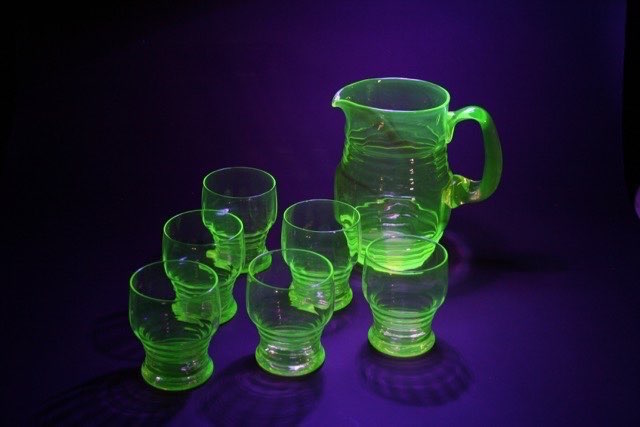 Thirst Quenchers
Ann Arbor District Library, Downtown Branch, Lower Level, 343 South 5th Ave, Ann Arbor, MI 48104
January 19 – February 25, 2016
The concept of an exhibition celebrating the notion of quenching one's thirst, includes but goes beyond the usual kinds of drinking vessels one utilizes on a daily basis. Quenching one's thirst involves special memories because it literally means to drink until one is satisfied. While it may involve the same act over and over again — pouring a drink of water, juice, hot cocoa, beer, Kool-aid, lemonade, milk, coffee, tea, a cocktail, sake, liqueur, or some other beverage, it is the desire to satisfy one's thirst that is so memorable. And it is made even more memorable based on the circumstances and the types of dinnerware involved. The utensils could be ceramic, metal, plastic, glass, paper, or wood. And in one's memory the pouring vessel and the receptacle are probably both beautiful and a distinctive shape.
LINK to Thirst Quenchers Page
---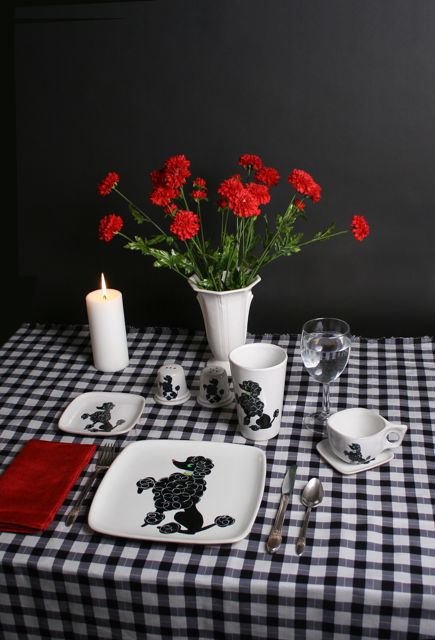 The Dinnerware Museum:
a Place at the Table
A Gifts of Art Invitational Exhibition
University of Michigan Health System Gifts of Art Gallery – Cancer Center Elevator Alcove, Level 2, 1500 E. Medical Center Drive, Ann Arbor, MI 48109
www.med.umich.edu/goa
January 7 to December 2015
The title of this special exhibition, part of the Gifts of Art project at the University of Michigan's Comprehensive Cancer Center, is also indicative of the proposal the Dinnerware Museum is making to the Ann Arbor community as well as the world community, in general – requesting a "place at the table" comprised of the foodie, cultural, educational, entertainment, and museum audiences that are interested in supporting the only museum in the world devoted exclusively to the subject of dinnerware.
---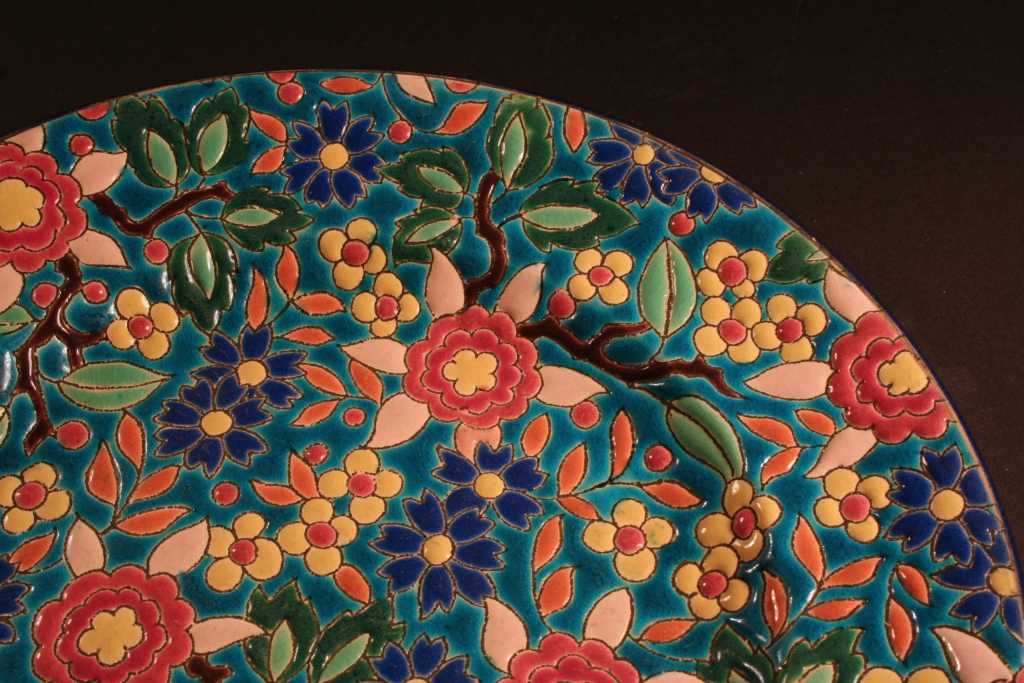 Delicious Dishes
Riverside Arts Center, 76 North Huron St.,Ypsilanti, MI 48197
August 6-29, 2015
Sponsored in part by Whole Foods Market Ann Arbor and Trader Joe's Ann Arbor.
Delicious Dishes was just like it sounds – a beautiful, colorful and tempting display of dishes that are delicious, with or without accompanying food. Works exhibited were created of ceramic, glass, plastic, wood, and metal and originated in the U.S., England, France, Germany, Portugal, Japan, and China, between 960 A.D. and the present. Diverse was the key descriptive element. There were walls of plates! The rare prototype photosensitive glass plate with the fern pattern designed by Ted Reyda at Corning, allowed the host or hostess to change their dinnerware every time he or she changed the tablecloth. Just imagine "new" dishes by just changing the table surface beneath the plate!
---

Time for Dinner
Collaborative Exhibit/Sale
Handmade Dinnerware and Table Linens with selections from The Dinnerware Museum
Textiles – Ceramics – Art Tiles – Jewelry – Found Art
Front Porch Textiles Studio, 1219 Traver St, Ann Arbor, MI
May 8 – 9, 2015
---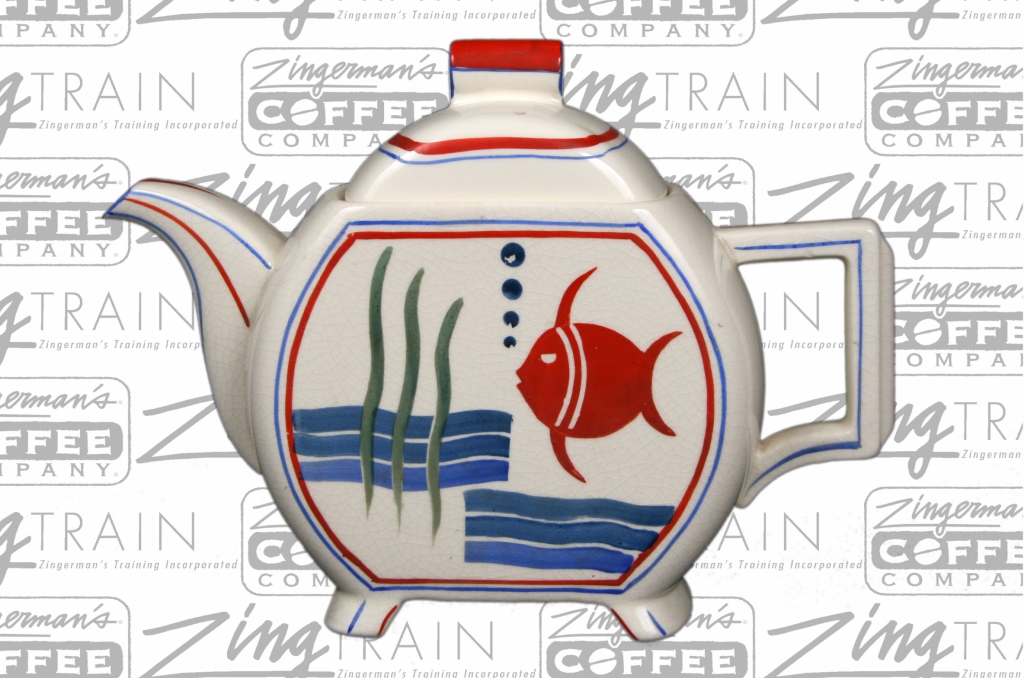 TEA
A special exhibition at Zingerman's Coffee Company, 3723 Plaza Drive, Ann Arbor and ZingTrain, 3728 Plaza Drive, Ste. 5, Ann Arbor
January 26 – April 10, 2015
---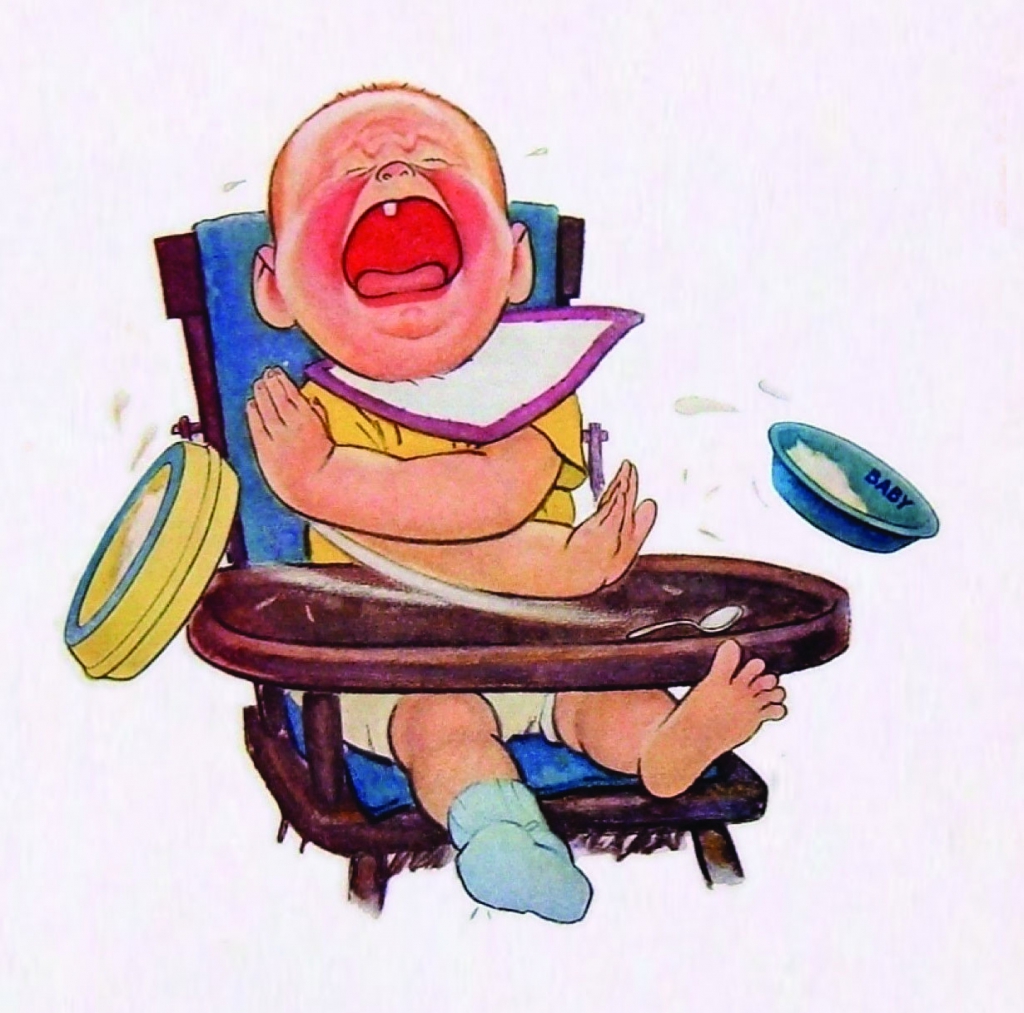 The Art of High Chair Fine Dining
at the Ladies Literary Club, 218 North Washington Street, Ypsilanti, Michigan
September 2 – 29, 2014
[Link] to The Art of High Chair Fine Dining page
---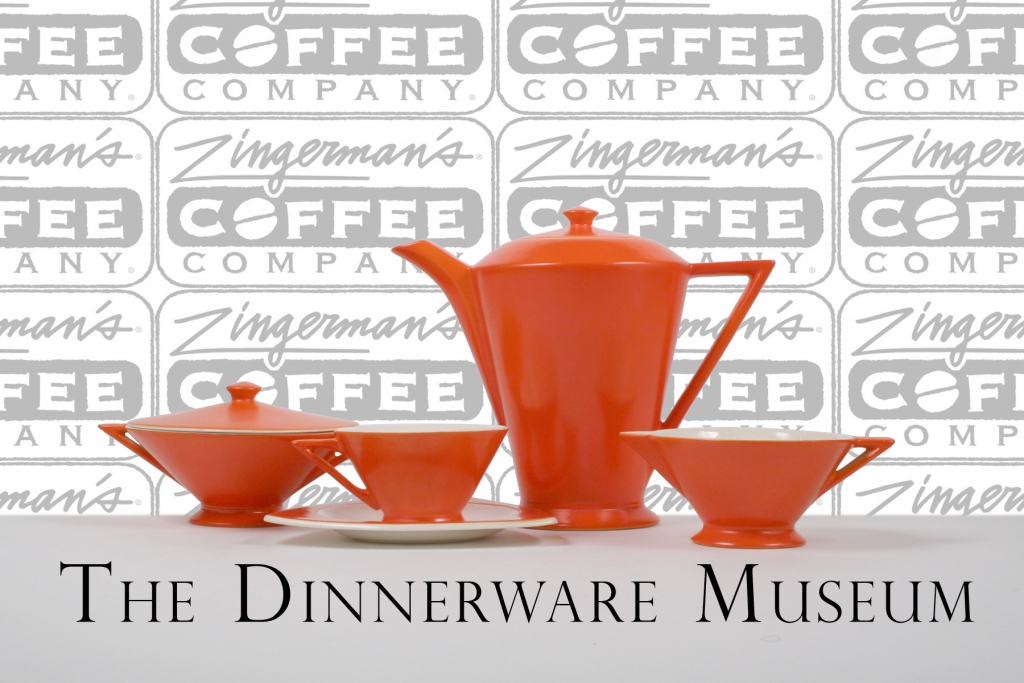 Coffee
A special exhibition at Zingerman's Coffee Company
3723 Plaza Drive, Ann Arbor 734-929-6060
June 22 – August 23, 2014
---

The Dinnerware Museum: Three Courses
at the Museum on Main Street
500 N Main St
Ann Arbor, Michigan
Dec 6, 2013 – May 12, 2014
Open Saturday and Sunday 12 – 4 pm and by appointment
Opening reception, Friday, December 6 at 5 pm
---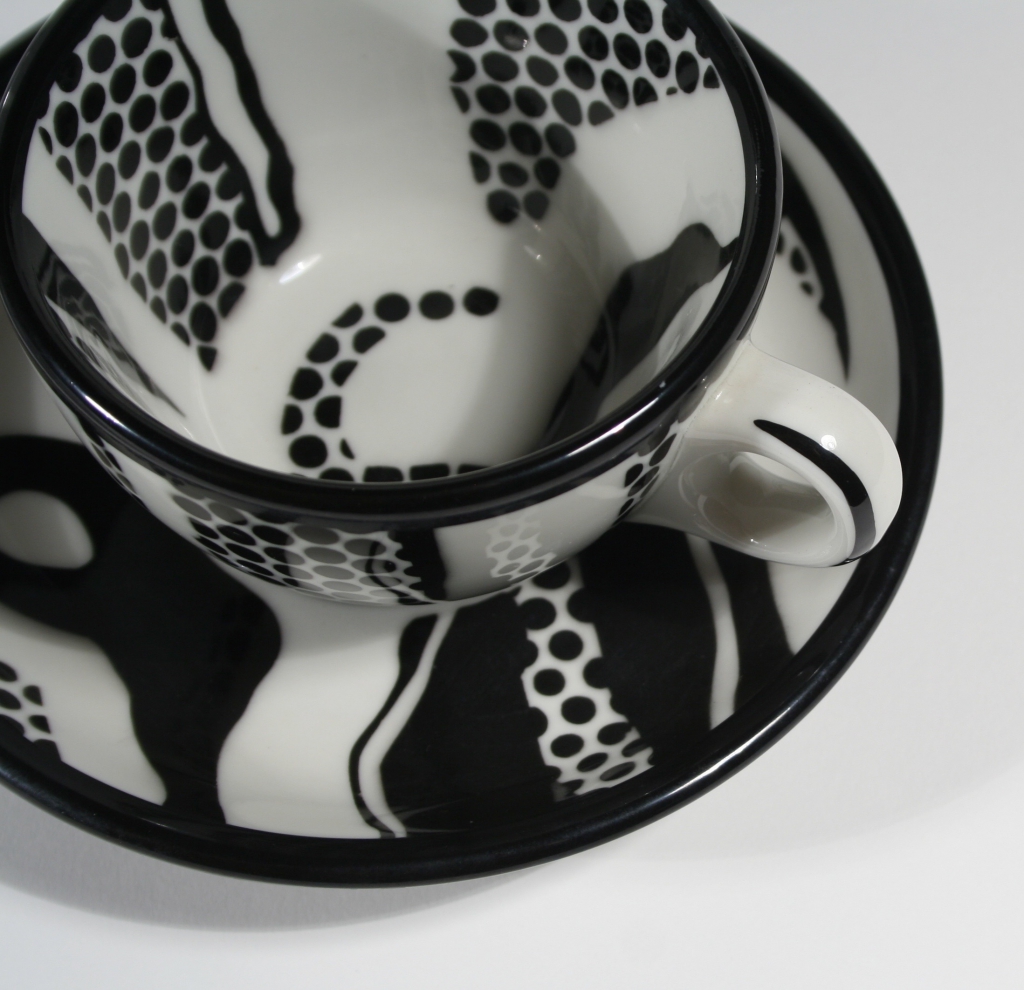 The Dinnerware Museum: Whetting Your Appetite
at SOFA Chicago 2013, Navy Pier
Oct 31 – Nov 3, 2013
---

Inaugural Exhibition: Unforgettable Dinnerware
at the Ladies Literary Club, 218 North Washington Street, Ypsilanti, Michigan
April 27 – May 17, 2013
While the title Unforgettable Dinnerware may seem self-explanatory, a brief rationalization is provided. Something that is unforgettable is also memorable. Special meals and dining experiences are inextricably woven among ones favorite memories. This inaugural exhibition of the Dinnerware Museum is a celebration of these windows into our cultures, customs, and traditions.