One Table Oodles of Dishes:
Schmid Porcelain
Although the Schmid Porcelain green and orange dinnerware set in the IMoDD permanent collection is not marked with either "Kelco" or "Japan" backstamps, as are some similar pieces in other collections, one piece bears the apparent date "60" ("Schmid60 Porcelain Tack"). Perhaps these were prototypes for the Kelco dinnerware introduced sometime around 1960, that was produced by Schmid Kreglinger for the European and American markets, and designed by LaGardo Tackett. Schmid Kreglinger is a Japanese company and part of Schmid International, a Massachusetts-based importer and distributor of decorative wares.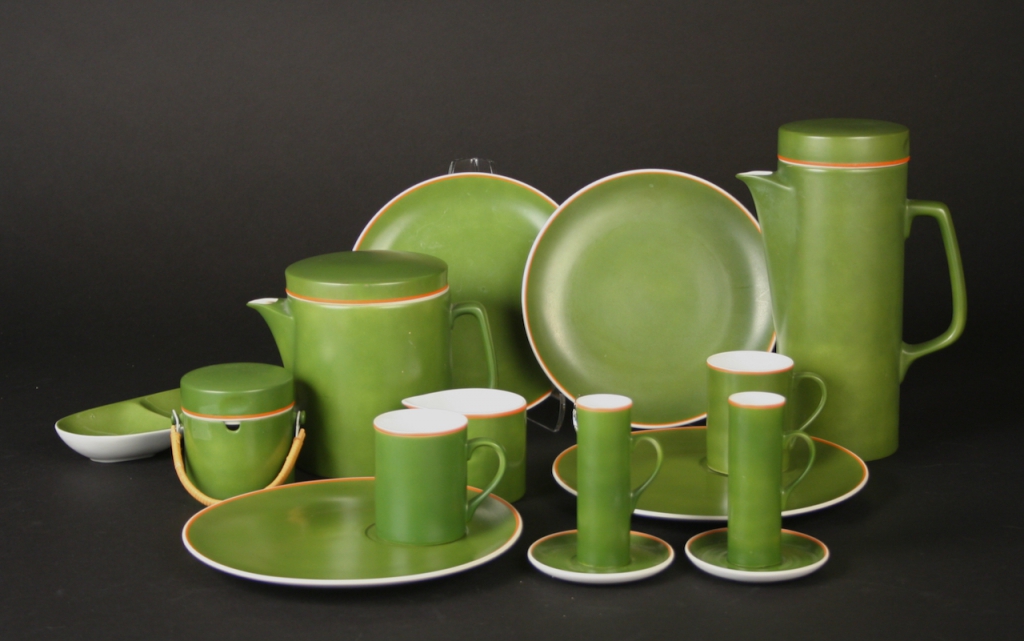 With its clean, timeless design, this dinnerware line has been displayed in many international exhibitions and included in the permanent collection of the Museum of Modern Ceramic Art in Gifu, Japan as well as the International Museum of Dinnerware Design in Ann Arbor, Michigan.
Designer LaGardo Tackett (nicknamed Tack) was born in Henderson, Kentucky in 1911 to Oscar and Lillian. Oscar was a grocer, and LaGardo's unique name was taken from a tomato can in his father's store.
Tack enrolled at Indiana University to study geology. He left after two years, but met his future wife and life-long collaborator, Virginia Lee Roth while at the school. In 1937, they moved to New York. Virginia worked for CUE Magazine, a New York events listing publication. Tack took a job at the May Company, the department store giant. In the 1940s, Tack was promoted as May's interior promotion director, which required a move to hip Baldwin Hills Village within Los Angeles. While there, Tack attended classes at Claremont Graduate School and began working with ceramics. He also experimented with furniture design and won an award at the school's annual student show.
After serving in World War II, Tack used the GI Bill to enroll in Scripps at the Claremont Colleges, which offered a formal academic approach to ceramics. There he took a keen interest in the evolution of cooking and eating utensils throughout history.
Tack taught classes at the California School of Art, including one course called Three Dimensional Design at his own kiln in Pasedena. During this period, he created many distinctive works and began mentoring talented students. In 1949, along with the works from several other ceramic artists, Tack's and his student's pottery was discovered by New York entrepreneurs, Max and Rita Lawrence, and marketed as Architectural Pottery. The Museum of Modern Art displayed Architectural Pottery in its 1951 Good Design show.
In 1952, the Tacketts had a modern house built in Malibu and in 1953 built a large ceramics studio in Santa Monica, where they called their business Tackett Associates. Their studio work was hands-on and hand-crafted.
They were introduced to Paul Schmid of Schmid International. The friendly and professional relationship that developed resulted in the Tacketts closing their studio and moving to Kyoto, Japan in 1956 to design full-time for Schmid.
Tack's design work for Schmid International was prolific. Along with complete dinnerware sets, he designed many styles of serving pieces and unusual storage containers for condiments, coffee, tea, sugar, spices and other foods and kitchen necessities.
The Tacketts returned to Malibu for a while, but followed that with another move to Tokyo in 1960. In 1961, they returned to the United States and settled in Weston, Connecticut. They continued to work for Schmid International and commuted to New York for occasional meetings.
After their children were grown, Tack and Virginia made several more moves in the Connecticut area and they finally settled in New Haven, where they could work without a car and enjoy the local culture. Without a kiln or studio, he settled more into design theory. He explored the idea of the ever elusive perfect set of dinnerware that he referred to as "the 5 basic vessels." Virginia passed away in 1982 and Tack in 1984.
References: "Discovering LaGardo Tackett," F. Peter Swanson, M.D. (Connecticut Explored, inc, Winter 2010/11).
essay by Scott A. Vermillion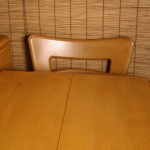 Click on a thumbnail to see another place setting.