One Table Oodles of Dishes:
Glidden Pottery, Chi-Chi Poodle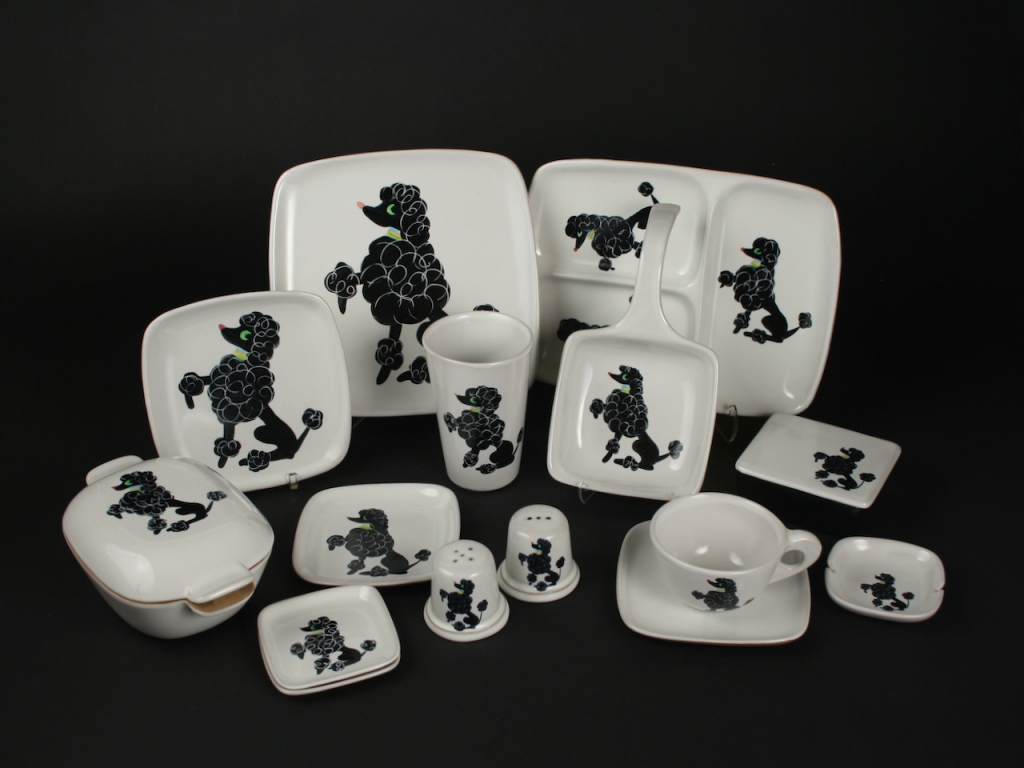 In the 1950s, the standard poodle was the most popular breed of dog in the United States. The poodle became a beloved design element. Actor Lucille Ball had a poodle haircut. There were felt swing skirts with appliqued poodle designs on the circular fabric, first created by Juli Lynne Charlot, spaghetti ceramic poodles in pink and black and white, and poodle centric costume jewelry. The motif was used on dishes, too.
Glidden Pottery, located in Alfred, New York, was founded by Glidden Parker. The factory produced a unique stoneware bodied dinnerware and Artware from 1940 to 1957. Glidden Parker had been a student of Marion Fosdick, and well-known ceramic industrial designer, Don Schreckengost, at the New York State College of Ceramics at Alfred University.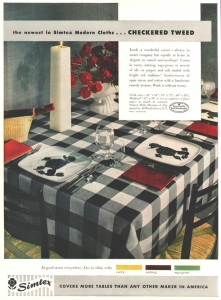 Chi-Chi poodle is the name given for one of the two poodle designs produced at Glidden Pottery. The story is told that the hand-painted designs of Chi-Chi, which first appeared in 1951, were based on the black standard poodle, Charlemagne, the dog owned by the family of Mr. Fenner, an Alfred banker who invested in Glidden Pottery. The shapes were created by Glidden Parker, while the decoration is attributed to June Chisolm, who received royalties on the design until it was discontinued in about 1955. The poodles decorate squared plates, tumblers, cups and saucers, shirred egg servers, salt and pepper shakers, and even ashtrays and cigarette boxes. Each piece was hand-painted, so no two are identical.
A memorable advertisement for Simtex tablecloths featured this Glidden Pottery poodle-bedecked pottery, and it could be seen in popular magazines between 1951-1955.
References: Glidden Pottery by Margaret Carney, with essays by Ron Kransler and Wallace Higgins, Schein-Joseph International Museum of Ceramic Art, 2001; Glidden Pottery: Alfred Mid-Century Highstyle Stoneware, by Ron Kransler, published posthumously 2011.
essay by Margaret Carney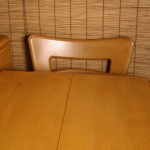 Click on a thumbnail to see another place setting.