One Table Oodles of Dishes:
Susie Cooper, Kestrel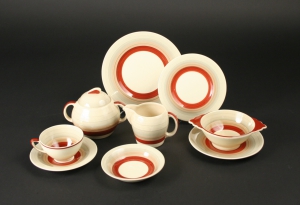 The English ceramic industrial designer, Susie Cooper, was a prolific force in the industries in Stoke-on-Trent from the 1920s to the 1980s. Her career in pottery began in 1922 when she started working for A.E. Gray. Many of the shapes she used at this time were supplied by third party factories. She set up her own Susie Cooper pottery in 1929, but continued to work for other potteries over the next several decades, including Wedgwood. In 1931, Susie Cooper Productions moved into her Crown Works location in Burslem. At that time, Wood and Sons became the main supplier for Susie Cooper Pottery, while she designed both the shapes and patterns. She had a popular display at the 1932 British Industries Fair. The Royal Family made several purchases at the time. Her Art Deco Kestrel shape was introduced at this fair. With its sweeping finial and robust spout showing strong Art Deco influences, it is probably her best-known shape. It was still in production until the mid-1960s.
A fire devastated Crown Works in 1942, and the factory did not reopen until 1945. In 1950, Susie Cooper acquired a bone china manufacturer. A second fire at Crown Works in 1957 halted production for more than a year. The merger with the Plants factory in 1958, allowed her bone china production to continue. Subsequently, she spent the 1960s and 1970s working with Wedgwood on successful projects as designer. She moved to the Isle of Man in 1986 and worked there as a freelance designer until her death in 1995.
References: Susie Cooper Productions, Ann Eatwell (Victoria and Albert Museum, 1987); Art Deco and Modernist Ceramics, Karen McCready (Thames and Hudson, 1995).
essay by Margaret Carney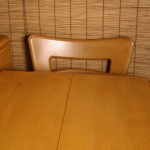 Click on a thumbnail to see another place setting.