Current Exhibitions: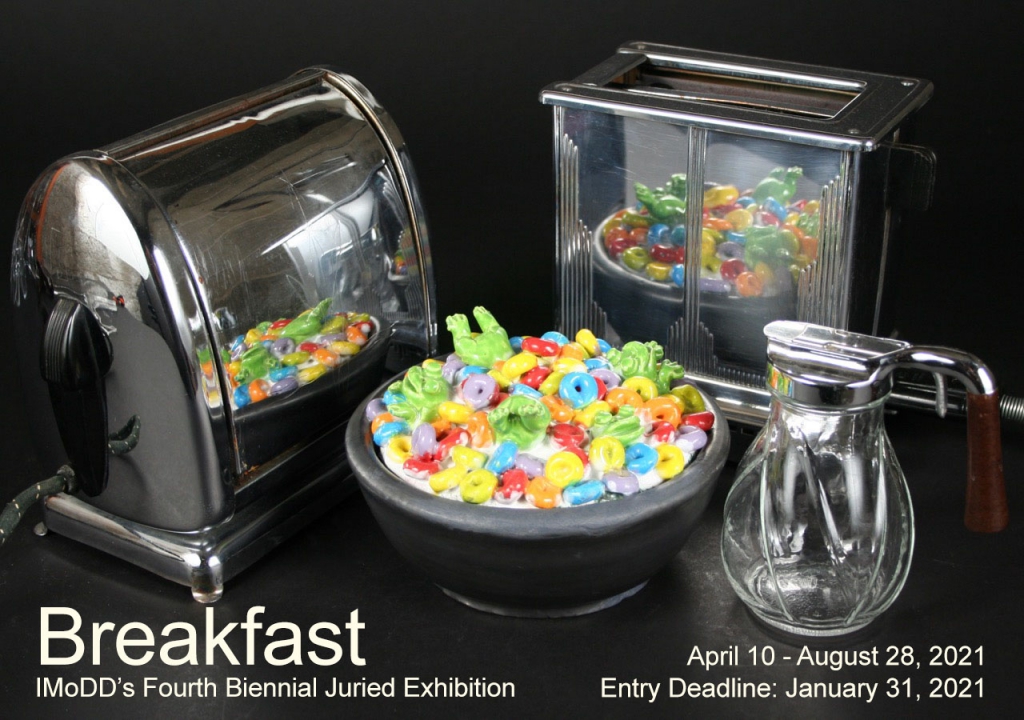 Exhibition Dates: April 10 – August 28, 2021
Virtual Opening Reception: Saturday, April 10, 2021
In-Person Closing Reception: August 21, 2021
Location: Museum on Main Street
part of the Washtenaw County Historical Society
500 North Main Street, Ann Arbor, Michigan
and Online [link to the on-line exhibition catalogue]
Museum hours: Saturdays and Sundays 12 noon to 4pm, and Weekdays by appointment.
To schedule a visit call 734-662-9092 or email wchs-1000@ameritech.net or director@dinnerwaremuseum.org.
---

One Table Oodles of Dishes
A virtual exhibition presented by IMoDD that builds upon the premise of setting the same table, over and over, with a curated selection of beautifully designed dishes. It is left for the viewer to determine which place setting to select and to imagine what food might enhance the dining experience with each.
[LINK] to the One Table Oodles of Dishes exhibition.
---
Delicious Dish Distractions
A series of on-line exhibitions presented by IMoDD to showcase a fun pairing of food and dinnerware.
[Link] to Delicious Dish Distractions page
---
Upcoming Exhibitions:

Colorful California Dinnerware
A special exhibition at Gifts of Art Gallery, Michigan Medicine, University of Michigan, Taubman Health Center North 3D Gallery.
September 7 – December 3, 2021.
---
Recent Exhibitions:

Sculptural Dinnerware
A Special Exhibition presented by
The International Museum of Dinnerware Design at
Gifts of Art Gallery, Michigan Medicine, University of Michigan
Taubman Health Center South Lobby
1500 E. Medical Center Drive, Ann Arbor MI 48109
March 16 – August 28, 2020, 8 am – 8 pm
med.umich.edu/goa/exhibits.htm | 734.936.ARTS (2787)
[Link] to Sculptural Dinnerware page
---

Defining Cups & Saucers
A special exhibition presented by the International Museum of Dinnerware Design
at Albion College, Bobbitt Visual Arts Center, Munro Gallery
805 East Cass Street, Albion, Michigan 49224
January 13 – February 8, 2020
Mon – Thurs 9-9, Fri 9-5, Sat 10-2, Closed Jan 20
[Link to On-Line Catalogue]
The exhibit will be accompanied by
a lecture by IMoDD Director Margaret Carney
Ann Arbor Public Library, Malletts Creek Branch
3090 East Eisenhower Parkway, Ann Arbor, MI 48108
Sunday January 19, 2020: 3:00pm to 5:00pm
This event is in partnership with the Culinary Historians of Ann Arbor (CHAA).
[Link]
---
Dinnerware + Design + Decoration
October 31 – November 3, 2019
SOFA Chicago 2019 Navy Pier, Chicago
Dinnerware + Design + Decoration is a special exhibition of masterpieces selected from the IMoDD permanent collection that exemplify a diverse range of form and surface decorating techniques in addition to good design. These masterpieces of the tabletop genre were created by contemporary artists Jeff Oestreich, Warren MacKenzie, S.C. Rolf, Vivika & Otto Heino, Kate Maury, Tara Barnes-Stumpf, Paul Donnelly, Lea Zoltowski, and Herbert Sanders, along with leading designers for industry, Eva Zeisel, Josiah Wedgwood, Frederick Carder, Glidden Parker and Fong Chow, Piero Fornasetti, among others.
Identifying the featured sculptural embellishments, carving, faceting, sprig decorating, decals, hand-painting, incising, and various glazing techniques such as wax resist and crystalline glazes, will be the pleasure of the viewer. Decorations can add another dimension to the work, complementing and enriching (or in some cases, competing with) the basic form. Eva Zeisel's 1950s white, undecorated Hallcraft teapot will be juxtaposed with another seven identical yet decal-decorated teapots. Viewers can decide whether the maxim, "When in doubt, buy white," is their mantra, or whether ornate decorations influence their selection.
Link to SOFA Chicago 2019 Special Exhibits Page.
---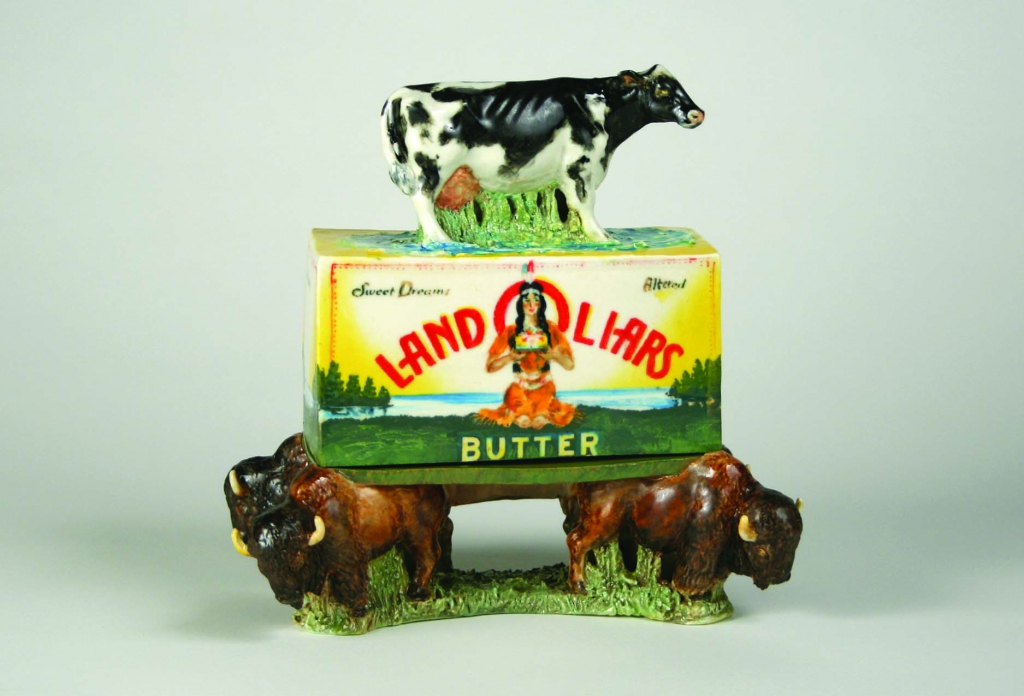 Butter
Third Biennial National Juried Exhibition
presented by the International Museum of Dinnerware Design
An invitational and juried exhibition of butter dishes, butter-themed sculpture and related butter items by contemporary artists, as well as vintage and historical objects, all displayed in an atmosphere celebrating all that delicious butter adds to our lives.
Exhibition dates: April 6 – August 25, 2019
Opening reception Saturday April 6, 2019, 1-4 p.m. Artists Awards and Gallery Talk, 2 p.m.
Location: Museum on Main Street
part of the Washtenaw County Historical Society
500 N. Main St., Ann Arbor, MI 48104
Exhibition and awards sponsored, in part, by Ellen Wilt, Zingerman's Community of Businesses, Trader Joe's of Ann Arbor and the International Museum of Dinnerware Design. Juried by Anne Meszko.
Invited Artists:
Undine Brod, Bill Brouillard, Nancy Bulkley, Mary Louise Carter, Michael Connelly, Paul Donnelly, Paul Eshelman, Léopold Foulem, Frank Martin, Polly Ann Martin, Kate Maury, Colleen McCall, David McDonald, Dganit Moreno, Judith Salomon, Deborah Schwartzkopf, Linda Sikora, Debbie Thompson, Kate Tremel.
Juried Artists:
Alice Abrams, Posey Bacopoulos, Tara Barnes-Stumpf, Michael Bishop, Irina Bondarenko, Darcy Bowden, Barbara Harding Brown, Stefanie Burdick, Elizabeth Coleman, Matthew Dercole, Becca Dilldine, Sarah Dockter, Adrienne Eliades, Julianne Harvey, Mandy Henebry, Craig Hinshaw, Urban Jupena, Cara Jean McCarthy, Charlotte Lindley Martin, Jodie Masterman, Sue O'Connor, KyoungHwa Oh, Helen Otterson, Jerri Puerner, S.C. Rolf, Peter Saenger, Kathryn Schroeder, Jo-Ann Siedlecki-Vento, Maribeth Sonsara, Claire Gabrielsen Teagan, Clovy Tsuchiya, Margo West, Christopher Whittington, Robin Wilt, Logan Woodle and Mieke Zuiderweg.

---
Tabletop Stories
A partnership exhibition presented by the International Museum of Dinnerware Design and the Ann Arbor District Library
Exhibition Dates: December 3, 2018 to January 26, 2019
Hours: Mon. 10am – 9 pm, Tues. – Fri. 9 am – 9 pm, Sat. 9 am – 6 pm, Sun. 12 pm – 6 pm
Location: Ann Arbor District Library, Downtown Branch, Lower Level, 343 South Fifth Ave., Ann Arbor, MI 48104
This exhibition pairs memorable stories published as books, operas, and perhaps a restaurant menu, with the notable dinnerware that followed. Visitors may recognize at least one teapot in the form of Sherlock Holmes; plates, bowls, cups and saucers with Rockwell Kent illustrations from Herman Melville's Moby Dick; and charming dishes celebrating children's favorite book characters such as Babar and Peter Rabbit. The exhibit explores the ubiquitous Blue Willow china pattern, marketed by the British as being derived from a Chinese legend. One may also be captivated by depictions of Charles Dickens' characters from David Copperfield and Martin Chuzzlewit. There are simply too many stories and dishes to list, but think about the Donner Party, One Thousand and One Nights,The Story of Ping, Gilbert and Sullivan's comic opera Yeoman of the Guard, and more surprises. Come for the books, stay for the dinnerware. Come for the dishes, stay for the books.
---

Unapologetic Dinnerware: a brief history of disposable dinnerware
When considering dining in 2018, there is not anything more timely than examining how the current state of single use dinnerware impacts our lives and our environment. In India alone, billions of plastic utensils are discarded annually. This special exhibition traces the history of disposable or single use dinnerware from ancient Mesopotamia to the present. Material culture artifacts of an intentionally "disposable" nature from diverse cultures and time periods, as well as prototypes from contemporary designers in India, Japan, Jordan, Portugal, Germany and the United States will be featured. Think American TV dinners, Chinese take out, edible cutlery from India, Japanese disposable trainware, plates made of fallen leaves from Indonesia, biodegradable coffee kits from Portugal, beer six-pack rings that may be consumed by marine life, and more.
LINK to Unapologetic Dinnerware exhibition page
Link to University of Michigan Museum of Anthropological Archaeology Newsletter to learn more about the ancient Mesopotamian bevel-rimmed bowls in this exhibit.
---

Dining In Dining Out
There were fifteen reasons to visit the International Museum of Dinnerware Design's special 3-day-only exhibition, Dining In Dining Out. It was a true celebration of dining experiences guaranteed to make the viewer smile. Fifteen dining vignettes were presented free to the public April 13-15, in the beautiful Mid-Century Modern events space, part of the Stone Chalet at 1917 Washtenaw Avenue in Ann Arbor. The free public reception was Friday evening 5:30-7:30 p.m. Each minimalist vignette was a reminder to the viewer of a memorable dining experience.
LINK to Dining In Dining Out page.
---

Timeless Dinnerware Design
at SOFA Chicago 2017, Navy Pier, November 2-5 2017
LINK to Online Catalogue
---