One Table Oodles of Dishes:
Fiesta
With Art Deco styling featuring concentric circles, ring handles, and brightly colored glazes, Fiesta is a line of highly recognizable, casual dinnerware manufactured and marketed by the Homer Laughlin China Company of Newell, West Virginia. Except for a brief hiatus from 1973 until 1985, Fiesta has been in continuous production since its introduction in 1936. In 2002, The New York Times called Fiesta "the most collected brand of china in the United States."
Fiesta's original shapes and glazes were designed by Frederick Hurten Rhead, Homer Laughlin's design director from 1927 until his death in 1942.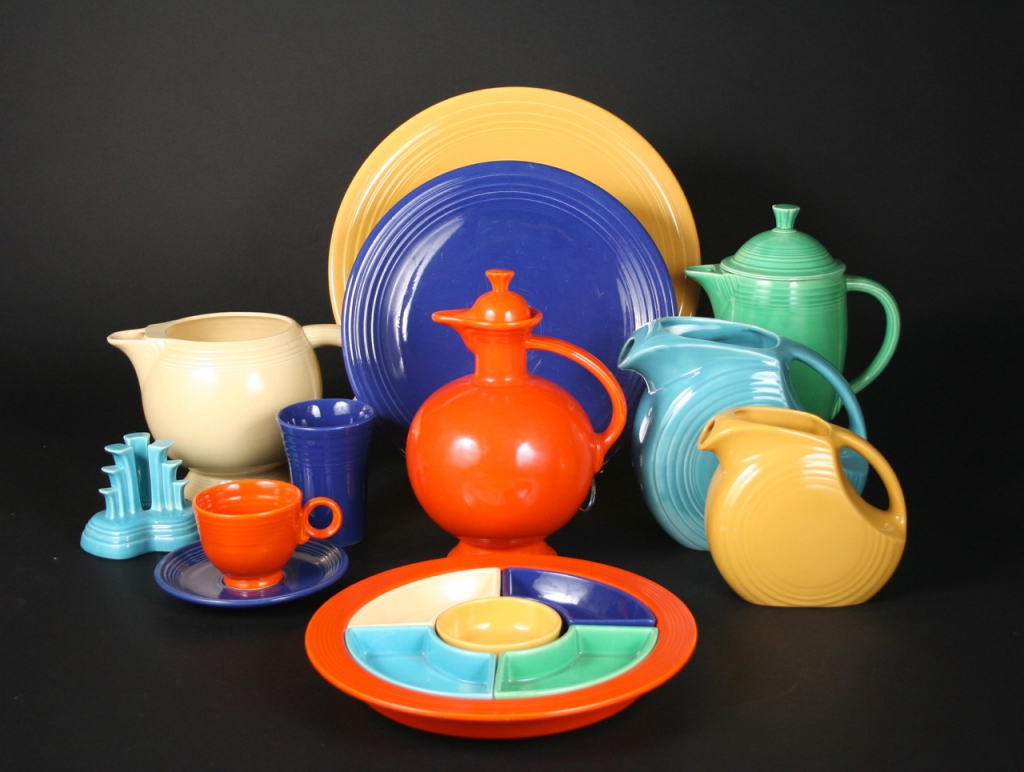 The origins for the idea behind Fiesta dinnerware can possibly be traced back to the mid-1920s, when master ceramicist Myrtle Merritt French began teaching pottery classes at Jane Addam's Hull House in Chicago. With the goal to teach artistic skills that gave employment opportunity to recent immigrants, part of the Hull House program included art classes in painting, sculpture, printmaking and pottery. Hull House Kilns was formed in 1927 and produced all sorts of Mexican-influenced tableware, vases and figures in heavy clay and with brightly colored glazes.
Chicago had been captivated by the modern and folk-art wares offered by Hull House Kilns in the late 1920s. In 1930 and 1936, the Art Institute of Chicago held exhibitions showcasing the Mexican Arts. By 1930, with a history rich in Spanish and Mexican culture, California was playing a leading role in developing colorful lines of pottery and dinnerware. Durlin Brayton, a color-blind ceramic engineer who had studied with French at the School of the Art Institute of Chicago, moved to California and became a pioneer of colorful glazes and forms for his Laguna Pottery. Jane Bennison, who had trained under Glen Lukens, a former student of French, helped launch Vernon Kilns (her father's company) as a progressive pottery company known for its bright colors and modern forms.
The pottery world has always been tight knit, and it was especially so in the early twentieth century when Frederick Hurten Rhead and Myrtle Merritt French started their careers. Rhead founded the Art Division of the American Ceramic Society, where he worked with Myrtle Merritt French to advocate better design and more color in dinnerware to stimulate sales. Although the evidence linking Myrtle Merritt French and Hull House Kilns to the Rhead's development of Homer Laughlin's colorful and successful Fiesta dinnerware is circumstantial, there is no doubt that they were highly influential.
When Frederick Rhead designed a 9-inch "Ring Plate for Colored Glazes" in February, 1935, it was immediately accepted by Homer Laughlin as the basic design for the flatware of a new dinnerware line. Rhead followed that plate with the design for a "Modern Ribbed Teacup and Handle." Various handle designs were considered, but the now familiar open ring handle was selected and used. In March, 1935, Rhead started making notes and sketching ideas for possible pieces for the dinnerware line including steins, a French casserole, covered sugar, creamer and a covered onion soup. Glaze colors and names were being developed at the same time. Some of the names considered were Rhumba Ware, Rhapsody, Faience and Tazza. In April, 1935, Rhead was still referring to his new designs as the "colored glaze line" rather than committing to a name. Later that month, he used Flamingo as the name to reference the line. In Rhead's development notes from May 14, 1935, the name Fiesta was finally used for the new dinnerware design. On May 17, Rhead designed the familiar Fiesta logo and marking.
Introduced in January 1936 at the annual Pottery and Glass Exhibit in Pittsburgh, Pennsylvania, the Fiesta dinnerware line included 37 different pieces and five glaze colors: Red (more of a red orange), Blue (cobalt), Green, Yellow and Old Ivory. Unique pieces in the line included candleholders in two designs, a bud vase, a set of seven tightly nested mixing bowls and an ashtray. Homer Laughlin promoted Fiesta as open stock, but table service sets for four, six and eight were offered.
Although not the first solid colored dinnerware, Fiesta was the first dinnerware of this type that was widely distributed and heavily promoted in the United States. When it was introduced, most dinnerware was only available in busy, decaled designs with white or ivory glazed backgrounds. With its solid colors, open stock, subtle Art Deco styling and affordable price, Fiesta represented a radically new idea in dinnerware and was an immediate sales success.
With Fiesta's success, between 1936 and 1940, Homer Laughlin added many more pieces to the line. At its peak, there were 64 pieces in the line, including several unique promotional items that were only offered in a predetermined glaze color. In 1938, Turquoise, a sixth glaze color was introduced. Throughout the years, other glaze colors were added, revised and discontinued based on contemporary trends at the time. Red, using trace amounts of uranium oxide in its glaze, was discontinued in 1943 when the United States took control of the uranium stock with the development of the atomic bomb. Fiesta Red was reintroduced in 1959 using depleted uranium and after the United States relaxed its restrictions.
With the onset of World War II, and the need for manufacturers to focus on production for the war effort and a decline in public demand, Homer Laughlin started to reduce the number of Fiesta items available. By 1946, the number of items in the line had been reduced by one third.
Homer Laughlin's Harmony dinnerware sets, called the Fiesta Foursome, combined Fiesta ware and patterned Nautilus dinnerware. The Nautilus items were decorated with patterns designed to harmonize with the Fiesta color for that particular set. There was a unique pattern for yellow, green, blue and red Fiesta. The red Nautilus pattern is known as Deco Leaf. All of these patterns can be found on coordinating Kitchen Kraft accessories and on some Homer Laughlin Century dinnerware shapes.
By 1969, home decorating and dining trends had changed, and Fiesta sales plummeted. In an attempt to revive the once highly-successful line, Homer Laughlin revised shapes and glaze colors. The line's name was changed to Fiesta Ironstone. The revisions did not help sales and Fiesta was discontinued in 1973.
Taking note of its popularity in the collector's market, Homer Laughlin reintroduced Fiesta in 1986, just in time for its 50th anniversary. To allow it to be marketed to the restaurants and commercial institutions, Fiesta was changed from semi-vitreous to a vitreous composition. Jonathan O. Parry, who had become Homer Laughlin's design director in 1984, modified some of the shapes, added other shapes and new glaze colors, to suit the change in material and marketing. Since its reintroduction, to date, Homer Laughlin has produced Fiesta in 39 glaze colors, none of which exactly match any of the thirteen pre-1973 colors. With careful design planning and marketing, the new Fiesta has remained a popular best seller.
Frederick Hurten Rhead was born in 1880 in Hanley, Staffordshire, to a family of potters, where he learned the art as a young man. In 1902, Rhead emigrated to the United States where his uncle Louis Rhead was working as a successful graphic designer in New York City. His first US job was at a small art pottery studio, Avon Faience, in Tiltonville, Ohio. After that, he worked for a short time at Weller Pottery in Zanesville, Ohio, and then in 1904 he was hired by Roseville Pottery, in Zanesville, as their art director. In 1927, he was hired as the design director at Homer Laughlin.
Founded in 1871 by brothers Homer and Shakespeare Laughlin, the Homer Laughlin China Company began with the premise of making quality china at a fair price. Starting with a modest factory in East Liverpool, Ohio, the company flourished and outgrowing its space, expanded operations to the nearby Newell Farm. The company expanded again in 1903, constructing several new factories and creating the framework for what would become Newell, West Virginia. Sales expanded greatly with the introduction of their Fiesta dinnerware. In 2010, Homer Laughlin purchased the Hall China Company. Just recently, Steelite International purchased the Homer Laughlin China Company–Foodservice Division and Hall China Company. The remaining consumer dinnerware division was renamed the Fiesta Tableware Company. Hall China will permanently close in 2021.
References: Pots of Promise: Mexicans and Pottery at Hull-House, 1920-1940, Cheryl Ganz, Margaret Strobel and Vicki L. Ruiz (University of Illinois Press, 2004); An Overview of Homer Laughlin Dinnerware, Mark Gonzalez (Lw Book Sales, 2002); Collector's Encyclopedia of Fiesta, Tenth Edition, Bob Huxford and Sharon Huxford (Collector's Books, Paducah, Kentucky, 2005); Laurel Hollow Park Website, Mark Gonzalez (www.laurelhollowpark.net); The Way We Live Now, Kay Alexander (The New York Times, December 1, 2002).
essay by Scott A. Vermillion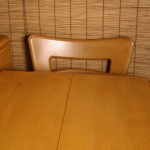 Click on a thumbnail to see another place setting.