One Table Oodles of Dishes:
Russel Wright, American Modern in Chartreuse
American Modern, which you could say started the mid-century modern dinnerware movement in the United States, was designed in 1939 by Russel Wright. It was produced by Steubenville Pottery Company, of Steubenville, Ohio.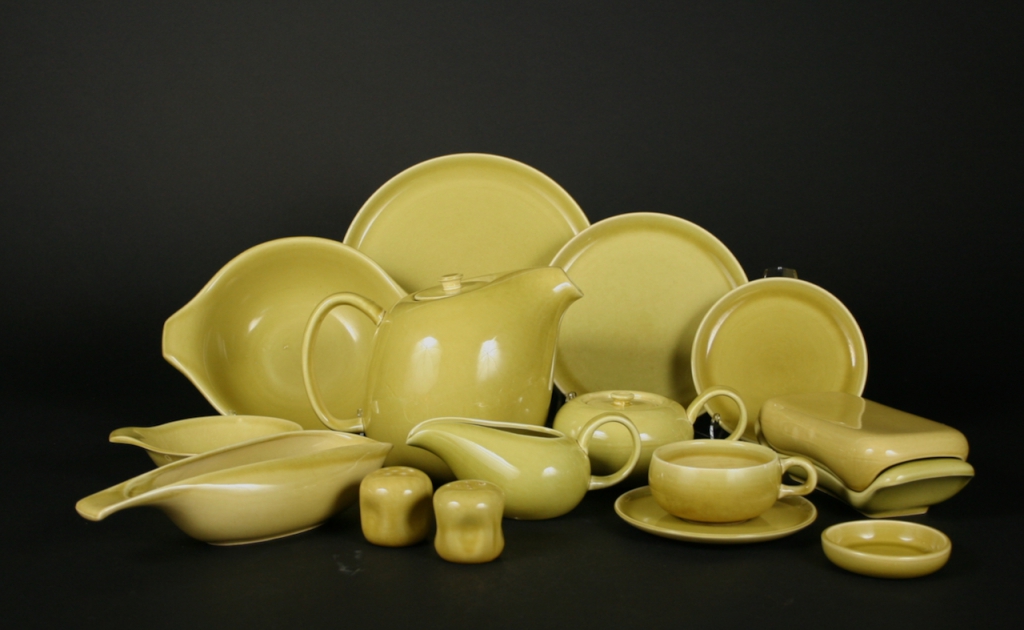 Already known for his modernistic metal and wood household accessories, it was logical for Russel Wright to include dinnerware in his design work. Irving Richards, Russel's friend and business partner, was a well-connected Manhattan businessman and admirer of Modernism. Together they established Russel Wright Accessories to market American Modern and other modern housewares designed by Russel and Mary Wright, and other designers. Russel Wright Accessories became Raymor in 1941 when Russel Wright sold his share to Richards.
With its simple, but organic shapes, dual-purpose, never before seen serving pieces, innovative tab-handled bowls and coupe style plates, American Modern set the modern design trend in dinnerware for the next 20 years. At the time of its introduction, it was so different that Steubenville only agreed to go into production after Russel Wright financed initial production and he had secured a large order from Hudson's Department Store in Detroit. American Modern was an immediate success! During its production between 1939 to 1959, it was the best-selling dinnerware line in the United States. American Modern became so identified with modern design, in the 1950s, the Potter's Union used the generic term "Russel Wright shape" to describe all modern-style dinnerware.
During American Modern's 20-year production, glaze colors and pieces were introduced, dropped or modified. Some glaze colors, such as Coral, Granite Grey and Chartreuse were very popular and consistently offered during the life of the line.
Taking advantage of American Modern's popularity, Russel Wright designed and marketed companion dining accessories that coordinated in color and style: Old Morgantown American Modern glassware manufactured by Morgantown Glass Works (Morgantown, West Virginia), American Modern Pinch cutlery manufactured by John Hull Cutlery Corporation (Meriden, Connecticut) and color-matching table linens manufactured by Ellison and Spring, Inc., Leacock & Company, Inc., and Simtex Mills (all with offices in New York City, New York).
Russel Wright (1904-1976) is one of the most celebrated American industrial designers of the twentieth century. Born and raised in Lebanon, Ohio, while in high school, Wright would spend Saturdays studying at the Art Academy of Cincinnati with respected instructor Frank Duveneck. After high school, he studied at the Arts Student League and the Columbia School of Architecture both in New York City. He continued his studies at Princeton University, where he was a member of the Princeton Triangle Club theatrical troupe. During this time, he won first and second Tiffany & Company prizes for an outstanding war memorial sculpture. After graduating from Princeton, Wright returned to New York to start his career as a theater set designer.
In 1927, while working in summer stock in Woodstock, New York, Russel Wright met Mary Small Einstein, a designer, sculptor and businesswoman. They married and in 1930 opened a design office and formed the company Wright Accessories, where they produced useful and decorative objects for the home out of a converted coach house in New York City. Wright began designing furniture in 1934, which lead to the popular bleached "blonde" maple American Modern line for the Conant Ball Company
With a keen understanding of the importance of marketing, Russel and Mary Wright were some of the first designers to use their name on their products. With the introduction of his affordable, successful and groundbreaking American Modern dinnerware line in 1939, Russel and Mary Wright grew in importance as highly influential designers and tastemakers. Wright would continue into the 1950s and 1960s designing dinnerware, art pottery, glassware, cutlery, furniture, lamps and other products and packaging until he closed his office in 1967.
Russel Wright was one of the early members of the Society of Industrial Designers (later named the Industrial Design Society of America) and his work was often recognized with awards and in design exhibits at the Museum of Modern Art and the other major museums.
References: Collector's Encyclopedia of Russel Wright: Identification & Values, Third Edition by Ann Kerr (Collector Books, 2002); Index of Trademarks Issued from the United States Patent Office (1953); Industrial Designers Society of America Website (www.idsa.org).
essay by Scott A. Vermillion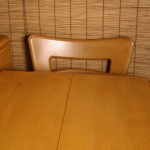 Click on a thumbnail to see another place setting.