One Table Oodles of Dishes:
Edith of Denmark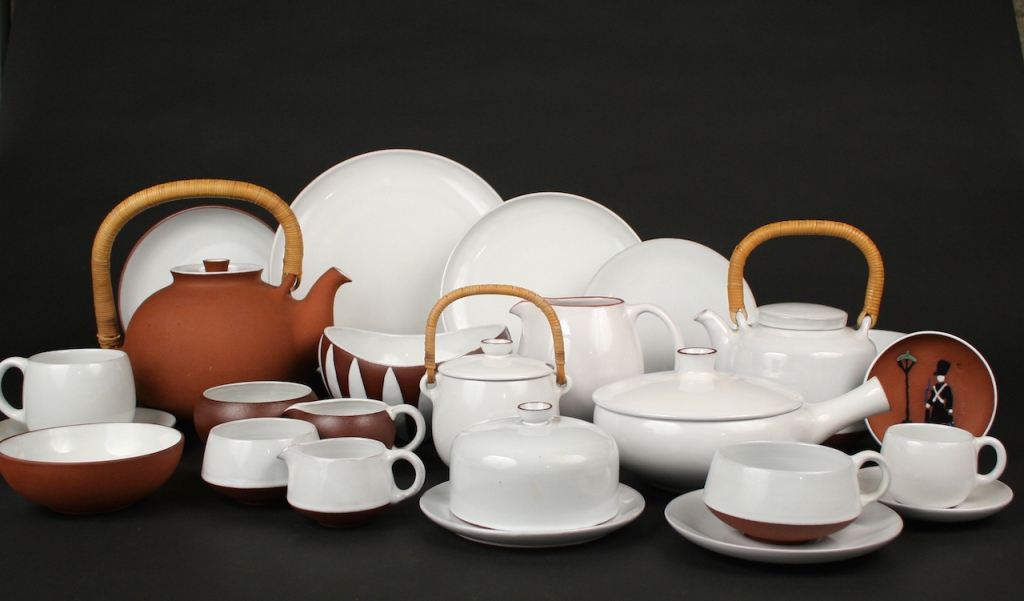 Zeuthen Keramik was founded in 1946 by Normann Zeuthen. The original pottery name, Nordisk Brugskunst (Nordic Applied Art), was changed to Zeuthen Keramik in 1948. The primary designer in the 1950s was Edith Nielsen, who created their Danish Modern trademark style of hand-applied glaze stripes, dots, small flowers, stars, and clover leaf decoration over a portion of each terracotta piece. When discussing this pottery, fans simply refer to the designer as Edith of Danmark or Edith of Denmark, which is how many of these pieces are signed, often with the addition of a number and letter of the alphabet. At the peak of its popularity at mid-century, 10-15 people were employed at the pottery. Edith Nielsen may have opened her own pottery at a later date, and these pieces could be from that venture, as none have the blue Zeuthen Keramik mark on the foot.
These gifts to the International Museum of Dinnerware Design were commissioned in 1961-62 by Marion Marzolf and her late husband, Kingsbury. They visited the designer's studio. Edith was reluctant to make the set with over 100 pieces because it was so white, but afterwards she was very pleased with the results. The Marzolfs entertained a great deal at the time and the Edith of Danmark dishes were much admired.
The glassware included in the vignette include a Mid-Century handblown Tivoli glass for beer or red wine designed by Per Lütken (Danish, 1916-1998) and manufactured by the Holmegaard Glass Factory in Copenhagen, Denmark. The Mid-Century dessert/scalar glass was designed by the Swedish designer Signe Persson Melin for Kosta Boda located in Kosta, Sweden. Both glasses date from the early 1960s.
References: websites afterglowretro.com, picclick.co.uk/1960s-Danish-Pottery, c20ceramics.net/2018/02/21/euthen-ceramic/.
essay by Margaret Carney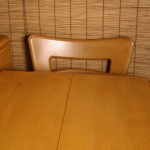 Click on a thumbnail to see another place setting.