One Table Oodles of Dishes:
Eva Zeisel, Tomorrow's Classic Caprice
Introduced in 1952, Tomorrow's Classic was originally conceived by Eva Zeisel as a modern dinnerware line "designed specifically for daily use" that could utilize a wide range of decal decoration. She proposed the idea to Alfred Duhrssen, president of Commercial Decal, the leading decal manufacturer for the US glass and pottery industry. Intrigued by the idea and recognizing its sales potential, Duhrssen encouraged the Hall China Company, of East Liverpool, Ohio, to produce the line. Midhurst Importing Corporation was enlisted to handle distribution, setting up a joint entity with Commercial Decal called Midhurst China. They marketed Tomorrow's Classic dinnerware under a newly created Hallcraft brand.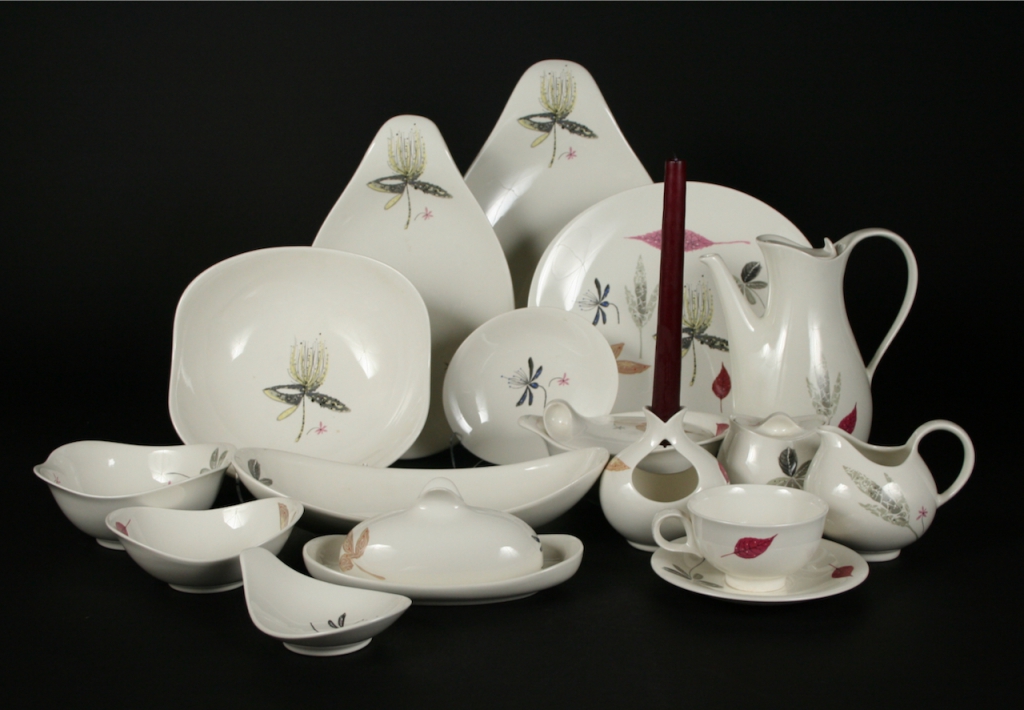 Eva developed Tomorrow's Classic in 1950 and 1951, starting with initial drawings and plaster models. During this process, she made several trips to Hall's Ohio factory to work with their modelers and mold makers to develop the dinnerware's curvaceous shapes to her exacting standards and to make sure that the line could be efficiently manufactured and to a sensible price point. In an article published in the December 1951 issue of China, Glass and Decorative Accessories, before the release of Tomorrow's Classic, Eva described a trend in dinnerware design with "gently flowing lines that tend toward the classical" and "lines based on geometric figures, but rounded out and modified," which perfectly describes her intent with this line.
In 1951, Eva supervised the initial pattern development and described her design goal for the patterns: "In my new dinnerware, I have attempted to keep the decorations dainty and small, but detailed. Through their laciness, the white of the pottery interplays with their warm and expressive colors."
Under her supervision, some of the patterns were designed in Eva's studio. Irene Haas, Eva's assistant and former Pratt student, designed Frost Flowers and Lyric. Ross Littell, another assistant and student, designed Fantasy and Harlequin. Together with Eva, colleague Erik Blegvad designed Buckingham with inspiration coming from the fence surrounding Eva's Riverside Drive, New York design studio.
A number of patterns supplied by Commercial Decal were created by Charles Seliger, who worked at Commercial Decal as a decal artist. Among his most popular patterns were Dawn and Arizona. Eva encouraged him to "just do something you feel like doing!" Seliger was an executive vice president at Commercial Decal when he retired in 1993 but was also a well-known painter during his entire career. His work has been featured in major galleries and museums.
Production started in 1952, and with fourteen patterns originally developed, eight went into full production along with undecorated white, known as Bridal White or Hallcraft White. With its attractive design and price, Tomorrow's Classic was an immediate success. Buyers called it "strikingly original," but "not bizarre" and having "a sort of classic grace."
In its first two years of production, Eva designed additional pieces for the line and the plan was to introduce three to five new patterns a year. The beautiful pattern Caprice was introduced in 1953, but it is not known who was responsible for its design. Fantasy, also introduced in 1953, was a best-selling pattern and in 1958 was noted as being a top ten pattern for registering brides in the US.
Eva was not involved in most of the later patterns supplied by Commercial Decal, but she did suggest adding the solid colors Satin Black and Satin Grey to the line. During its production, there were 23 patterns, five solid colors and 41 shapes in the line.
Starting in 1953, Tomorrow's Classic was distributed and promoted in Canada under the Modern Craft brand without showing any affiliation to Hallcraft or Eva. Many unique patterns were developed specifically for the Canadian market.
Although tremendously successful, Tomorrow's Classic production ended in 1962 when Hall discontinued all of its earthenware dinnerware. It was Eva Zeisel's best-selling dinnerware line and is often cited as a favorite for those who appreciate Eva's design work.
Eva Zeisel was one of few women to pursue an industrial design career in the early twentieth century. Her exceptional designs would make her one of the most celebrated industrial designers of the twentieth and early twenty-first century.
Born Eva Striker in 1906, in Budapest, Hungary, as a youngster, she had shown an artistic ability and curiosity. Her education and surroundings gave her a strong interest in the history and the current state of art, architecture, design and culture. She studied painting and seemed destined for a career as a fine artist. Although she was creative, and a dreamer, she was also pragmatic. In 1924, she became a pottery apprentice, deciding to learn pottery because that trade skill would provide her with means to support herself financially as a fine artist. At the time, it was not considered socially acceptable for women to apprentice as potters or artisans. In 1925, Eva set up her own pottery studio in the former gardener's shed in the garden of her family's home where she produced "black pottery" a well-known type of Hungarian folk pottery.
In 1926, she began working as a freelance designer for Kispester-Granit of Budapest. In preparation, Eva became acquainted with what she referred to as the "first mass-production pottery factory in Hungary." Eva's work at Kispester was whimsical, and had a flair of disorganized spontaneity, that she worked out through sketching, paper cut-outs and hand-modeling…a technique that she would use throughout her design career. During this time, she continued to indulge in her interest of art and cultural modernism, tempered with her respect for history and traditional Hungarian folk art.
Eva moved to Schramberg, Germany in 1928 to accept a job as the sole designer for Schramberger Majolikafabrik, which specialized in the manufacturer of household items such as dinnerware, vases and lamps. Not having the necessary drafting skills that the job required, she begged a qualified friend to teach her those skills during a day of intensive training. When asked by Schramberger whether she wanted to create new forms on a potter's wheel or by drafting, she chose design by drafting to show that she was a real industrial designer, not a craftsman. Although Eva had designed for mass-production at Kispester, it was at Schramberger that she first consciously considered herself to be a designer for industry, a rare distinction for a woman of that era. Feeling that her Schramberg designs deserved recognition, Eva had requested that her signature be used in their pottery marking. Schramberg refused and in early 1930, Eva left the company to look elsewhere for new work and opportunities.
After several jobs in the Russian ceramics industry—Eva was named artistic director of the Russian China and Glass Trust. In May 1936, while living in Moscow, she was arrested and was falsely accused of participating in an assassination plot against Joseph Stalin. She was held in prison for 16 months, 12 of which were spent in solitary confinement. In September 1937, she was released and deported to Vienna, Austria. Some of her prison experiences form the basis for Darkness at Noon, the anti-Stalinist novel written by her childhood friend Arthur Koestler. It was while in Vienna that she connected with her future husband Hans Zeisel, later a legal scholar, statistician, and professor at the University of Chicago. A few months after her arrival in Austria, the Nazis invaded, and Eva took the last train out. She and Hans met up in England where they married and sailed for the US with $67 between them.
In the United States, Eva had to reestablish her reputation as an designer. Beginning in 1937, she started teaching ceramic industrial design at Pratt Institute in New York and developed a working relationship with the Bay Ridge Specialty Company in New Jersey—where she designed pottery and her Pratt students could get real world experience in the pottery industry. Working with student Francis Blod, together they designed Stratoware for Sears, the first line of dinnerware that used Eva Zeisel's name in its promotion.
In 1942, Eva was commissioned by the Museum of Modern Art and Castleton China Company to design the first modern porcelain dinnerware line for the US market. The resulting design, MUSEUM, was shown at the 1946 exhibition "New Shapes in Modern China Designed by Eva Zeisel" and was the first one-woman exhibition at MoMA. Eva credited this commission with establishing her reputation in the United States remarking that "it made me an accepted first-rate designer rather than a run-of-the-mill designer."
Eva would receive many more dinnerware design commissions and continue to work on other important industrial design projects throughout the 1950s and until her initial retirement in 1964. She was one of the few industrial designers who was able to effectively use her name in the promotion of her designs.
Zeisel stopped designing during the sixties and seventies to work on American history writing projects and a memoir of her time spent in a Soviet prison. In 1984, after a highly successful retrospective museum exhibition of her work Eva Zeisel: Designer for Industry, Eva returned to design. Among those designs were: glassware, ceramics, furniture and lamps for the Orange Chicken; porcelain, crystal and graphic prints for KleinReid; glassware and giftware for Nambé; a tea kettle for Chantal; Classic-Century dinnerware made by Royal Stafford, combining pieces from her Hallcraft Tomorrow's Classic and Century lines, with many pieces made from the original molds; a cutlery set for Crate&Barrel; and the Granit stoneware dinnerware set for Design Within Reach. Many of her later designs found the same success as her earlier designs.
Eva continued designing until her death in 2011 at the age of 105. Truly one of the most important industrial designers of the 20th century, Eva Zeisel's work is in the permanent collection of museums throughout the world, and many of her useful designs are still in production.
References: Eva Zeisel: Life, Design and Beauty, Pat Kirkham, Pat Moore, Prico Wolfframm (Chronicle Books, 2013); Tomorrow's Classic Patterns, Jim Drobka (Eva Zeisel Forum Newsletter, October 2020).
essay by Scott A. Vermillion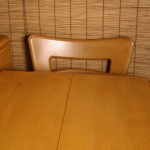 Click on a thumbnail to see another place setting.