One Table Oodles of Dishes:
Russel Wright, Theme Informal
Marketed together, Theme Formal and its casual counterpart Theme Informal, were Russel Wright's ambitious concept for comprehensive formal and informal dinnerware lines with porcelain, stoneware, glassware, Bakelite lacquerware and wood serving accessories.
By the 1960s, the US dinnerware manufacturing industry had been decimated by less expensive imports from Japan and other countries. So for this line, Russel Wright turned to Japan's Yamato Trading Company, which had been making porcelain and stoneware dinnerware since 1886. Schmid International, a Massachusetts-based importer and distributor of decorative wares, was contracted to import the line out of Japan. Raymor was responsible for distributing the line in the United States. Hemisphere Agencies in Japan distributed the line internationally.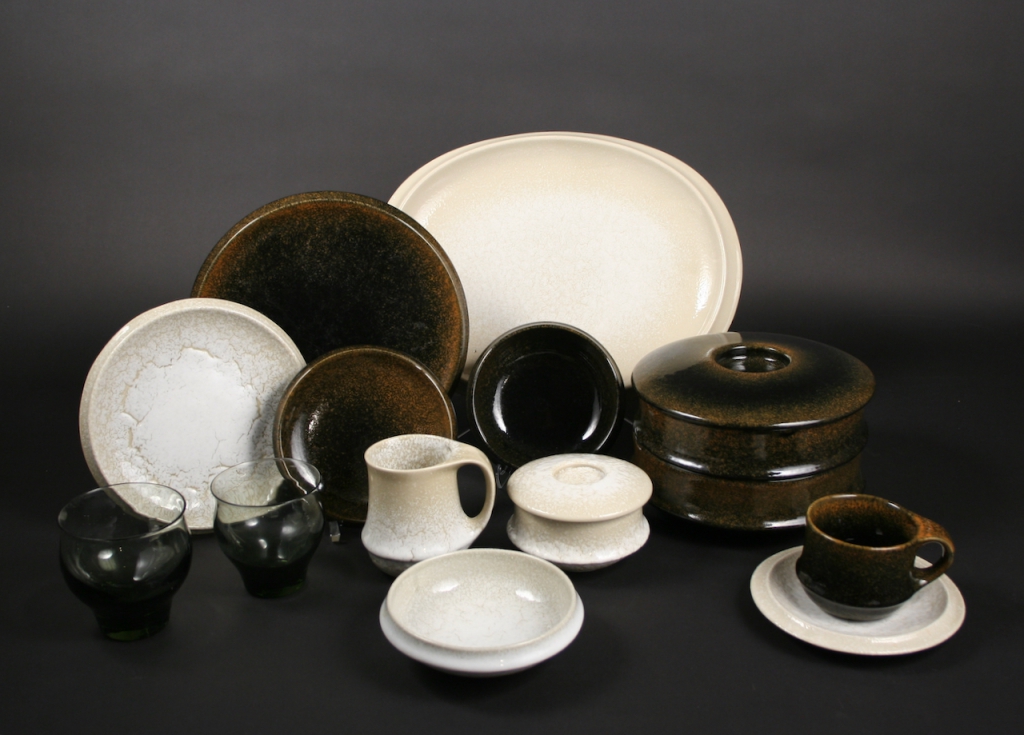 With high expectations for success, the forty-six-piece Theme dinnerware line was introduced at trade shows in 1965. Theme Formal porcelain was offered in white, and there have been some rare examples found with patterns. Theme Informal stoneware was offered in Dune, a mottled sand glaze with white flecks, and Ember, a dark black/brown glaze with orange flecks. Formal glassware was made of a white opaline glass and offered in four sizes. Informal glassware was offered in three sizes and in an amber color (and possibly other colors). Wood accessories were made of American elm. Bakelite lacquerware was offered in several colors.
Theme dinnerware was not well-received at the trade shows, and orders for the line were less than anticipated. As a consequence, Yamato did not commit to full production and what is available may have been limited to what was initially produced for the trade shows, to fill showrooms, and for anticipated first orders. Advertising evidence has been found showing that Theme dinnerware was available for a short time at retailers and discounted glassware was still being sold as late as 1967.
Theme Formal and Theme Informal were the last dinnerware lines that Russel Wright would design before closing his design studio in 1967 and retiring from full-time design work.
Russel Wright (1904-1976) is one of the most celebrated American industrial designers of the twentieth century. Born and raised in Lebanon, Ohio, while in high school, Wright would spend Saturdays studying at the Art Academy of Cincinnati with respected instructor Frank Duveneck. After high school, he studied at the Arts Student League and the Columbia School of Architecture, both in New York City. He continued his studies at Princeton University, where he was a member of the Princeton Triangle Club theatrical troupe. During this time, he won first and second Tiffany & Company prizes for outstanding war memorial sculpture. After graduating from Princeton, Wright returned to New York to start his career as a theater set designer.
In 1927, while working in summer stock in Woodstock, New York, Russel Wright met Mary Small Einstein, a designer, sculptor and businesswoman. They married and in 1930 opened a design office and formed the company Wright Accessories, where they produced useful and decorative objects for the home out of a converted coach house in New York City. Wright began designing furniture in 1934, which lead to the popular bleached "blonde" maple American Modern line for the Conant Ball Company
With a keen understanding of the importance of marketing, Russel and Mary Wright were some of the first designers to use their name on their products. With the introduction of his affordable, successful and groundbreaking American Modern dinnerware line in 1939, Russel and Mary Wright grew in importance as highly influential designers and tastemakers. Wright would continue designing dinnerware, art pottery, glassware, cutlery, furniture, lamps and other products and packaging into the 1950s and 1960s.
Russel Wright was one of the early members of the Society of Industrial Designers (later named the Industrial Design Society of America) and his work was often recognized with awards and in design exhibits at the Museum of Modern Art and other major museums.
References: Collector's Encyclopedia of Russel Wright: Identification & Values, Third Edition by Ann Kerr (Collector Books, 2002) ); Industrial Designers Society of America Website (www.idsa.org).
essay by Scott A. Vermillion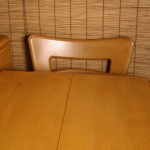 Click on a thumbnail to see another place setting.