One Table Oodles of Dishes:
Moby Dick
Introduced in 1939, Vernon Kilns Moby Dick dinnerware was designed by celebrated American artist Rockwell Kent. Vernon Kilns had found earlier success with Hawaiian tropical and aquatic themed dinnerware designed by poet and artist, Don Blanding. Kent was the second artist to be hired by Faye G. Bennison, the owner of Vernon Kilns, to design another series of decorated dinnerware. One of Kent's dinnerware designs, Moby Dick, was based on Kent's 280 illustrations for the best-selling, 1930 edition of Moby Dick by Herman Melville.
In 1926, Rockwell Kent had been approached to produce an illustrated edition of Richard Henry Dana's Two Years Before the Mast. Kent instead suggested that he illustrate a new edition of Herman Melville's Moby Dick. The three-volume set of Moby Dick was filled with Kent's haunting and dramatic black and white drawings and the edition sold out almost immediately. Random House issued a trade edition which also proved to be immensely popular. Moby Dick had reportedly been a rather obscure book, but the new edition with Rockwell Kent's illustrations helped bring the work to the attention of the American reading public.
For his Vernon Kilns dinnerware, Rockwell Kent designed three distinct lines: Moby Dick, Salamina and Our America. Of the three, Moby Dick, taking its design from Kent's highly acclaimed illustrations of full-rigged whaling ships, leaping porpoises and spouting whales, was the most popular. It was available in four single print colors: dark blue, maroon, walnut brown and yellow.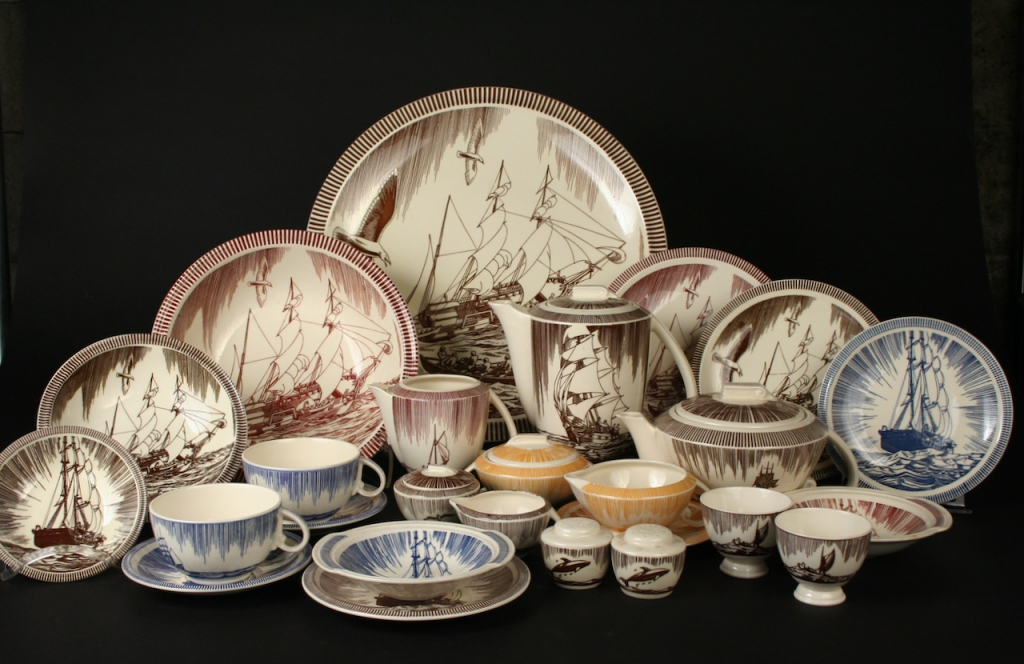 Kent's dinnerware used the Vernon Kilns Ultra dinnerware shape. Ultra was designed by Vernon Kiln's art director Gale Turnbull; its controversial downturned handles were designed by Jane Bennison, daughter of Vernon Kiln's president Faye G. Bennison. Perhaps because of the high price point, Ultra's downturned handles, or the start of World War II, Rockwell Kent's Moby Dick, Salamina and Our America were not as popular as hoped and they were dropped within a year or two.
Born in Tarrytown Heights, New York, in 1882, Rockwell Kent had a long and varied career as an artist, author and political activist. During his lifetime he worked as an architectural draftsman, illustrator, printmaker, painter, lobsterman, ship's carpenter and dairy farmer. He lived in Maine, Newfoundland, Alaska, Greenland and the Adirondacks in New York State, where he found inspiration for his art and illustrated books. Among his many books were: Wilderness, A Journal of Quiet Adventure in Alaska, Voyaging Southward from the Strait of Magellan, N by E, Salamina and two autobiographies, This is My Own and It's Me, O Lord. In 1939, he designed the Christmas Seal for the National Tuberculosis Association. Although Kent was born into relatively privileged circumstances, he formed radical political views early in life. He joined the Socialist Party of America in 1904, endorsed the Progressive Party's presidential candidate in 1948, and was an advocate and president of the National Council of American-Soviet Friendship during the cold war with Russia. Although he was not a communist, he became a target of Joseph McCarthy during the fifties. Rockwell Kent passed away in 1971. His paintings, illustrations and woodcuts can be found in America's leading museums including the Metropolitan Museum of Art, Whitney Museum of Art, Smithsonian American Art Museum, Museum of Fine Arts Boston and the Art Institute of Chicago.
Faye G. Bennison, founded Vernon Kilns in 1931 after purchasing Poxen China in Vernon, California. When Bennison started the company, he toured pottery companies in Ohio and Europe to learn their techniques. He returned with many ideas for production and design and set a precedent for Vernon Kilns employing artists and designers. Faye's talented daughter, after graduating from art school in 1931, joined the company as a full-time artist. Gale Turnbull, who had worked at Leigh Potters Inc., was hired as art director in 1936 and stayed until 1941. The Hamilton sisters, Diane May and Genevieve, designed art pottery. Harry Bird, Royal Hickman, Janice Pettee, Don Blanding, and Sharon Merrill were other notable artists and designers who worked for Vernon Kilns through the years. Elliot House was hired as design director in 1952. Faye G. Bennison retired as the company's President in 1955 to become Chairman of the Board. With Bennison no longer active in day-to-day operations, the company lost much of its original spirit. By January 1958, Vernon Kilns closed due to mounting labor costs and competition from foreign imports. Metlox Manufacturing Company of Manhattan Beach, California, bought the molds and continued manufacturing some of the Vernon Kilns dinnerware in their newly formed Vernonware division.
References: Collectible Vernon Kilns and Identification and Value Guide, Maxine Feek Nelson (Collector Books, 1994); Salamina by Rockwell Kent: A New Pattern of Authentic California Vernonware (Original Brochure by Vernon Kilns, 1939/40); Rockwell Kent, Wikipedia; "Treasures: Some 'Moby Dick' pieces pursued by collectors," by Helaine Fendelman and Joe Rosson, Seattle Times, Lifestyle Section, December 1, 2011.
essay by Scott A. Vermillion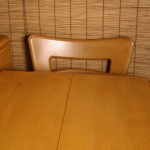 Click on a thumbnail to see another place setting.