Upcoming Events
---

Wednesday December 14, 2022, 6:30 p.m. Eastern Time
Saenger Porcelain
Peter Saenger
The Saenger Porcelain tabletop designs grew organically from the designer's exploration of the ceramic casting process. He will cover highlights of the journey during his studio presentation.
Peter and Peg Saenger have sustained a marriage and a very small scale ceramic design and production studio since the Nixon administration. Their work has been widely collected from the American Museum of Ceramic Art in Pomona, California to the Starship Enterprise in Star Trek: the Next Generation.
---
Recent Events:
Unforgettable Dinnerware on-line Lecture Series – Fall 2022
Wednesday November 9, 2022, 6:30 p.m. Eastern Time
A Place at the Table: Heath Ceramics and the Legacy of Edith Heath
Julie Muñis
Merging handcrafting techniques with industrial production, Edith Heath helped pioneer a new era for American dinnerware. Her inventive approach to production and design allowed Heath Ceramics to produce tableware that reflected California's unique landscape and lifestyle. Still in operation nearly 20 years after her death, Heath Ceramics continues to be a leader and innovator, creating coveted ceramic dinnerware and tile for design-forward consumers. Heath Ceramic's Archivist and Curator Julie Muñiz explores this legacy through historic images and photos from the company's archive, as well as shares her insights into the Heath Ceramic collection at IMoDD.
Julie Muñiz is the Archivist and Curator of the Heath Historical Collection.
---
Wednesday, October 12, 2022 6:30 p.m Eastern Time
Plastic Dishes on the Table: America's Love Affair with Melamine in the Mid-20th Century
Margaret Carney
An overview of melamine dinnerware from 1939 through the 1960s. Margaret Carney shared some of Christopher McPherson's research into melamine dinnerware along with pieces of melamine dinnerware from the collection of the International Museum of Dinnerware Design.
---
IMoDD director Margaret Carney shared stories of delicious exhibitions. interweaving culinary delights along the way is this October 9, 2022 program for the Culinary Historians of Ann Arbor.
---
A Perfect Pairing of Cookbooks and Dinnerware
Lecture/Discussion
Tuesday, September 13, 2022
4:00–5:00 pm Eastern Time
Join curators Juli McLoone and Margaret Carney, Ph.D. discuss A Perfect Pairing of Cookbooks and Dinnerware, the current Audubon Room exhibit at the University of Michigan Harlan Hatcher Graduate Library, which pairs cookbooks from the Janice Bluestein Longone Culinary Archive with dinnerware from the International Museum of Dinnerware Design.
The exhibition is open daily from 9-6; Fridays 9-4, Saturdays 11-5 and Sundays 1-6 until September 29, 2022 at University of Michigan Harlan Hatcher Graduate Library, 913 South University Avenue, Ann Arbor, MI 48109. You may also visit the exhibition webpage
[link]
.
---
IMoDD's Unforgettable Dinnerware On-Line Lecture Series

Wednesday September 14, 2022, 6:30 p.m. Eastern Time
Mid-Century Modern Dinnerware
Michael E. Pratt
The presentation will include a photographic tour of select pieces from his collection with commentary based on extensive research.
Michael Pratt is an avid collector and the author of three books on American Mid-Century Modern Dinnerware by Schiffer Publishing.
A video on this event is available on YouTube:
---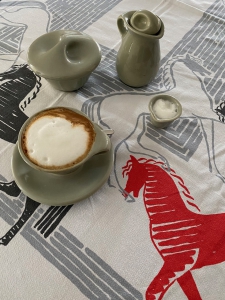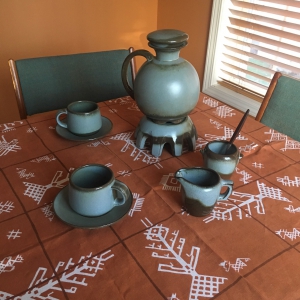 Left: Marion Dorn (1896-1964), Horse Show cloth by Simtex, 1950s, Cotton blend, set with Russel Wright for Sterling China, 1950s.
Right: Ruth Reeves (1892-1966), Guatemalan-inspired Lavista cloth, circa 1935, set with Frankoma Pottery; the Woodland Moss glaze indicates production in the 1960s or 70s.
Setting the Standard for Setting the Table: Modern Women Textile Designers.
The fourth presentation in our Unforgettable Dinnerware virtual lecture series
Lindsay Pracht and Gregory Spinner
June 8, 2022, 6:30 pm Eastern Time
Two collectors of modern dinnerware share some of their favorite tablecloths, featuring designs by Marguerita Mergentime, Ruth Reeves, Marion Dorn, Dororthy Liebes, and Mary Wright. These women, working at the top tier of industrial design during the first half of the 20th century, brought modern sensibilities to a deep appreciation of traditional textile arts. Pracht and Spinner will weave together biographical and historical information with vivid photos of colorful tablescapes.
Lindsay Pracht is an art historian turned corporate communication executive. She collects the designs of Russel and Mary Wright, and likes to squint when she walks by locations of long-lost New York City restaurants to imagine what dining there was like.
Gregory Spinner teaches at Skidmore College, where he has curated exhibitions at the Frances Young Tang Museum. He collects a variety of mid-century modern dinnerware, which he complements with vintage textiles and fresh-from-the-garden home cooking.
A video of this event is available on YouTube.
If you are interested in vintage tablecloths, you might be interested in https://vintagetableclothloversclub.com/.
---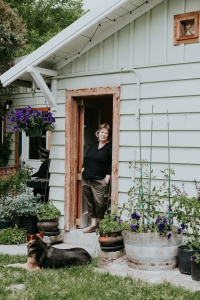 The Unforgettable Dinnerware of Julia Galloway, with a focus on her endangered species series.
Potter and educator Julia Galloway presents the third presentation in our Unforgettable Dinnerware virtual lecture series, virtually from Montana
May 11, 2022 6:30 p.m. Eastern Time
A virtual visit to Julia Galloway's studio where the potter will share through conversation and demonstration how she makes dinnerware from beginning to end. This includes idea development and research, things to consider when designing dinnerware, the making process and surface decoration. There will be a live question and answer period at the end of the presentation. Currently Julia's pottery is inspired by the growing list of endangered species in the United States.
A video of this event is available on YouTube.
---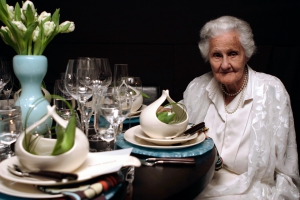 Eva Zeisel: an unforgettable designer, an unforgettable life
presented by Jean Zeisel Richards as part of the IMoDD Unforgettable Dinnerware lecture series
Wednesday, April 13, 2022 at 6:30 p.m. Eastern Time
Jean Richards, Eva's daughter, in a conversation with collector Scott Vermillion, will describe Eva's life and career, its highlights and low points (such as 16 months in a Stalinist prison), and what it was like growing up with this remarkable, adventurous woman, who believed that everyone can appreciate beauty, and aimed to give it to them. Part of the International Museum of Dinnerware Design's "Unforgettable Dinnerware" lecture series hosted by the Ann Arbor District Library.
A video of this event is available on YouTube. This version has been updated to include the introduction.
---

Unforgettable Dinnerware: a behind-the-scenes tour of the International Museum of Dinnerware Design with museum curator Margaret Carney
Wednesday, March 9, 2022 at 6:30 p.m. Eastern Time
Curator Margaret Carney will share a few stories about pieces in the museum's collection during this inaugural presentation in the museum's on-line lecture series. Be prepared to be bedazzled by some special dinnerware sets and witness unique design solutions to the question of what utensils to use when dining with the Queen or at Dairy Queen. While you won't learn any etiquette during this presentation, you will learn why you might want a Geiger Counter at your dining table. Upcoming sessions will invite you to visit private collections, learn about dinnerware designers and contemporary artists, and hear from researchers and authors on major potteries and Mid-Century Modern dinnerware.