Entomophagous Dining (Eating Insects)
IMoDD's Fifth Biennial National Invitational and Juried Exhibition
April 8 – August 26, 2023
Open weekends, noon – 4 pm or by appointment
Opening reception Saturday, April 8, 1 – 4 pm
The Museum on Main Street 500 North Main Street, Ann Arbor MI 40194
This exhibition is a partnership between IMoDD and the Washtenaw County Historical Society's Museum on Main Street.
Juried prizes were sponsored by "Jiffy Mixes" of Chelsea Milling Company.
Juried by Mary Jo Bole.
For its Fifth Biennial Invitational and Juried Exhibition in 2023, the International Museum of Dinnerware Design invited artists and designers to explore how dining on insects (entomophagy) may be in our future, if not in our present. IMoDD's exhibition, Entomophagous Dining, investigates and celebrates through artistic and design efforts, the sculptural and functional aspects of eating insects. The exhibition is a partnership with the Washtenaw County Historical Society's Museum on Main Street and the exhibit is on view April 8 through August 26, 2023 at 500 N. Main Street by appointment or weekends noon-4 p.m.
Just as predicted, the participating artists either embraced dining on insects as one source for feeding world populations or they clearly indicated their devotion to the sanctity of enjoying (without consuming) the natural world, complete with butterflies, beetles, bees, and such. You'll have to investigate yourself whether or not a few artists were ambiguous in the messages conveyed by the artwork in this exhibition.
There are sixty pieces in the exhibition, including a few examples from the IMoDD permanent collection, among these is artwork by Pamela Argentieri, William Brouillard, Janel Jacobson, and Autumn Higgins. Invited artists include William Brouillard, Léopold Foulem, Julia Galloway, Roberta Griffith, Linda Huey, Janel Jacobson, Lynette Lewis, Linda Lighton, Kirk Mangus, Sherrie Miller, Farraday Newsome, Linda Sikora, Debbie Thompson, Mary Underwood, and Suzanne Wolfe. The juried artists were selected from the many applicants by juror Mary Jo Bole. They include Kristen Applegate, Elias Betchik, Carolyn Blazeck, Nancy Bulkley, Amanda Bury, Elizabeth Coleman, Shaun Fera, Marty Huehner, Janet Kelman, Marina Kuchinski, Cara Jean McCarthy, Jillian McEvoy, Sue O'Connor, Jerri Puerner, Allen Samuels, Pamela Segers, and Robin Wilt. Seventeen U.S. states and Canada are represented in this exhibition, in which participation is limited to residents of North America. However, one international invited artist, Lynette Lewis, lives in Australia and comes from a tradition where eating insects is a special occasion. There is a rich selection of materials that comprises the composition of the artwork in this special exhibition . In addition to ceramics, other media include glass, metal, pine needles, and the fiber arts. The four artists who received awards were chosen by the juror, artist Mary Jo Bole. The awards were funded through the generosity of Jiffy Mix, Chelsea Milling, of Chelsea, Michigan and the International Museum of Dinnerware Design.
In addition to artistic explorations of humans throughout various cultures and other mammals and amphibians dining on insects and receiving protein nourishment and enjoying culinary delights, other nostalgic related topics are presented. This includes the science-driven tradition of catching butterflies, beetles, and grasshoppers and pinning them inside cardboard cigar boxes. Could this be viewed as a potential "menu" at a restaurant where the server brings such a collection to ones table and one points at the cicada as the cuisine you wish to enjoy for luncheon, like a diner might choose her own fish or lobster out of a tank? And what about the old plastic ant "farm." Is this so different than insects being "farmed" today and harvested commercially for public consumption? Rather than observing the social relationships occurring in the vintage transparent plastic ant farm, one could be witnessing farming on a small scale in the home or classroom.
When is a bee hive box not a bee hive box? When it's used as a pedestal for artwork in Entomophagous Dining! We may be looking for someone to adopt some new bee hive boxes when the exhibition closes in late August…
Through the lens of this exhibition, artists can additionally be viewed as vegans, social activists, environmentalists, visionaries, and nature lovers. Sometimes their artwork suggests their viewpoint and other times it helps to simply read the artist statements and brief biographies that accompany the visuals. One artist included a recipe for crickets in a pasta dish. One artist played with the concept of combining fast food with eating insects such as meal worms. A jeweler created beautiful tools specifically for mindfully dining on insects. Insect designs were hand-drawn, painted, sculpted, ready-made commercial decals, stamped, and even treated as though they were old butcher shop meat cutting diagrams. Dishes became sculptural. Butterflies became endangered. One artist explored dinnerware created for uninvited guests. She envisioned the uninvited guest having a dining experience "that might be dark and comical for a dinner party." I decided I didn't want to be her uninvited guest, but I do want to be present. I was also thinking about that uninvited guest being an uninvited pest (i.e., an insect?). I hope this exhibit makes you go "yum" and "yuck" and think about the topic seriously and with a sense of humor.
Margaret Carney
April 2023
---
On Line Catalogue
For inquiries about purchases, please email director@dinnerwaremuseum.org.
Prices do not include shipping.
---
Kristen Applegate
Juried Second Prize Award
Moon Cakes, 2022
ceramic
H: 8" L: 12" W: 12"
nfs
Artist Statement
As a clay artist, I am inspired by the intersection of technology and traditional craftsmanship. My work often uses humor to make playful yet thought-provoking statements about the consumption of animals, insects, and even humans as food. Sometimes this takes the form of creating AI images that become actual or projected surface decoration for dinnerware. Other times I use kitchen gadgets, bakeware, and candy-making equipment to create food-oriented work suggesting the macabre. My goal is to challenge views on food and consumption, and to spark conversation about the ethical and ecological implications of our dietary choices. Using humor and irony I aim to create pieces that are not only visually striking, but that also suggest a narrative.
Biography
Kristen Applegate, an Assistant Professor and the Art Education Program Coordinator at Lander University, has dedicated over two decades to the field of art education. With a wealth of experience in teaching and administration at universities in Iowa and Georgia, public high school in Arizona, and international schools in Saudi Arabia, Thailand, and Kazakhstan, Kristen brings an abundance of knowledge and diverse practices to the classroom.
---
Elias Betchik
Juried Third Prize Award
Worm Flatware, 2023
sterling silver (mahogany stands)
8.5" x 2" x 0.5"
IMoDD 2023.18 Gift of the Artist
Artist Statement
Bugs pervade my life. I spend my days making worms out of copper as part of an ongoing production line of earrings. I walk through my local parks looking for invasive insects, such as the emerald ash boring beetle or the more and more common spotted lantern fly, equipped with a jar to catch, freeze, and later pin them or use their bodies in less traditional jewelry. I eat bugs when I can too, though the scarcity of edible insect options in the United States is hard to overcome without counteracting any environmental good that entomophagy does by shipping cans of insects across the world. I made this fork and knife to eat bugs with. They were initially modeled after meat carving tools, though the two-tined design of the fork is the main element that carried through to the final piece. The handles of the flatware are the usual size of dining utensils but the working ends taper to miniaturized heads. I want the user to eat with care; not only will the fork not support large bites, but the presence of the knife prompts further portioning of the bug. I personally believe in thinking about what you are putting in your mouth as you do it. Whether mammal, bird, fish or insect, forgetting or disguising the meat you eat can only lead to disregarding the life of the animal and the impact of its death and further processing into food.
Biography
Eli Betchik is a jeweler obsessed with invertebrates. Through her work in silver, gold, copper, gemstones, and the occasional dead bug body part she explores the forms of insects, arachnids, myriapods, and annelids. Betchik graduated with a degree in Jewelry and Metalworking from the Cleveland Institute of Art in 2021 and has shown work in various gallery shows around the northeast Ohio Area. Aside from bugs, Betchik takes inspiration from various natural and/or macabre sources including mold, Victorian mourning jewelry, and lichen.
Her artistic practice dances between the creation of memorial jewelry on commission, making realistic copper earthworms for a production jewelry line, and the creation of art jewelry with nontraditional and vibrant materials.
---
Carolyn Blazeck
Juried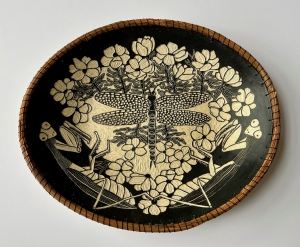 Dragonfly Platter, 2022
stoneware, pine needles
H: 2.5" L: 14.25" W: 11.75"
$475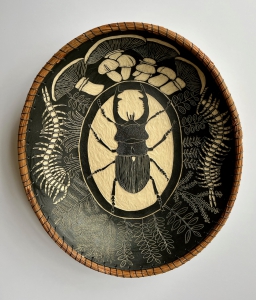 Stag Beetle Platter, 2022
stoneware, pine needles
H: 2.25" L: 13.25" W: 11.75"
$475
Artist Statement
I enjoy creating art that combines the techniques of drawing, sculpture, and mixed media. I hand build my pottery and use the sgraffito technique to carve the pots surface. This process reveals the white clay underneath the black underglaze. Pine needle weaving is added to lids and rims to create textural contrast.
My artwork is inspired by the beauty of the intricate, natural world around me. I try to translate the joy I feel when I'm in nature through rhythmic, organic imagery. Realistic and imagined elements are designed to transport the viewer to a garden where a closer look between the interlaced plants and flowers reveals a hidden world.
Biography
My ceramic work reflects my background in 2 dimensional art. I love to use pattern and contrast to create a harmonious visual rhythm that flows around the pot's surface. I received a Bachelor of Fine Arts from Carnegie-Mellon University in 1984, but did not pursue a career in art until my children were older. I re-entered the art world with a Teacher Certification and Master of Art Education from Towson University. Teaching art and design to high schoolers set a course for the images I produce today. Being an avid nature lover and birdwatcher continually provides inspiration for the pots I make.
I live and work in Bel Air, Maryland where I handbuild pots and embellish them with sgraffito and pine needle weaving. I continue to focus on combining drawing and sculpture in my work.
---
William Brouillard
Invited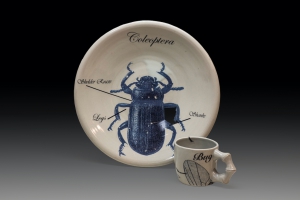 Beetle de jour dinner plate with rolled edge and insect imagery in blue
wheel thrown and trimmed, porcelain fired to cone 6 with overglaze decal fired to cone 018, part of a plate & cup setting
H: 2" Diam: 12"
$95.00
Bug cup with handle and overglaze insect images
slip cast porcelain fired to cone 6 oxidation with a clear glaze and fired to cone 018 with a blue overglaze decal insect image
H: 3.5" L: 5" W: 3"
$55.00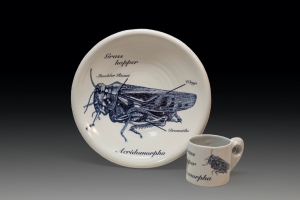 Grasshopper dinner plate with rolled edge and insect imagery in blue
wheel thrown and trimmed, porcelain fired to cone 6 with overglaze decal fired to cone 018, part of a plate & cup setting
H: 2" Diam: 12"
$95.00
Grasshopper Cup with handle and over glaze insect images
slip cast porcelain fired to cone 6 oxidation with a clear glaze and fired to cone 018 with a blue overglaze decal insect image
H: 3.5" L: 5" W: 3"
$55.00
Artist Statement
These place settings are 2nd generation iterations of a collaborative, NCECA tableware/furniture exhibition, scheduled for 2020 that never happened. The original imagery was of all creatures' great and small, but was made to be bug-centric for the Entomorphagous show. The recent works are all in, faux, Ming Dynasty blue, with the older works in grey to black. There is a narrative nod to old butcher shop meat cutting diagrams.
Biography
I began my work in clay, studying with John Perri at the State University of Wisconsin, at Menomonie, Wisconsin. After serving in the armed forces I returned to Wisconsin to study with Don Reitz at The university of Wisconsin, Madison. I completed a MFA at Alfred University in 1976 and traveled to North Carolina and was a resident craftsman at the Penland School. After several years as a studio potter I taught ceramics at ETSU for a year and then returned to Penland School where I worked and taught till 1980. I currently live in Lakewood, Ohio and have a studio in the old steel-making district of Cleveland. I taught ceramics at The Cleveland Institute of Art with Judith Salomon for the last 36 years and am now Professor emeritus.
---
William Brouillard
IMoDD permanent collection
dinner plate with grasshopper motif, part of a 4-piece dinnerware place setting, 2020
porcelain fired to cone 6 oxidation, wheel thrown and images in sepia colored decal and fired to cone 03 on clear glaze
dinner plate H: 1" Diam: 11"
2021.45 Museum Purchase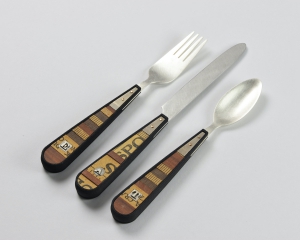 Pamela Argentieri 3-piece EAT Flatware set, with utensil end silver (spoon and fork), stainless steel (knife), handles silver, bronze, printed nylon frames, vintage rulers, 2020
fork: 7" x 0.875" x .5" knife: 7.75" x .75" x .5" spoon: 6.75" x 0.875" x .5"
2021.46 Museum Purchase
---
Nancy Bulkley
Juried
four piece dining set, 2022
terra cotta
4" x 10" x 8"
$200
Artist Statement
Before this show my only known experience eating insects was when I dared my brother to eat a pill bug. We must have been elementary school age, in the back yard, and I remember feeling a bit of pride and accomplishment that I had succeeded in getting my older brother to eat a pill bug. A pill bug no less, that ancient critter that would reliably curl into a ball when you picked it up and would scurry around with so many legs under logs.
This show sent me on wonderful searches learning about and looking at insects. I made drawings and then carved clay stamps of insects that somewhere in the world people eat. Along the way I came across the potter wasp that looks just like us making a coil pot as it builds a vessel of earth to lay an egg in.
As I was learning about bugs and people eating bugs I thought I ought to try some myself. The most approachable was to find some cricket powder and add it to the energy bars I make. I told almost no one when I first did it. Some people were intrigued, others confused with repulsed facial expressions. The powder was innocuous, though I had to get over some mental hurdles as I ate it. If nothing else it made me want to become a vegan and not eat any beings.
This show is very provocative, it has made me think about how socialized we are in how we regard food. Shrimp, often seen as a special treat, does not look that different from a pill bug.
Biography
Nancy Bulkley received her BFA from Alfred University. She began her undergraduate work at the University of Michigan art school. She has been teaching ceramics for over thirty years. She currently teaches at Yourist Studio.
---
Amanda Bury
Juried
Food for a Sustainable Planet Series – Plate Set Cicada and Cricket, 2023
Clay, slip, glaze, fired in Cone 6 electric
Diam: 10.5" H: .75"
$75 each
Artist Statement
My drive to make functional pots comes from a deep reverence for food as the most intimate way humans relate to nature. My artistic practice quietly conveys my interest in the complex systems of culture, ethics, commerce, history, ritual, community and environment found within the realm of food production.
The formal language of my work is rooted in the growth patterns of nature. Geometric facets provide structure for color-blocked backdrops of abstracted crop field landscapes. Meandering parallel lines play at aerial viewed plow rows in soil or as a visual language for the vast distances our food often travels. Bold images inspired by personal experiences in nature, botanical/scientific illustrations, and vintage seed catalogs or packets occupy the foreground.
My image library includes pollinators, to whom we owe much of our food supply; tools/implements which reference the human hand in our agricultural system; and a vast variety of food and medicinal plants. Images are chosen for specific works based on associations to the form or function of the pot. I consciously choose to not dissect the part of the plant familiar to our kitchens from the natural whole. Through abstraction and quiet association my work brings a broad focus to the food on your plate. Serving as a reminder of the joy and wonders to be found in nature, our vital place within it, and our responsibility to care for it.
Biography
Amanda grew up in the Pacific Northwest part of the U.S. She is a lover of the outdoors, and remains forever influenced by her time working summer gigs on farms. She received a Bachelors of Art in Studio Art and a Bachelors of Art in Anthropology from Central Washington University. She then went on to pursue Post-Baccalaureate study in Ceramics at the University of Montana.
Her practice is nourished by time spent in her own garden and she is a big advocate for supporting your local farmer. Amanda's work pays homage to our food origins and the marvelously complex and deeply flawed systems which get food from the ground to our tables everyday. Amanda has served as an artist in residence at The Morean Center for Clay in Saint Petersburg, Florida and Belger Crane Yard Studios in Kansas City, Missouri. She is now working as a full time studio artist. She regularly shows in invitational and national juried exhibitions.
---
Elizabeth Coleman
Juried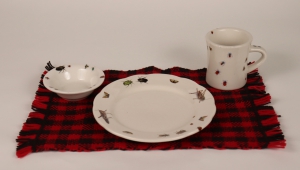 Bugomania Breakfast, 2023
Vintage Buffalo China, commercial decals
9" x 18" x 12"
SOLD
Anne Sammons
Buffalo plaid place mat
She raised the sheep, spun and dyed the wool, wove the placemats
SOLD
Artist Statement
When I was a child, I would dissect grasshoppers and crickets, pinning their legs, heads, and thoraxes to cardboard. Getting their bitter goo on my fingers. Blech. Though I was known by the neighborhood kids to eat almost anything on a dare—acorns, grass, tree bark—I drew the line at bugs.
But not anymore. I love roasted crickets better than popcorn. And while I haven't tried dung beetles, I've read that in Laos they are a perfect snack, stir-fried in sesame oil and sprinkled with salt and chilies.
Biography
Elizabeth Coleman is a sculptor who lives and works in Minneapolis, Minnesota. Her narrative work explores how fragments of fairytales, myth, and popular culture, specifically advertising, allow her to tell coded stories of gender and sexuality. Elizabeth received an MFA from Ohio State University and a BFA in ceramics and glass from the University of Illinois at Urbana-Champaign. She has also studied at Penland School of Craft, Pilchuck Glass School, and Watershed Center for the Ceramic Arts. Elizabeth has been a resident artist at the Vermont Studio Center and the International Ceramics Studio in Kecskemét, Hungary. She has received a 2010 Jerome Foundation Ceramic Artist Project Grant and a fiscal year 2017 Artist Initiative Grant from the Minnesota State Arts Board (MSAB). In 2021 and 2022, she received Creative Support for Individuals Grants from the MSAB.
---
Shaun Fera
Juried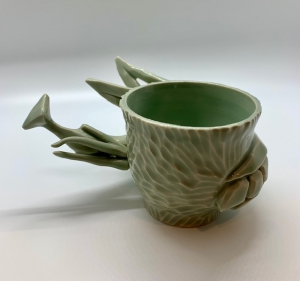 Mantis Cup, 2022
porcelain cup with celadon glaze
H: 3" L: 6" W: 2.5"
$85
Artist Statement
My love of art began at a young age through daydreaming. I currently create functional and sculptural forms, primarily focusing on the praying mantis. I am interested in the mantis gestures and movement. I am fascinated how the mantis navigates such a harsh environment with its fragile mechanical state.
The mantis collection is also part of a larger project that I am currently working on: Dinnerware for uninvited guests. The premise is dinnerware that is not the most ergonomic. Thus creating a dining experience that might be dark and comical for a dinner party.
My choice to work with such delicate materials; porcelain clay and celadon glaze embodies the nature of the mantis and sleek design of the root bowl. Once the kiln firing process is complete, the final product is one of the strongest and most enduring.
Biography
Shaun Fera is a ceramic artist & educator in Richmond Virginia. Shaun received her BFA from Virginia Commonwealth University. Her work has been shown in various exhibitions in the United States. Shaun has taught ceramic workshops and conducted artist talks on the nature of her ceramic art.
---
Léopold Foulem (Canadian, 1945-2023)
Invited
Bon Appétit, 2022
found object, decals
H:1.5" L: 12" W: 8.5"
IMoDD 2023.9 Gift of the Artist
Photo courtesy of Richard Milette
Biography
Born in Caraquet, New Brunswick, Léopold L. Foulem is known for his talents as an educator, author, speaker and, above all, a remarkable artist.
Foulem considered himself a ceramics theoretician. He lectured extensively on ceramics as an autonomous art form. He is regarded as a specialist on Picasso's ceramics, expertise highlighted in the 2004 Picasso and Ceramics seminal exhibition. Foulem had close to sixty solo exhibitions and participated in more than two hundred group exhibitions on four continents.
He received prestigious honours, including the 1999 Jean A. Chalmers National Craft Award, the 2001 Saidye-Bronfman Craft Excellence Award, and the Éloizes Award, Artist of the Year in the Arts in 2003. In 2015, the National Council on Education for the Ceramic Arts (NCECA) named him an Honorary Member of the Council, its highest honour. In 2018, he was made a member of the Order of Canada, the highest civilian decoration in the country. In 2022, he was awarded an honoris causa doctorate by the Université de Moncton in New Brunswick.
---
Julia Galloway
Invited
Karner Blue Butterfly Platter, 2023
added to the endangered species list in 1992
porcelain, inlay slip and luster
Diam: 11.5" Height: 1.5"
$180*
* proceeds of the sale of this platter will go to IMoDD and the Michigan Land Trust Alliance
Artist Statement
The silver fingerprints on the back and edge of the plate are as if the artist was lifting up the platter to honor the butterfly on a silver platter.
Julia Galloway is deeply concerned about the condition of our natural environment and is making pottery decorated with endangered species to bring attention to this situation. By making portraits of these species she is making the unseen, visible. This platter displays the Karner Blue Butterfly (lycaeides melissa samuelis), a federally listed insect as endangered. Listed as threatened in Michigan, this small blue butterfly used to inhabit the western and southern peninsula of Michigan, however the population has radically declined due to habitat loss, incompatible land use and fire suppression. There currently is some efforts being made to reintroduce the descendants of captive butterflies from zoo's to Buckeye County.
Biography
Julia Galloway is a potter with an active studio practice and a professor of ceramics at the University of Montana, Missoula. Julia has exhibited across the United States, Canada, and Asia and her work is included in the collections of the Renwick Gallery – Washington DC, Long Beach Art Museum – Long Beach CA, and American Museum of Ceramic Art – Pomona, CA. She was recently awarded a United States Artist Grant, named a Distinguished Scholar at the University of Montana and was selected to be the 2023 Artist of the Year by Ceramics Arts Network.
---
Roberta Griffith
Invited
Daily Special, 2022
ceramic, Keraflex porcelain ceramic hand-built and press-mold parts, using colored clays and underglaze decoration. Kiln fired at cone 10 (2300°F) in an electric kiln.
H: 4" L: 17" W: 12"
Gift of the Artist
Artist Statement
I have visited many countries outside the USA in South America, Europe, and Asia. I lived in Mexico and Spain for extended amounts of time. I appreciate and eat all kinds of food, from pig's knuckles to chicken feet and fish-eyes. I have chosen to represent mealworms for a variety of reasons. Mealworms probably originated in the Mediterranean area or Africa. Their consumption may be traced to the Bronze Age in Turkey. They are probably one of the first insects a person will try to eat. Mealworms have been around as pet food and feed for insectivores, birds, as well as fishing bait, for years. They are used for scientific research. Mealworms are not an independent animal species or even worms: the mealworm is the second stage in the lifecycle of a beetle. They are also pests because they grow so easily in stored grains. The United Nations estimate that one quarter of the world's population eat insects as part of their standard diet. Mealworms provide fantastic nutrients, such as protein and iron. Not only that, but they taste great (if you're a fan of roasted nuts). Insect farming, which can be carried out in an urban environment, utilizes smaller amounts of land, water and feed when compared to meat production, and produces far fewer greenhouse gases. The idea of creating a ceramic installation, "The Daily Special", using mealworms in an approximation of fast food in the USA, one of the few countries where insects are not consumed as part of our daily food menu, appeals to me, especially because it is a direction in which we must eventually find a way to embrace.Overall, we are going to have to find sources of food in the USA that do not contaminate our environment.
Biography
Roberta Griffith, BFA 1960, Chouinard Art Institute, Los Angeles, CA, USA, MFA 1962, SIU-Carbondale, Carbondale, IL, USA. Griffith is an award-winning artist and educator, exhibiting ceramics, drawing, painting, hot glass, printmaking, and mixed-media installation art nationally and internationally in 37 solo shows and 290 invitational and juried shows for seven decades. Her artwork is included in major museums, public and private collections in Croatia, England, Italy, Japan, Mexico, Spain, Sweden, and the USA. She was the North American correspondent for Cerámica Magazine, Madrid, Spain from 1974-2022, and Fulbright Grantee, Spain 1962-1964 with mentor Josep Llorens Artigas. Griffith is Professor Emerita, Art & Art History Department, Hartwick College, USA. World travel includes Andorra, Austria, Belize, Bulgaria, Canada, China, Czechoslovakia, Denmark, Ecuador, England, Finland, France, Germany, Guatemala, Holland, Honduras, Hong Kong, Hungary, Italy, Japan. Mexico (including Yucatan), Morocco. Peru, Portugal, Romania, Russia, Spain, Sweden, Switzerland, The Bahamas, Wales, Yugoslavia, USA (all states except Alaska).
---
Autumn Higgins
IMoDD permanent collection
cereal bowl with cockroach imagery, 2021
porcelain, decorated and glazed
H: 2.5" rim Diam: 5"
2021.131 Museum Purchase
---
Marty Huehner
Juried First Prize Award
When Sardines Vanish, 2023
Ceramic with metal oxide stains, repurposed sardine cans, dinner plate
Diam: 10.75" H: 1.5"
SOLD
Artist Statement
My work as an artist began later in my life and continues to be informed by my previous work teaching, consulting, and doing research in ecology, animal diversity, and geology. Using clay as a print medium, I capture and display familiar and unfamiliar forms and textures of rocks, animals, and plants from around the world and from previous geological ages. Soluble metal salts, metal oxides, and natural clays are used as colorants on the white stoneware pieces I produce. The only glaze I use is a low fire transparent commercial product. Many of my pieces also use repurposed items such as vintage printer's type drawers, food containers, roofing slate, and sheet metal.
Biography
Marty Huehner was born in W. Germany and lived in NE Ohio for many years, but also resided in Cincinnati, Kansas City, England, Holland, and Australia. At Hiram College in NE OH, Marty earned a bachelor's degree in Biology and then earned his Ph. D. in parasitology with minors in ecology and geology at the U. of Cincinnati. He taught at Rockhurst College in Kansas City, MO and then returned to teach at Hiram College in biology and environmental studies for 28 years. During this time, Marty took undergraduate art courses and specialized in ceramics; he completed his art major in 2000 and then entered the Master of Visual Arts program at the Australian National University where he studied ceramics and environmental art and took advantage of a three-week exchange program to study printmaking at Kyoto Seika University in Japan. On returning to Hiram College, Marty taught environmental art, ceramics, sculpture, and environmental classes. In 2007 Marty left Hiram College to work with endangered freshwater mussels at EnviroScience, Inc. (Stow, OH). Since that time, Marty built a home studio in Mt. Vernon, OH and since his retirement in 2018, he has been producing art full time. He has shown his work in many shows in the USA and Australia and one of his pieces won second place in The Ohio Art League's 2022 May show.
---
Linda Huey
Invited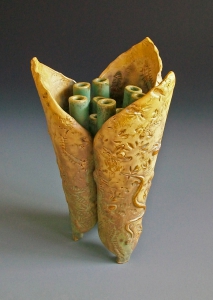 Three Leaf Vase, 2022
Hand-built, medium-fire stoneware, sculptural and functional, tulipierre-type vase
H: 10.5" L: 7" W: 7"
Sold
Artist Statement
I am curious about our culture's ambiguous relationship toward nature; what people want to see when nature is used as a subject, versus what they don't want to see. I like to test the borders of response between what is considered to be attractive, and what is not. My strategy juxtaposes beautiful versus ugly, life versus decay, desirable versus undesirable, and acceptance or avoidance of environmental issues. The vase is infested with insects that are perhaps creepy, but redeemed when holding beautiful fresh flowers.
Biography
Linda Huey is a full-time studio artist who makes a variety of work that includes pottery and sculpture using nature forms as a source of imagery. The pottery refers to the beauty of nature, while the sculpture involves concern for the environment. Living and working in both rural western New York State and Boston, she also teaches workshops and has a studio gallery open by appointment. Linda received an MFA in Ceramic Art from Alfred University and her work has been published in numerous books and national magazines and is included in public and private collections.
---
Janel Jacobson
Invited
Summer Hunters, 2023
place setting with large plate, small plate, goblet porcelain,celadon glaze large plate
Diam: 8.5" x 0.8" small plate Diam: 6.8" x 1.0" goblet H: 5.6" Diam: 3.3"
$480 set
Dragonflies and damselflies are predatory insects, both as aquatic nymphs and as adults. At times they can be seen flying in large numbers over water or vegetation, a marvelous sight to witness in the summers of Minnesota. (The larger plate has dragonflies, the smaller plate has damselflies. The goblet has damselfly stamp images.)
Artist Statement
Janel Jacobson has lived and worked in rural Minnesota as a potter, a carver of porcelain and a carver of small sculptural wood since graduation from college in 1972. She currently enjoys using porcelain clay while making useful pots and pursues developing forms that may be gently reshaped, carved and textured to be enhanced with celadon, tenmoku and responsive carbon trapping shino glazes.
Dragonflies and damselflies are predatory insects, both as aquatic nymphs and as adults. At times they can be seen flying in large numbers over water or vegetation, a marvelous sight to witness in the summers of Minnesota. (The larger plate has dragonflies, the smaller plate has damselflies. The goblet has damselfly stamp images.)
Biography
Pottery making was my first and is still an enduring love. I began making pottery in 1970 and started life as a self-employed potter in 1972 after graduation from college. From then I made useful stoneware pots until I began to focus on carved porcelain in the mid 1980's. That work evolved from shallow relief carved surfaces enhanced with celadon glaze to more sculptural, unglazed, pieces which brought me to the brink of a great shift from porcelain clay to hard, to carving hard, carvable wood. From 1995 to 2015 I enjoyed a marvelous, enriching period of carving small sculptures and netsuke from wood and other delicious non-clay materials. After the twenty-year deep affair with wood, I returned to making pots full time in 2016 using porcelain for useful pots, and for further exploration of shallow-relief, decorative surfaces with celadon based glazes, tenmoku and lively carbon-trapping shino glazes.
Janel Jacobson
IMoDD permanent collection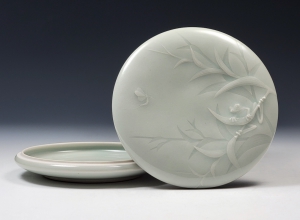 Peeper & Mayfly lidded round porcelain box with pale celadon glaze and carved tree frog and Mayfly in grasses, 1992
porcelain, carved, with celadon glaze
H: 1.25" Diam: 4.5"
2022.146 Museum Purchase
---
Janet Kelman
Juried
FORSHPEIZ, 2023
glass
H: 1.375" L: 9.875" W: 9.875"
$400
Artist Statement
Insects have crept their way into my work for the last ten years. I always find their shapes intriguing, but the real challenge of these pieces was making them appear appetizing. I've presented beetles, centipedes, and dragonflies on thick glass plates, imagining them as deep fried tidbits. Yum.
Biography
Janet Kelman has loved working with glass all of her adult life. As a Chemistry student at University of Michigan, she watched, fascinated, as the glassblower made instruments for the labs. She taught herself lampworking, blowing glass with a torch. With a partner, she built a glassblowing studio in Royal Oak, MI and made vases and perfume bottles there for eight years. She learned to create fused pieces in an electric kiln and some of her early fused glass is in the Corning Museum of Glass. More recent fused glass was exhibited at ArtPrize in Grand Rapids, MI, in 2016 and 2017. Since 1985, she has designed and created decorative sandblasted architectural glass. Her work graces homes and businesses across metro Detroit. Driven by curiosity about the material and opportunities for challenges, Janet has designed and fabricated many diverse fused and slumped architectural projects, including a five foot tall Sanctuary Lamp for the Chapel of the Jesuit Retreat Center in Oshkosh, WI, and an eighteen foot wall piece for the Boardroom of NSF Headquarters in Ann Arbor, MI. In her own work, Janet is drawn to themes of water and the plants and animals that inhabit it. Using these elements, she creates patterned layers that float in the glass. Images weave in and out, suggesting flow and movement and, metaphorically, buried thoughts and feelings. After maintaining a studio in Royal Oak for thirty-five years, Janet moved to Ann Arbor in 2009.
---
Marina Kuchinski
Juried
That's Enough dear, now let other people talk, 2022
Earthenware, underglaze, glaze, ceramic luster decals, aluminum dishes
H: 2" L: 18" W: 7"
$500
Artist Statement
I am interested in the ethical, cultural and psychological distinctions we make about what species we are allowed or not allowed to eat. These conflicting attitudes toward animals, and insects specifically, are sources for contemplating the complex roles animals have and the challenge they present to humans. Postcolonial studies and animal studies inspire me to move beyond an anthropocentric point of view to explore my humanity and animality that prevails within my own nature.
Biography
Marina Kuchinski is a visual artist practicing in ceramics, mixed media and installation. She primarily handbuilds and sometimes slip-casts animal and human forms. Animal and human subjects are used to explore various issues, be they social or psychological. Kuchinski exhibited extensively throughout the United States and abroad in solo and group exhibitions, including The State Museum of Pennsylvania, The Plains Art Museum, San Diego Art Institute, European Cultural and Technological Centre in Slovenia, Beit Aharon Kahana in Israel, American Museum of Ceramic Art, and Kohler Arts Center. Publications include Ceramics Monthly, Ceramics Art and Perception, Ceramics Now Magazine, The Boston Globe and The Philadelphia Inquirer. Kuchinski received numerous grants and awards, including Jerome and McKnight grants, juried exhibitions, and was a guest artist at a number of colleges and universities. Kuchinski has been an artist-in-residence at the Kohler Arts Center, Watershed Center for the Ceramic Arts, Chester Springs Studio, Northern Clay Center and New Harmony Clay Project. She earned her BFA from Bezalel Academy of Art and Design in Jerusalem and her MFA from Penn State University. Kuchinski is a Professor of Art at the College of DuPage living in the Chicago area.
---
Lynette Lewis (Pukatja, South Australia, b. 1979)
Special Invited International Artist
Puti Pikiniki – Bush Picnic, 2023
stoneware, hand-painted and glazed plate
Diam: 7.5" cup H: 3.25"
$280 each two-piece set
Artist Statement
Lynette Lewis is one of Ernabella Arts rising stars working across a variety of mediums. Ernabella Arts is Australia's oldest, continuously running Indigenous Art Centre. Ernabella Arts is in Pukatja Community, at the eastern end of the Musgrave Ranges in the far north west of South Australia. Lynette belongs to the second of three family generations working at the art centre. Lynette's dedication to her art practice has resulted in her developing deeply talented designs influenced by her environment. Since beginning work at Ernabella Arts in 2015 Lynette has developed into a promising ceramicist as well as becoming our lead jeweller and is a talented painter and skilled tjanpi weaver.
Her exquisite designs contain imagery depicting the tjukurpa (dreaming) of her father's country. 'Makiri is the place near Fregon where I went with my father to find tjala (honey ants)'. This sixteen-piece plate and cup setting is Lynette's interpretation of going out on Country and having a picnic. Lynette has used the walka (design) for which she has become renowned – Tjala or honey ants. Tjala live in nests about a metre underground beneath mulga trees. They are a highly favoured food source for anangu (people) on the Anangu Pitjantjatjara Yankunytjatjara (APY) Lands in the remote northwest corner of the state of South Australia in the centre of the continent. The tjala tunnels that lead down to the ants' nests are called nyinantu, and the larvae are called ipilyka-ipilyka. After the rain when the ground is soft the women go digging for tjala by looking for the drill holes under the mulga trees. They then use shovels and crowbars to dig down following the tunnels to find the tjala inside. Anangu suck the delicious rich honey-like liquid from the distended abdomen of the tjala. The story of the tjala is told across the Northern Territory into South Australia and is an important link between Anangu mythology and inter-dependence on the environment.
Biography
Lynette Lewis has fast become one of Ernabella Art's leading artists. She began as an Aboriginal Arts Worker at Ernabella Arts in 2015 when her children were in their final years of school. Prior to this, Lynette had made tjanpi (weaving) at home and years earlier had created a suite of prints at the art centre.
In 2015 Lynette participated in two workshops leading up to the exhibition at Sabbia Gallery in Sydney – Yangupala Tjuta Waakarinyi (Many Young People Working). She then attended the Australian Ceramics Triennale in Canberra with three other artists and demonstrated at the Sabbia Gallery exhibition that toured to the Australian National Botanical Gardens Gallery.
In 2015 Lynette participated in a contemporary jewelery workshop with jeweller Mel Young at Ernabella as part of the Indigenous Jewelery Project. She created exceptional resin and traditional seed necklaces during the workshop, and she was selected as a finalist in the National Contemporary Jewellery Award at Griffith Regional Gallery. Also in 2016, Lynette worked alongside seven other Ernabella women to create a collaborative ceramics installation for the Indigenous Ceramics Art Award at the Shepparton Art Museum. In 2016 Lynette's work was acquired for the National Museum of Australia's collection. In 2017 her work was presented in Clay Stories: Contemporary Indigenous ceramics from remote Australiaat Sabbia Gallery. The exhibition began its national tour at JamFactory in Adelaide for the Tarnanthi: Festival of Aboriginal and Torres Strait Islander Art.
Her first solo exhibition was Mara ninti: Clever hands – Liritja (necklaces) by Lynette Lewis and was presented at Craft ACT in 2017. Since then Lynette's work has appeared in exhibitions across Australia and internationally, including the Hold our connection to country strong for malatja-malatja (future generations) exhibition at Aboriginal Signature gallery in Brussels in 2018 and then again in Nganampa ngura-nguru nyurampa ngurakutu (From our place to your place) at Aboriginal Signature in 2020.
---
Linda Lighton
Invited
The Entomophagous Leaf Pile, 2023
clay, glaze, lusters and china paint
H: 8" L: 17" W: 15"
$10,000
candlesticks
H: 6.25" L: 4" W: 3.75" H: 4.25" L: 6.25" W: 4.5"
$375 each
Artist Statement
What's for dinner? Popcorn Cicadas? Hungry for Grubs? Scorpion Scallopini? Chex Mix with crickets? Nutty, shrimp-like flavor! Pesto on pasta?
Crickets are rich in calcium. Cricket Carbonara is a simple classic meal, perfect for a delicious mid-week meal. Crackling crunch against the epic creaminess of the pasta is tasty.
Cricket Carbonara
30 grams Ready to Cook Dried Crickets 20g smoked garlic 20g smoked bacon seasoning 4 egg yolks 200g spaghetti 25 g butter 1 pack flat leaf parsley, (chopped) Olive oil Salt and Pepper
Season crickets Add crickets Garlic, olive oil, and smokey bacon seasoning to a mixing bowl. In a separate bowl mix grated parmesan and egg yolks together to form a paste.
Boil pasta, 10 minutes
Reserve 5 ladles of the pasta cooking water before draining
Fry crickets, melt butter in a frying pan with a dash of olive oil. Fry for 3-5 minutes until nice and crunchy. Be careful not to burn.
Add the pasta to the pan and stir to coat. Add 2 ladles of the pasta water.
Stir in the the egg and parmesan mixture. Season with salt and pepper.
Add more pasta water if necessary.
Stir through the chopped parsley and serve
Biography
Lighton has had 49 solo shows since 1974 and participated in more than 150 group exhibitions including the 1st World Biennale in Icheon, Korea, 2001: International Bienal de Manises, Valencia, Spain, 2006; World Clay, Latvian National Museum, Riga, Latvia, 2006, Fule International Ceramic Museum, Fuping, China, 2008 and Ariana Museum, Geneva, Switzerland, 2014 Rhinesberg Castle Museum, Germany.
Lighton is a fervent arts advocate and activist. She has worked on many boards in her community; helping to instigate the 1 percent for Arts Program in Kansas City and serving on numerous boards over the years. Lighton directs the Lighton International Artists Exchange Program.
---
Cara Jean McCarthy
Juried
Selection of small plates and bowls from Shepherd's Pie, Bringing the Bugs to the Picnic, 2022-2023
porcelain with pencils, paints & pastel underglazes
varying small sizes
nfs
Artist Statement
Inspired by Nature's lush forms, I used porcelain to create my own luscious and earthy picnic setting. Shaped on the wheel, I altered the forms, adding hand-coiled leaves, plump, colorful vines and whimsical berries. Planning my picnic's presentation of an unusual Shepherd's Pie filled with flavorful entomophagy delicacies, to be served in sugary bite-sized portions, I created a small, sweet service to complement the Pie.
Part of this Shepherd's Pie Picnic Setting is included in this exhibition – 8 tiny serving bowls and 3 itty-bitty plates – all hand painted, and lovingly decorated with enticing potential ingredients. Painted with swirling memories of decades of 4-H in Indiana, collecting Bugs with my Dad, then perching and pinning them in beautiful glass-paned wooden Entomology boxes for State Fairs. (… These delicate displays are still, alarmingly, in my sister's basement!)
Tiny plates, for an incredibly special occasion
Bon Appetit!
Biography
Back home again in Indiana this year after 43 years in NYC, my new clay home is The Fountain Square Clay Center. I'm a former professional Dancer, and grew up in Indianapolis dreaming of pursuing a Broadway Musical Theater Life in NYC. While dancing in a regional ballet company, I earned an M.A., analyzing the Vaganova Russian Syllabus and Method of Ballet Instruction, then moved to NYC and loved every single moment of my Dancing Life, performing, choreographing, and teaching there. I discovered Clay Love at Greenwich House Pottery in 2007 after my Dance career had ended and my beautiful daughter Heather had left home. Working with clay became my new Dance – creating movement in porcelain stillness my motif.
---
Jillian McEvoy
Juried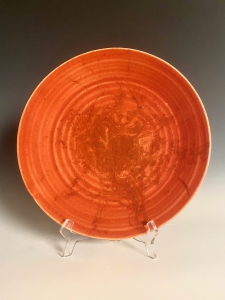 Worm Studies, 2023
stoneware
Diam: 12.5"
nfs
Artist Statement
My current work has been an exploration of the integration of insect forms, particularly the beetle, and the vessel, and I have also been experimenting with having the insects themselves interact with the clay, such as worms burrowing through clay mixed with cornmeal. In addition to the worms interacting, I've been experimenting with plants growing on and alter the vessels surface, and then spraying them with slip and glaze to preserve the effect of the plants.
With the majority of my work, I am interested in initially using the potter's wheel to generate form, and then to alter these pieces to mimic qualities of the insects I am drawing inspiration from, or to create surfaces for those natural forces themselves to interact with. I appreciate participating in this "metamorphosis" and transition from functional to sculptural during the making process. Whether that be transforming it into a piece that resembles the insect, or one that is changed due to the actual living creature, those progressions over time and records of those changes in the final product are what really draw me to these processes. I am drawn to the vessel because of the relationship between the interior and exterior, the potential for containment, the transition that occurs during the various ceramic processes, and because of my personal path as a ceramicist that began with an interest in functional pottery.
Biography
Jillian McEvoy, born in 1997 in New Jersey, is a ceramic artist currently based in Massachusetts and grew up in New Jersey and New York. She received her BFA from SUNY Cortland in 2019 and is currently a first year MFA student at UMass Dartmouth.
---
Kirk Mangus (1952-2013)
IMoDD permanent collection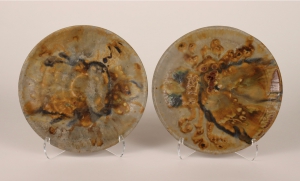 two ash glazed plates, 1975
stoneware, ash glaze
Diam: 9.25"
IMoDD 2023.13, 2023.14 Gift of Eva Kwong
Kirk Mangus created these "bug plates" in 1975 with an ash glaze made from fallen apple trees on his parent's small farm in Pennsylvania with an added iron wash. Eva Kwong says they "ate off them for decades including family and friends who visited, like Toshiko Takaezu, Dan Anderson, Jun Kaneko, Chuck Hindes, etc."
Biography
Kirk Mangus grew up in western PA. His parents were both high school art teachers who took him to museums and art shows. They also enrolled him at Penland when they took classes there.
Kirk became the Head of Ceramics at Kent State University from 1985 till his sudden passing from a brain aneurysm in 2013. Kirk gave hundreds of workshops and lectures throughout the US and in Korea, Japan, China, Canada, Mexico, Finland and Italy. His work has received awards from the National Endowment for the Arts, Ohio Arts Council, Pennsylvania Council on the Arts and the McKnight Foundation.
---
Sherrie Miller
Invited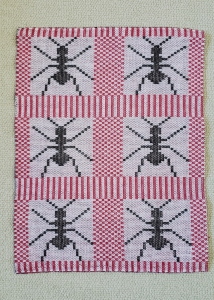 Ants at a Picnic Mat cotton, woven in 2020
Summer/Winter weave structure
18" x 14"
nfs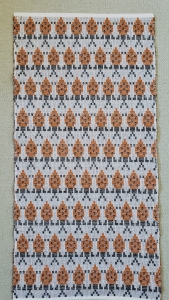 Ladybug Runner cotton, woven in 2019
Summer/Winter weave structure
29.5" x 14.5″
$125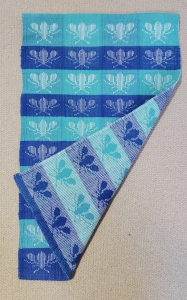 Fly Towel cotton, woven in 2020
Summer/Winter weave structure
22.75" x 13.5"
nfs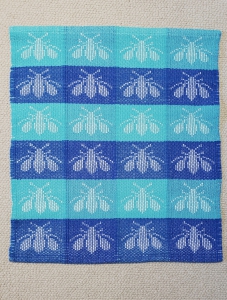 Fly Mat/Hand towel cotton, woven in 2020
Summer/Winter weave structure
15.5" x 13.5"
nfs
Artist Statement
Including animal imagery in my weaving has always been an important part of my work. I've also enjoyed injecting humor into my woven pieces. I would like to think that I've achieved that by weaving towels, runners and mats "crawling" with ants, flies and ladybugs.
Biography
It is said that when we are grown up we turn back to doing the things we loved as a child. Happy memories of weaving potholders as a young girl came back to me as a young adult. Starting with a small table loom, weaving became an integral part of my life. That one table loom has turned into a house full of looms and decades after rediscovering weaving as an adult, I've never stopped being fascinated by it.
---
Farraday Newsome
Invited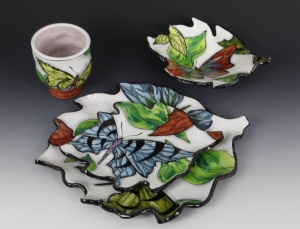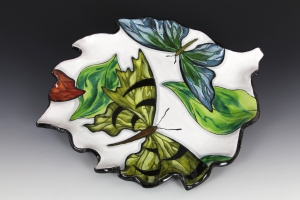 Butterfly Dinner Plate, 2015
glazed terra cotta
H: 1" L: 13" W: 11.5"
SOLD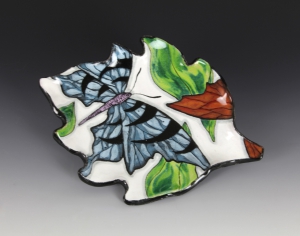 Butterfly Dessert Plate, 2017
glazed terra cotta
H: 1" L: 10" W: 7.5"
$150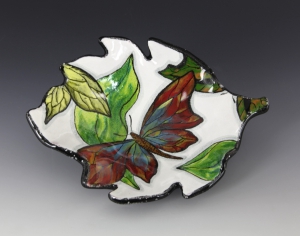 Butterfly Bowl, undated
glazed terra cotta
H: 2" L: 8.75" W: 6.5"
SOLD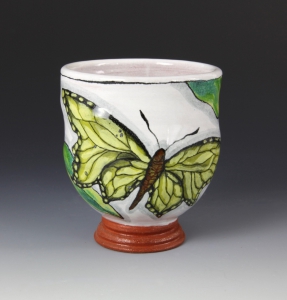 Butterfly Cup, 2018
glazed terra cotta
H: 4" Diam: 3.75"
$160
Artist Statement
These butterflies dishes speak to the light-filled, transitory world of nature's beauty. I hope that diners will be reminded of the extraordinary loveliness of the natural world when using this place setting.
Biography
Farraday Newsome grew up in the mountainous redwood forest of coastal California and her subject matter is drawn primarily from nature and the emotional allusions and metaphors found in nature. Her work is included in many public collections, including the Smithsonian American Art Museum, Long Beach Museum of Art, Everson Museum of Art, Racine Art Museum, San Angelo Museum of Fine Arts, Louisiana State University Art Museum, and the Arizona State University Art Museum.
---
Sue O'Connor
Juried
Beetle Juice, 2023
porcelain, with celadon glaze, cone 6, sprigs and carved pitcher
H: 14" Diam: 5" cups H: 5" Diam: 3"
set $250
Books and Bugs, 2023
porcelain with underglaze and decals, cone 6
H: 7 " L: 10.5"
SOLD
Artist Statement
Ceramics has been a lifelong passion. My love for clay stems from its incredible capability to both excite and disappoint. Texture, line, and color are the basis of my creativity while transforming clay into a finished piece.
Biography
Growing up, I worked with textiles and that is what sparked by interest in pattern and form. I graduated from University of Denver with a BFA. For over the past decade, I have taught beginner and advanced hand building and throwing classes at the Birmingham Bloomfield Art Center. I've been featured in Ceramics Monthly, Lark Craft's 500 Prints on Clay, Detroit Home Magazine, and three Potter's Council calendars.
---
Jerri Puerner
Juried
Garden Party Luncheon, 2022
terra cotta set of three plate
Diam: 7.75"x 1.375" bowl Diam: 6" x 2.25" goblet Diam: 4" x 4.5"
set $500
Artist Statement
I've been working in terra cotta (Italian for "baked earth") for a short time and am enchanted by its place in history and sculptural possibilities. Compared to the subtractive method of sculpture-making using a hard material like marble, terra cotta is malleable, moldable, and can be incised until it is fired and hardened. Since terra cotta is often associated with garden statuary and flower pots, it is the perfect material for Garden Party Luncheon…featuring blooms, leaves, beetles and bugs.
This piece was Inspired by the French sculptor Albert-Ernest Carrier-Belleuse (1824-1887), and his unglazed terra cotta sculpture Portrait of an Actress circa 1865-1870, in the Grand Rapids Art Museum. He worked in a Rococo style; light, playful and decorative.
Biography
With a BFA in painting and drawing from the University of Wisconsin-Milwaukee, Ms. Puerner spent years working as a graphic artist, film festival director and recording studio manager before returning to her fine arts roots in 2016.
Now a full-time ceramic artist, she works in a varied palette to create sculptural works featuring textural line and graceful form.
She is represented by the historic Pewabic Pottery in Detroit, Sleeping Bear Gallery in Empire, MI and the Beaver Island Gallery, on Beaver Island, MI, and works from her studios in Ada and Grand Rapids, MI.
---
Allen Samuels
Juried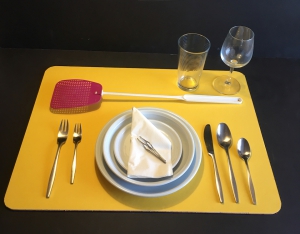 Setting a Proper Table, 2022
dinnerware, silverware, glassware, fly swatter, tweezers
24" x 18"
nfs
Artist Statement
Eating insects may become international and common practice in time. For those used to eating these nutritious flying and crawling things, insects are a practical and obvious source of nutrition, flavors and textures. For those who will have to learn to get over the idea of eating "bugs", it may take some convincing. A formal and proper dining setting could help those people to see eating insects as smart, proper, and yummy. To help, a proper table setting and appropriate utensils will be necessary. In addition to the usual dinnerware, glassware and silverware the addition of a fly swatter and tweezers may complete the table setting and encourage people to catch their own and enjoy these new treats.
Biography
Allen Samuels is an Industrial Designer and educator who has designed manufactured products for over 50 years concurrent with teaching at The University of Michigan, School of Art and Design for 34 years. In retirement as a non profit, he is designing products that deal with aging, poverty, disaster relief and the disabled. He and his wife live in Ann Arbor, Michigan.
---
Pamela Segers
Juried Honorable Mention Award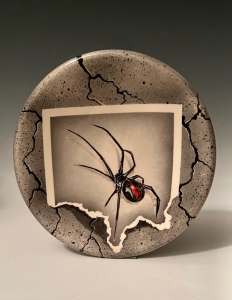 Redback Spider Dessert Plate, 2023
thrown earthenware (white) with airbrushed & hand-painted underglazes
H: 1" Diam: 6"
$150
Artist Statement
My main objective as a ceramic artist, is to create work that is both personal and stimulating enough to draw the viewer in for a closer look. The importance for selecting ceramics as my vehicle for a narrative approach is mainly due to its natural affinity. Ceramics allows me a method of documenting events, history, and experiences that in later years provides a personal story retold with a personal voice.
My work is both thrown on the potter's wheel and hand-built, processes that provide me with high degree of control and consequently, a great deal of enjoyment. I use white earthenware or porcelain clay. This offers me a white, smooth background to carry the surface decoration. Each work is decorated with all ceramic mediums. I am a purist and I enjoy the challenge to stay true to the art and workout solutions to technical problems that may arise. Each work is always decorated with airbrushed, and hand painted colored underglazes applied to the bisque ware, and then sprayed with a thin coat of clear glaze before being fired in an oxidizing atmosphere.
Biography
I was born and raised in Atlanta, but I currently live in the Augusta, GA area. Before receiving my MFA in Ceramics from Georgia State University in 2004, I earned my BVA at Georgia State University in 1980 in Ceramics, Jewelry/Silversmithing, and Education, and an AA degree at Oxford College of Emory University. I studied abroad at the Sanbo International Ceramic Institute in Jingdezhen, China in 2005; after winning an Artist Residency from the show, "Taking Measure II – Celebrating 1000 Years of Porcelain in China". I exhibit my artwork nationally and internationally. My artwork has been published in several ceramic magazines, books, catalogs, and posters in the US, as well as an article and images in Airbrush Action Magazine. My artwork is in many private collections, including the Kamm Teapot Foundation (The world's largest and most comprehensive teapot collection).
---
Linda Sikora
Invited
Kitchen Dishes for Entomophagous Dining (tile base, twenty-one dishes, ground motifs, cut stick)
clay, oxides, slip, underglaze, glaze thrown, pressed, built
Dimensions: (assembled) Height 8.5 inches (21.5 cm) Length 28 inches (35.5 cm) Depth 14 inches (71 cm)
$1500.00
Artist statement:
Dark plates with white ground and stacked on a grid of tiles, are painted with 'ground motifs' that read like the fragments of foliage and bush found underfoot when walking unpaved seasonal roads through wooded lots (as cicadas sing). A cut, black stick rests on top of the plate stacks –a bridge to crawl over or a memento mori.
Biography
Linda Sikora resides with her family near Alfred NY where she has a studio practice and is a professor of Ceramic Art at Alfred University. Academic study in visual art (BA) and an apprenticeship in British Columbia was the foundation of training that continued at NSCAD University, Nova Scotia, Canada (BFA) and University of Minnesota–Minneapolis, (MFA). Professional activities are national and international. Residencies include Archie Bray Foundation; Chunkang College of Cultural Industry, Korea; Tainan National College of The Arts, Taiwan; Clay Edge, Australia. Sikora was awarded a United States Artists Fellowship in 2020. Public collections include: Art Gallery of Nova Scotia; LA County Museum of Art; Minneapolis Institute of the Arts; Everson Museum; Huntington Museum of Art; Fuller Craft Museum; Metropolitan Museum of Art; Smithsonian Museum of American Art; National Museum of Sweden; Gardiner Museum, Toronto, Canada.
---
Debbie Thompson
Invited
Insecta Delecta, 2022-2023
Porcelain – Cone 10 oxidation, Colored slips with Matte glaze, Hot Licks Lollipops
10″H x 9″W x 9″D including Lollipops
$400.00
Artist Statement
While exploring ideas for Entomophagous Dining, I began searching for inspiration sources. When I found these colorful transparent lollipops, my idea came into focus.
Biography
I am inspired by the natural world, which I often reference when creating. My interest in clay began in High School, when I took classes at Cranbrook Academy of Art in Bloomfield Hills, Michigan. I pursued my passion at the University of Michigan School of Art and Design, earning a Bachelors of Fine Arts, and a Masters of Arts from Eastern Michigan University. I have pursued advanced study by taking post-graduate studio classes at the Chicago Art Institute, Maryland Art Institute, Rhode Island School of Design, Anderson Ranch and the Arrowmont School of Art and Design.
I taught Visual Art in the Ann Arbor Public Schools for thirty-four years, and have taught at the University of Michigan School of Education and Washtenaw Community College. I exhibit my work locally and nationally. I am a member of the National Ceramic Education Association, the Potters Guild in Ann Arbor, Michigan where I live and have my studio.
---
Mary Underwood
Invited
Beeware, 2023
towel
16/2 cotton woven on a drawloom
28" x 17.5"
SOLD
Artist Statement
There is a bee keeper in my neighborhood. From time to time she sends a message to neighbors, asking that they don't use Nionicotinoid pesticides (Nio nics). They are deadly to bees. She describes the bees' disorientation when poisoned: unable to find their way back to their hives; and if they do manage to return, then their terrible death. Bees are more than an decoration. Please help them come home.
Biography
Mary Underwood, located in Ann Arbor, MI, is both a handweaver and handspinner producing cloth for fabric, accessories, and for the home. Away from the loom she researches textiles in Quebec and Mongolia; lectures, and participates in regional, national and international weaving organizations.
---
Robin Wilt
Juried
The "Red Flagging" of the World's Problem Puzzle Continues with Pollinators, 2022
clay and mixed media, with cloth bowl
H: 4" Diam: 14" and with flag Diam: 17"
nfs
Artist Statement
The world continues to periodically pin "red flags" on the problems that we live with, such as
– Over population
– Impact of fossil fuels
– Threatened nature
– Loss of pollinators
– Climate change
– Fast fashion
– Gun violence
– Toxic Politics,
– many more,
and the Pollinators
Current Red Flags fade with time until a bright new one gets pinned into our consciousness, which subsequently fades in time too.
How and when will resources (people, time, money, etc.) be devoted to these problems?
Biography
Robin Wilt was born and raised in Ann Arbor, MI. She is a retired public school teacher. She has made art all her life.
---
Suzanne Wolfe
Invited
Butterfly Breast Cup, 2023
Porcelain, decals, metallic overglaze
3.75" x 4" x 4"
SOLD
Artist Statement
An elegant dairy at Chateau de Rambouillet, the surprise gift from Louis XVI to Marie Antoinette was meant to acknowledge her love of a rustic life. The summer house was furnished with fine porcelain from the Sevres Factory. The signature object in the porcelain collection was a cup made for drinking by holding it carefully in both hands. Inspired by the cup from Rambouillet, this version continues to acknowledge the high value of porcelain by the lavish use of gold on the cup's interior. Butterflies adorn the interior, with the notion that as one drinks from the cup, they will flutter up, their wings softly brushing your face. So if it is true, that we are what we eat, then hopefully we will emerge you're your rigid cocoons and become as delicate and gentle as butterflies.
Biography
Suzanne Wolfe was born in Chicago, but has resided in Honolulu since 1971. A retired academic, she now is able to devote much of her attention to her ceramic work, which is in collections in the United States (Honolulu Academy of Arts; the Mint Museum in Charlotte, North Carolina; and Arizona State University Museum in Tempe, Arizona) as well as internationally (the collections of Ms. Yaeko Shiotsuki, Tokyo, Japan; the American Ceramics Museum in Fuping, Shaanxi Province, China; the Taipei Yingge Museum of Ceramics; and Anadolu University Art Museum in Eskesehir,Turkey). She has done residencies in Taiwan, South Korea, and Australia and taught workshops in Australia, Hawaii, Taiwan, Turkey, South Korea, and the People's Republic of China.