Sculptural Dinnerware
A Special Exhibition presented by
The International Museum of Dinnerware Design at
Gifts of Art Gallery, Michigan Medicine, University of Michigan
Taubman Health Center South Lobby
1500 E. Medical Center Drive, Ann Arbor MI 48109
March 16 – August 28, 2020, 8 am – 8 pm
med.umich.edu/goa/exhibits.htm | 734.936.ARTS (2787)
Dining is a multi-dimensional experience. It involves all the senses. While all dining implements (plates, flatware, stemware) have 3 dimensions, some are created more sculpturally than others. In fact, some are sculpture.

The International Museum of Dinnerware Design celebrates dining experiences and memories. It collects functional dinnerware as well as fine art referencing dining. This exhibition features sculptural artwork that will make the viewer stop and look, including a larger-than-life abstraction of a knife, fork and spoon set created from clay in the 1990s by William Parry; a 20-piece European dining vignette created in "scribbled" wire by Portuguese artist David Oliveira; a fanciful Léopold Foulem Royal Benevolence cake stand; baby's ceramic feeding dishes in pastel glazes with recumbent clowns and children's adorable trains for dining in colorful plastic; beautiful lidded pouring vessels in coral and cedar green created by noted designer Russel Wright; and Frog Fruit Loops by California Funk artist David Gilhooly. Visitors to the exhibition can expect to see Rosenthal porcelain plates from Germany with the theme of Mozart's Magic Flute, a Hall China Art Deco red-glazed car-shaped teapot from the 1930s, Mid-Century Modern luncheon snack sets, in addition to green frogs in faux cereal, and baby ware that will make one grin.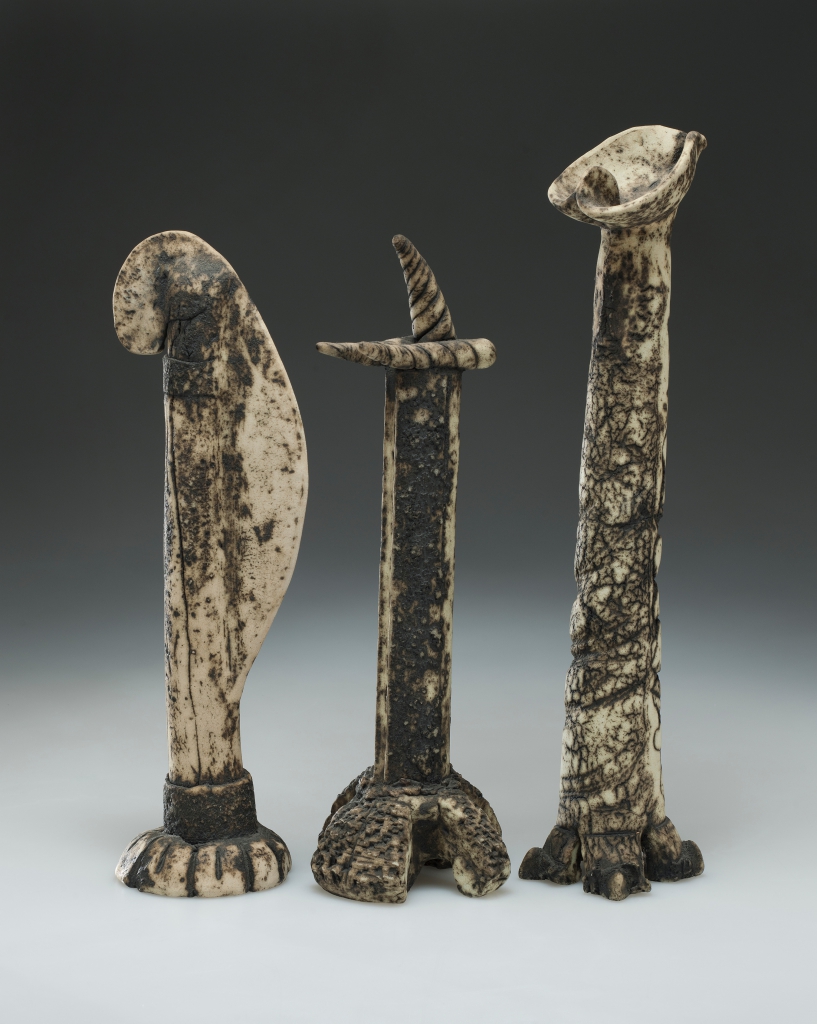 William Parry (American, 1918 – 2004)
KFS (Knife Fork Spoon) 28: Stand, 1994
white stoneware with black copper oxide slip
Knife: 17″ x 4.5″ x 4.5″
Fork: 16″ x 5″ x 5″
Spoon: 19.5′ x 4.5″ x 4.5″
International Museum of Dinnerware Design
2012.3 Gift of Amanda Parry Oglesbee and Brian Oglesbee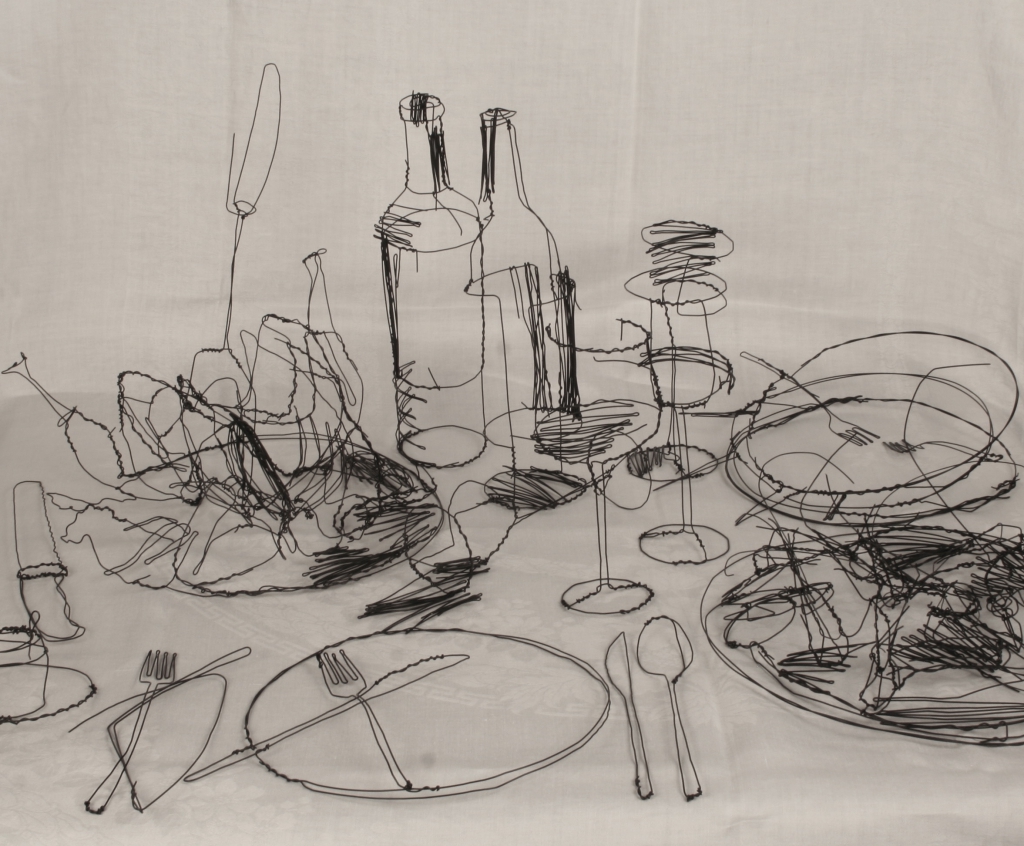 David Oliveira, (Portuguese, born Lisbon 1980)
dinnerware still life with wine bottles and glasses, 2012
wire sculpture, galvanized wire
wine bottles H: 14″
International Museum of Dinnerware Design
2012.15 Museum Purchase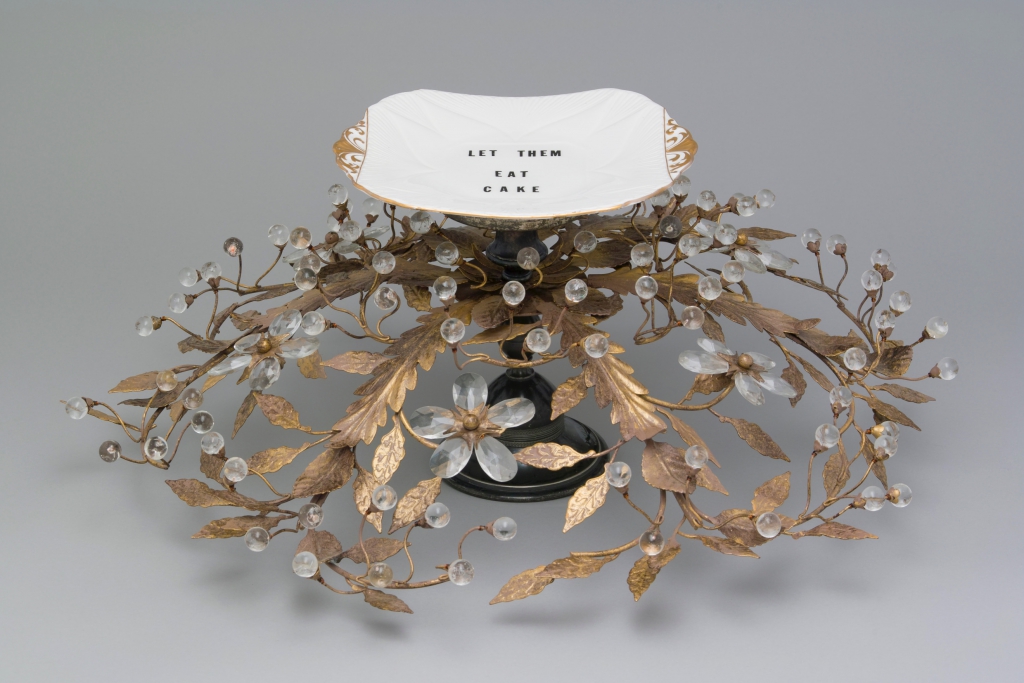 Léopold Foulem (Canadian, b. 1945)
Royal Benevolence cake stand, 2016
found objects
H: 9.75″ Diam: 23″
International Museum of Dinnerware Design
2016.133 Gift of the Artist
In addition to admiring each sculptural work aesthetically, think beyond the obvious. When viewing Bill Parry's abstract knife, fork, and spoon set, note their resemblance to objects recovered archaeologically in both surface treatment and form. A close look at David Oliveira's wire scribble dinnerware reveals not only wine bottles and wine glasses, but spilled wine. Keep looking and one can see not only a place setting of dishes but also a stack of dirty dishes – all created from galvanized wire. The artist Léopold Foulem lives in Montreal where he created his captivating cake stand from found objects, including repurposed dinnerware. Did Marie Antoinette really utter the words "Let them eat cake"?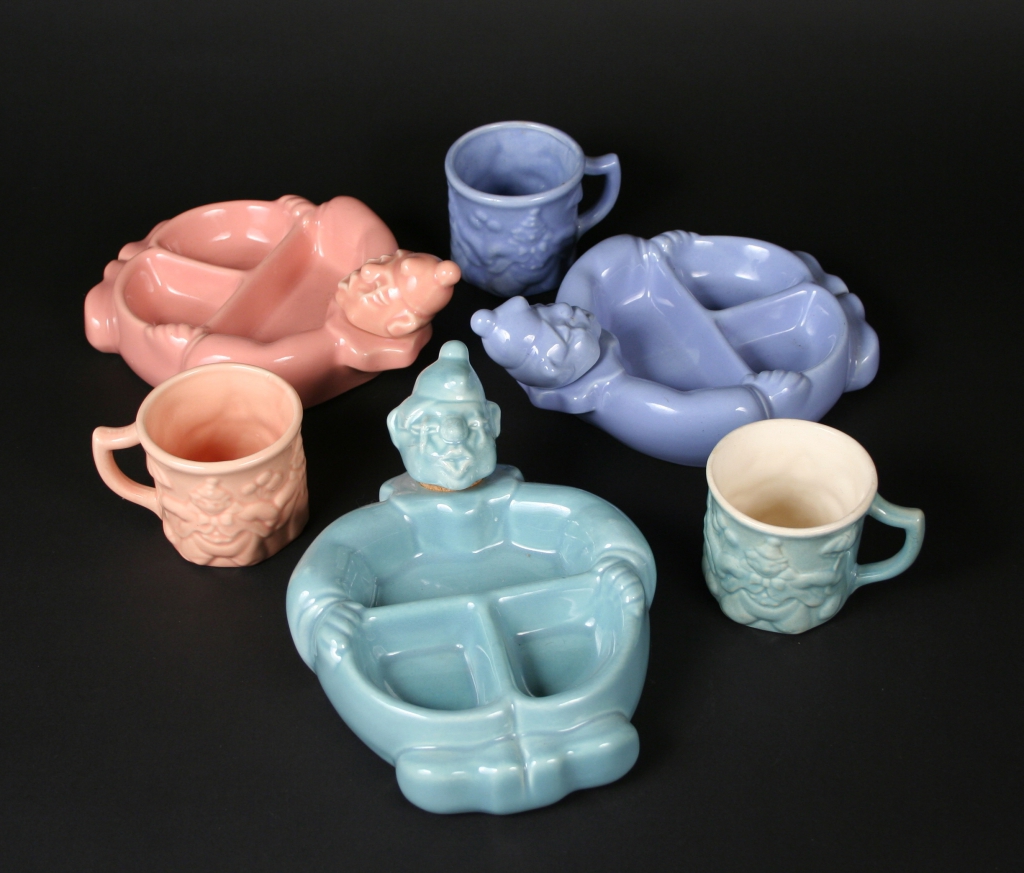 Red Wing Pottery, Hankscraft
3 pink, lavender, and blue clown-shaped baby feeding warming dishes and matching cups, ca. 1940s
ceramic, cork
clowns L: 9.25″ W: 6.5″
cups H: 3″ L: 4″ Diam: 3″
International Museum of Dinnerware Design
2012.39, 2012.43, 2012.77, 2014.30, 2013.50, 2014.27 Gifts of Margaret Carney and Bill Walker and Museum Purchases
About those clown dishes – ceramic baby food warmers were necessary in the 1940s and 1950s when the easiest way to keep baby food warm was in hollow ceramic feeders that held hot water. Introduced in 1967, the microwave oven was not in common use in home kitchens until the 1970s. These colorful clowns manufactured by Red Wing Pottery for Hankscraft must have been popular since there are so many still available to day.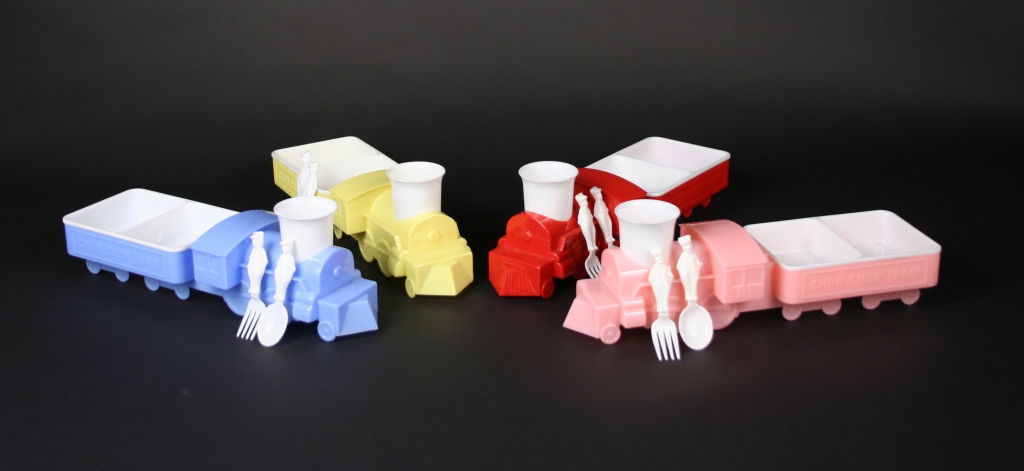 Chow Chow Feeding Trains for Children, ca. 1940s-1950s
yellow, pink, blue, and white plastic
train L: 13.5″
International Museum of Dinnerware Design
2014.67, 2013.124, 2013.154 Museum Purchases
Not all dinnerware is clay-based or for adult diners. However, colorful plastic Chow Chow Trains from the 1950s would delight young and old alike. The train car and engine held the food, the removable smoke stack cup served milk or juice, and the set was made even more appealing by a fork and spoon in the shape of train engineers or conductors. Color the train's body in pink, blue, yellow, red, green and even clear plastic with white accents, and the result is a definite winner for children's fun times dining experiences.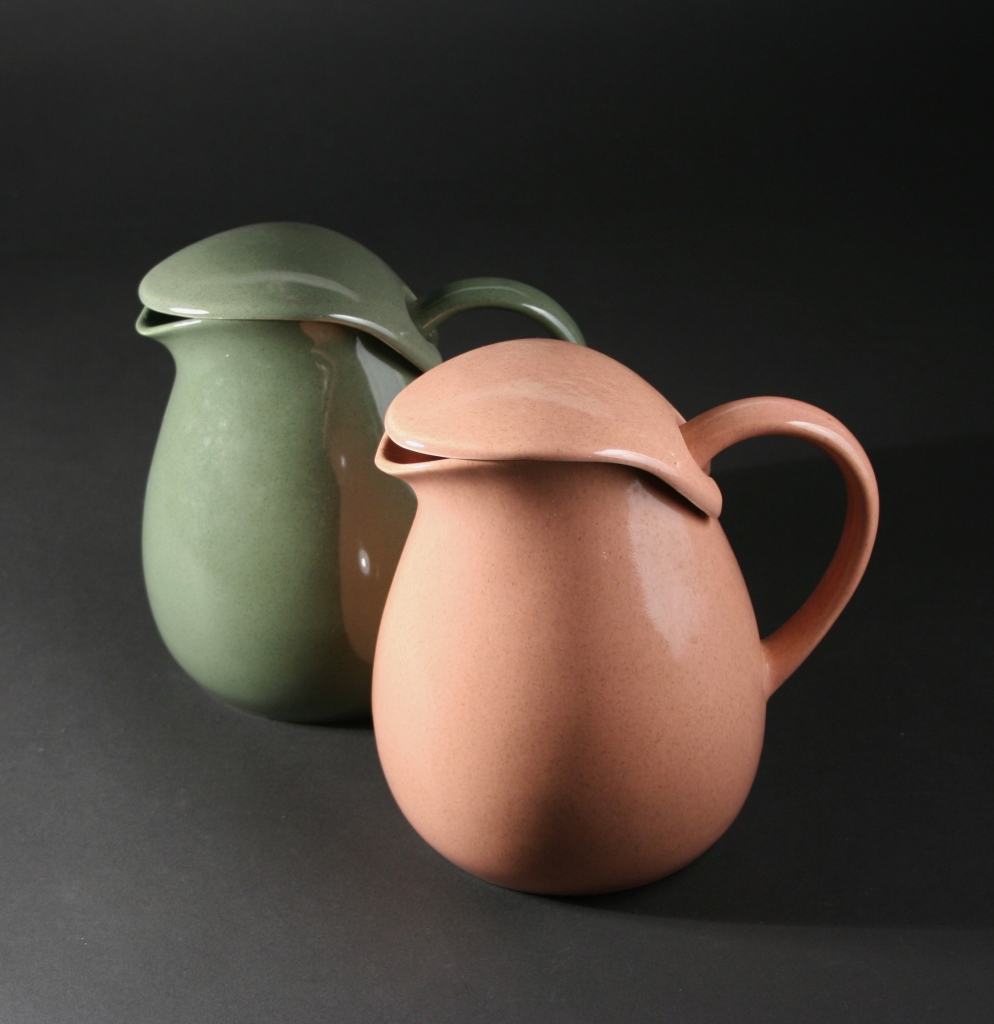 Steubenville Pottery Company, Steubenville, Ohio
Russel Wright, American, 1904-1976, designer
American Modern coral and green lidded water pitchers, 1939-1959
china, glazed
H: 7.75″ L: 7.5″ Diam: 6.25″
International Museum of Dinnerware Design
2018.230, 2018.231 Museum Purchases
The well-known iconic American designer Russel Wright (1904-1976) designed the popular American Modern dinnerware sets manufactured by Steubenville Pottery between 1939-1959. Many couples married during those years chose these dishes as their wedding china in chartreuse and black chutney, cedar green, coral and granite grey, etc. Not only was the mixing and matching of colors encouraged, but new shapes were frequently added to the line. These two lyrical water pitchers demonstrate his masterful design skills.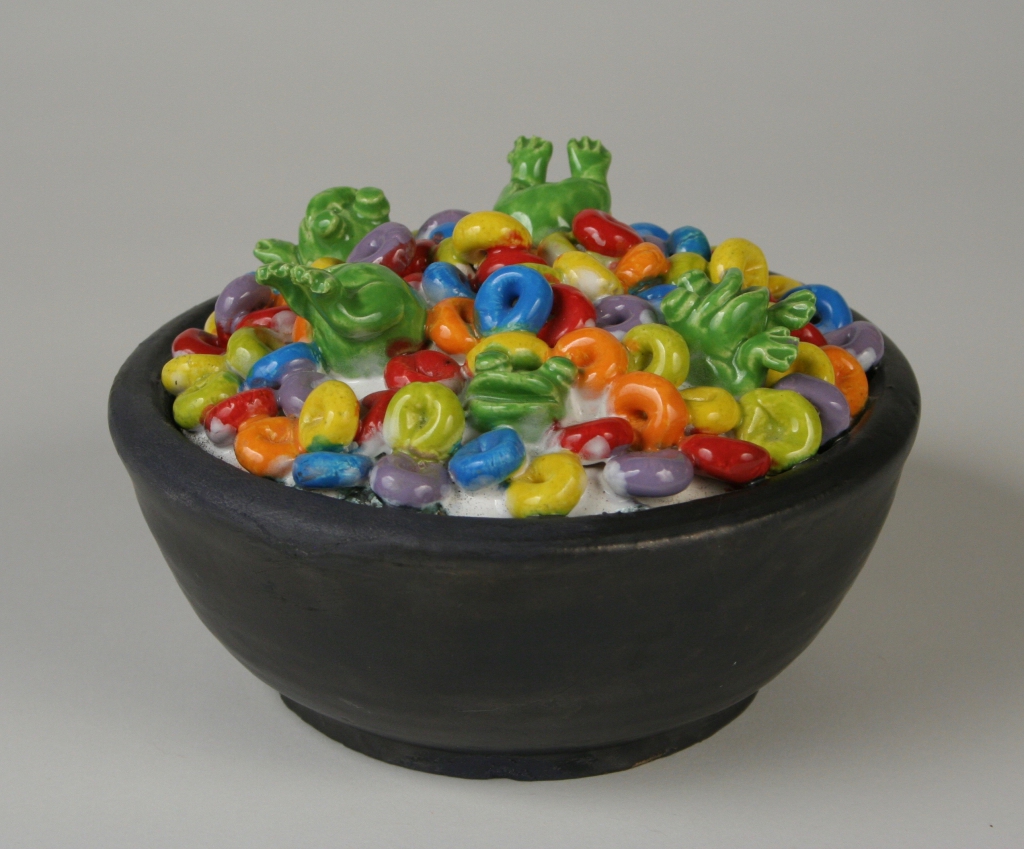 David Gilhooly (American, 1943-2013)
Frog Fruit Loops, 2010
ceramic
H: 4.5." Diam: 7.25″
International Museum of Dinnerware Design
2019.167 Museum Purchase
California Funk artist David Gilhooly (1943-2013) created wildly creative ceramic faux food in imaginative dinnerware, frequently involving green frogs in hot cocoa, sandwiches, cereal, salad, etc. His Frog Fruit Loops from 2010 is a feast for sleepy breakfast eyes. Honestly, it looks good enough to eat until the diner spots the telltale green frogs frolicking in the milk and cereal.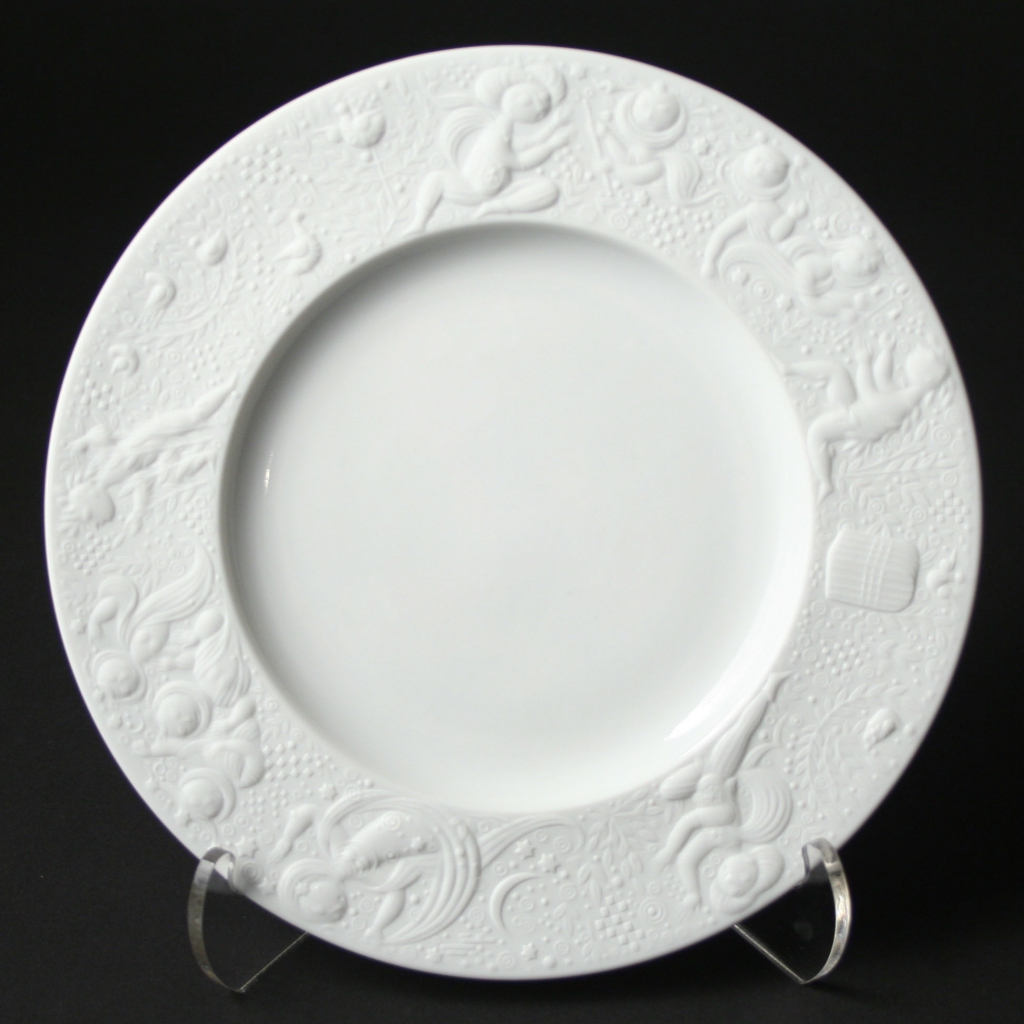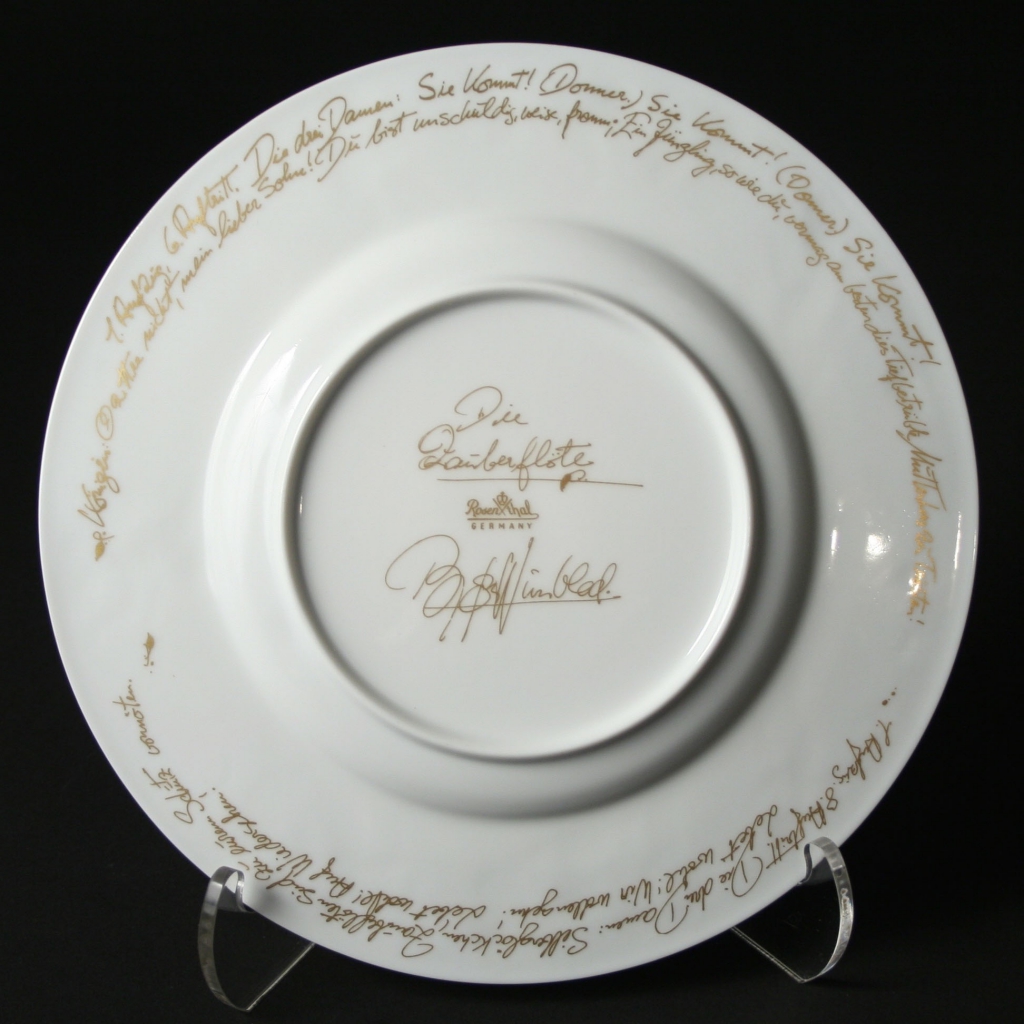 Rosenthal, Germany
Bjorn Wiinblad, designer
Rosenthal Magic Flute white salad plates
porcelain, glazed and decorated
Diam: 8.75″
International Museum of Dinnerware Design
2018.234, 2018.235 Museum Purchases, funded through the generosity of Heide Klein
Rosenthal China in Germany has created many exquisite fine dining services since 1879. In one memorable design created by Bjorn Wiinbald, the plates are sculptural on the wide porcelain border surface with 3D images of characters such as the Queen of the Night and Papageno from Mozart's opera "The Magic Flute." This inspired dinnerware has gilt script on the back with libretto from the opera.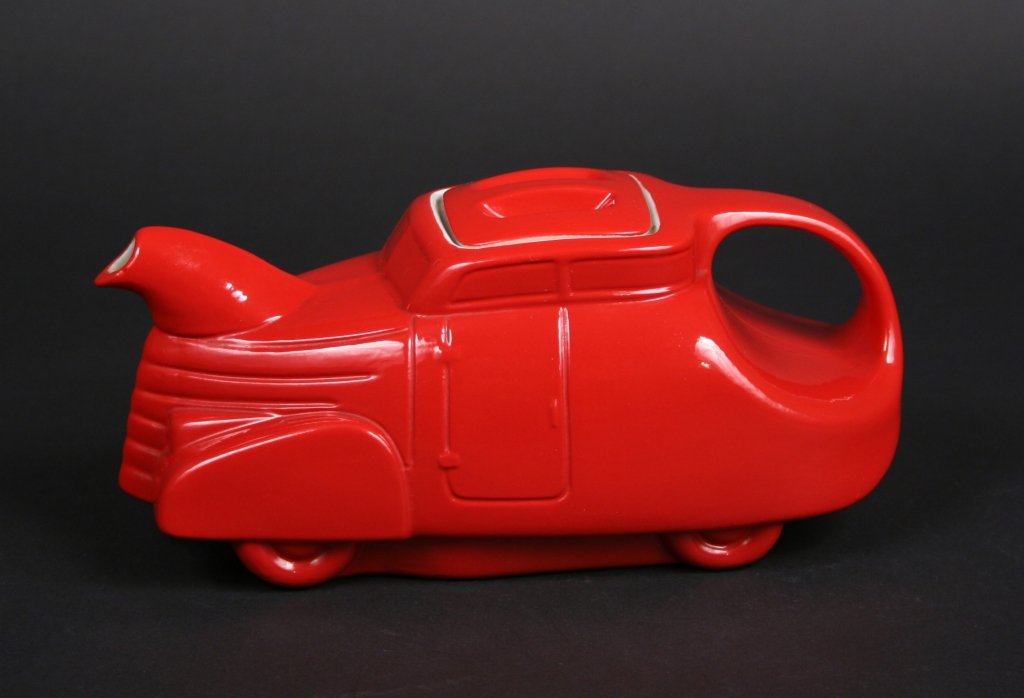 The Hall China Company, East Liverpool, Ohio (established 1903)
Automobile Chinese Red Teapot, ca. 1980s
china, glazed
H: 4″ L: 9″ W: 4.25″
International Museum of Dinnerware Design
2014.221 Gift of Bill Walker and Margaret Carney
Of course, teapots have been designed in a multitude of sculptural forms for centuries. The sculptural teapot creations from Minton and Meissen are most unforgettable (think writhing snakes and monkeys with babies!), which IMoDD does not yet own. However, IMoDD has many remarkable teapots in its permanent collection. The Hall China Company, in East Liverpool, Ohio first produced this Art Deco red automobile-shaped teapot designed by Leonard Brindley in June, 1938. It was discontinued in January 1939. There was a plan to also create a companion airplane teapot but it never happened.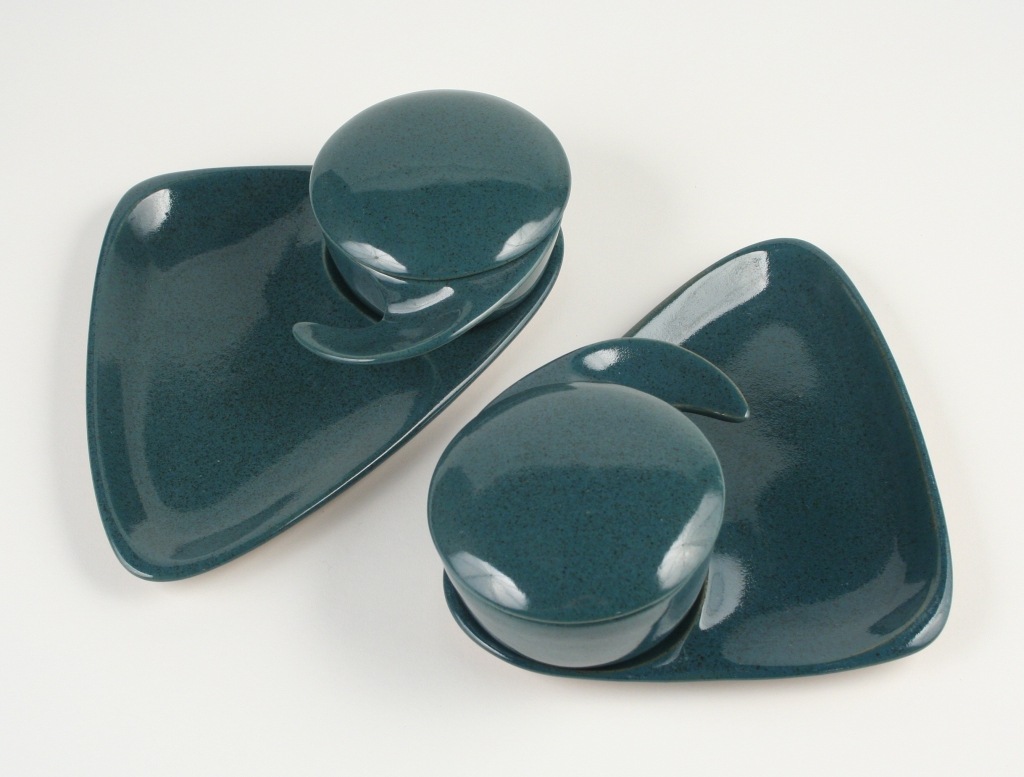 Glidden Pottery, Alfred, New York 1940-1957
Glidden Parker, designer (American, 1913-1980)
snack sets, triangular plates and covered winged cups, ca. 1953
stoneware, glazed (viridian)
plate L: 9.75″ x 7.25″ cup W: 5.75″ H: 2.75″
International Museum of Dinnerware Design
2017.40, 2014.26 Gift of John Dolan, Mary Beth Sootheran, and The Andover House and Museum Purchase
It isn't so popular any longer, but at one time, ladies would play card games and snack on a sandwich and soup at the same time. The snack sets would tidily balance on one's knees. Glidden Pottery, located in Alfred, New York, made the ideal snack sets circa 1953. Each stoneware plate was triangle-shaped with just enough room for a sandwich and with an indentation for the cup of soup, which was served in a very chic winged cup with a circular lid to keep it warm. Glidden Pottery utilized modern production methods of slipcasting or ram pressing, but each of its more than 300 shapes was individually glazed and hand-decorated. These two luncheon snack sets were glazed with their new viridian glaze. Glidden Pottery even referred to this line of dinnerware as "Sculptured Stoneware" in their advertisements in popular magazines. It is one Mid-Century example of the convergence of good design and playfulness.