Defining Cups and Saucers
Defining Cups & Saucers
A special exhibition presented by the
International Museum of Dinnerware Design
Albion College, Bobbitt Visual Arts Center
805 E. Cass St, Albion, MI 49224
Munro Gallery
January 13 – February 8, 2020
Mon – Thurs 9 – 9, Fri 9 – 5, Sat 10 – 2, Closed Jan 20
The exhibit will be accompanied by a lecture by IMoDD Director Margaret Carney
Ann Arbor Public Library, Malletts Creek Branch

3090 East Eisenhower Parkway,

Ann Arbor,

MI 48108


Sunday January 19, 2020: 3:00pm to 5:00pm
This event is in partnership with the Culinary Historians of Ann Arbor (CHAA).
[Link]

Everyone has an image in their own mind of what comprises a traditional cup and saucer. It might be an English floral be-decked dainty bone china set that grandma and her lady friends used to sip tea after a game of bridge. Or maybe one imagines the heavy-duty restaurant ware used at your local diner for that first cup of morning coffee. It is hoped that one's expectations of what a cup and saucer is and can be, will be altered after viewing this exhibition.

Defining Cups & Saucers has a fresh approach to the subject, where form does not always follow function. This exhibition juxtaposes Roy Lichtenstein's Pop Art cup and saucer from 1966, next to a crocheted "onesy," woven basketry by a Mohawk weaver, plastic cup & saucer wall pockets from the 1950s, and a divine paper art sculpture by Swedish artist Cecilia Levy. Mid-Century designs by Eva Zeisel, Viktor Schreckengost, Russel Wright, and Ben Seibel, demitasse sets by Noritake, Japanese Kutani ware from 1875, and Royal Worcester are alongside Susie Cooper, Longwy ware, and Salem China Art Deco Mandarin Tricorne. Chrome, glass and bone china are nearby to contemporary cups and saucers created by artists such Josh DeWeese, Jim Makins, Rob Sutherland, and John Glick. There are plastic varieties one may never have seen before with real jade leaves imbedded in the plastic and others with bamboo handles. There is a set with a lithophane interior, and the sturdy restaurant ware by Shenango China, Tepco, and Sterling China railroad ware with Streamliner motifs. A Geiger counter ticking might alert one to the orange/red Fiesta ware with its striking (and dangerous) uranium glaze. And the astute visitor will notice one cup and saucer duo has a slot for coins to be inserted into it because it's really a bank. Another cup and saucer can assist one during a fortune telling. The list goes on and on.

Nearby the walls have posters reminding one of the fur-lined cup and saucer (and spoon) on display at the Museum of Modern Art, their first acquisition of work by a female artist in 1946, created by Meret Oppenheim in 1936 when she was only 23 years old. Also on view is an image of the unforgettable abstract cup form created from maple wood by Brancusi in the early 20thcentury. Other panels celebrate famous cups and cups and saucers in paintings by Leger and Grant Wood.

Cups and saucers cannot be defined or limited by materials, size, style, era, or function. Relish the complicated yet simple pairing of a cup and a saucer.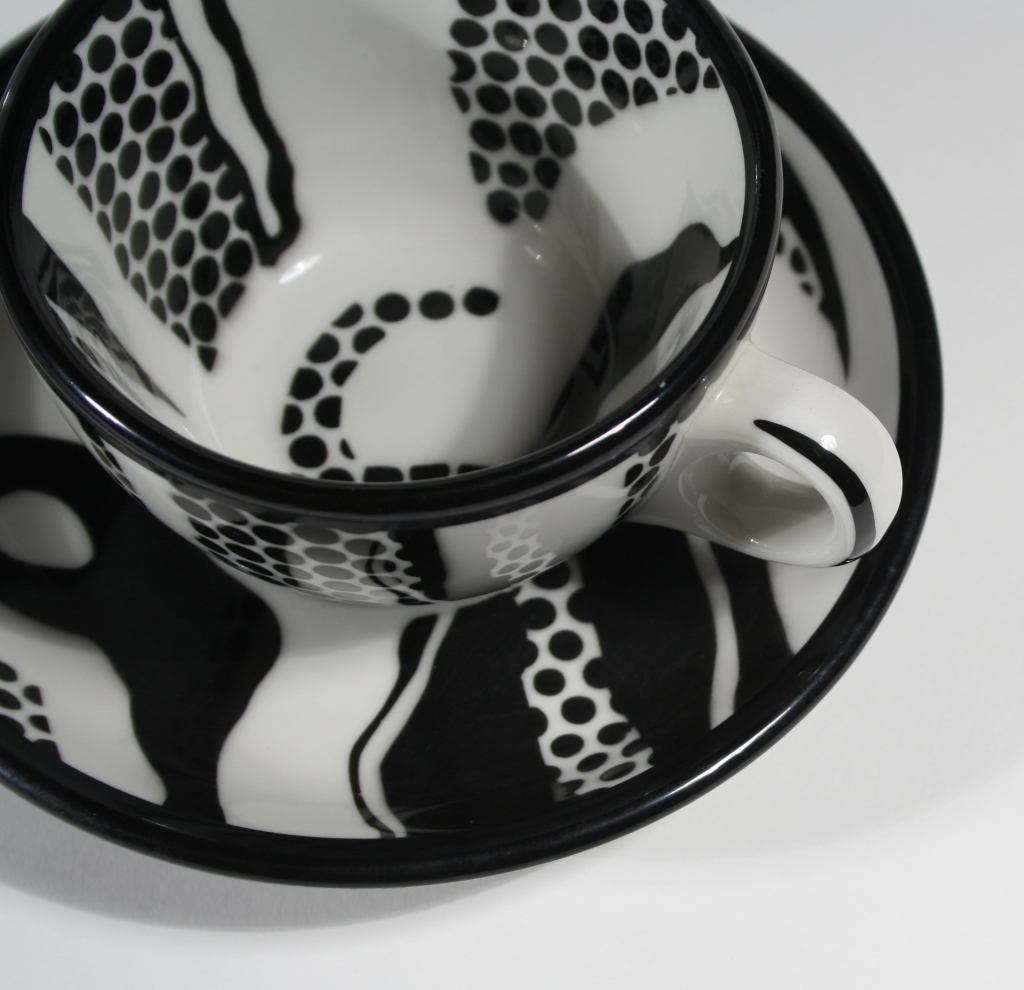 Jackson China Company, Durable Dish Company, Falls Creek, PA (1914-1985)
Roy Lichtenstein, designer (American, 1923-1997)
Pop Art cup and saucer, 1966
whiteware, with decals, glazed
Promised Gift of Susie and John Stephenson
It is probably not common knowledge that Pop Art artist Roy Lichtenstein, who became a leading figure in the art world at the same time as Andy Warhol and Jasper Johns, created related sculpture and designed dinnerware. His work was inspired by the comic strip and artists that influenced his work included Fernand Leger, but he learned all he needed to know about ceramics from Hui Ka-kwong. This cup and saucer are part of a dinnerware set that was, according to the advertisement for it in Art in America, supposed to be used at breakfast the morning after the Happening. In 1966, the entire five-piece place setting sold for $50 + shipping and handling!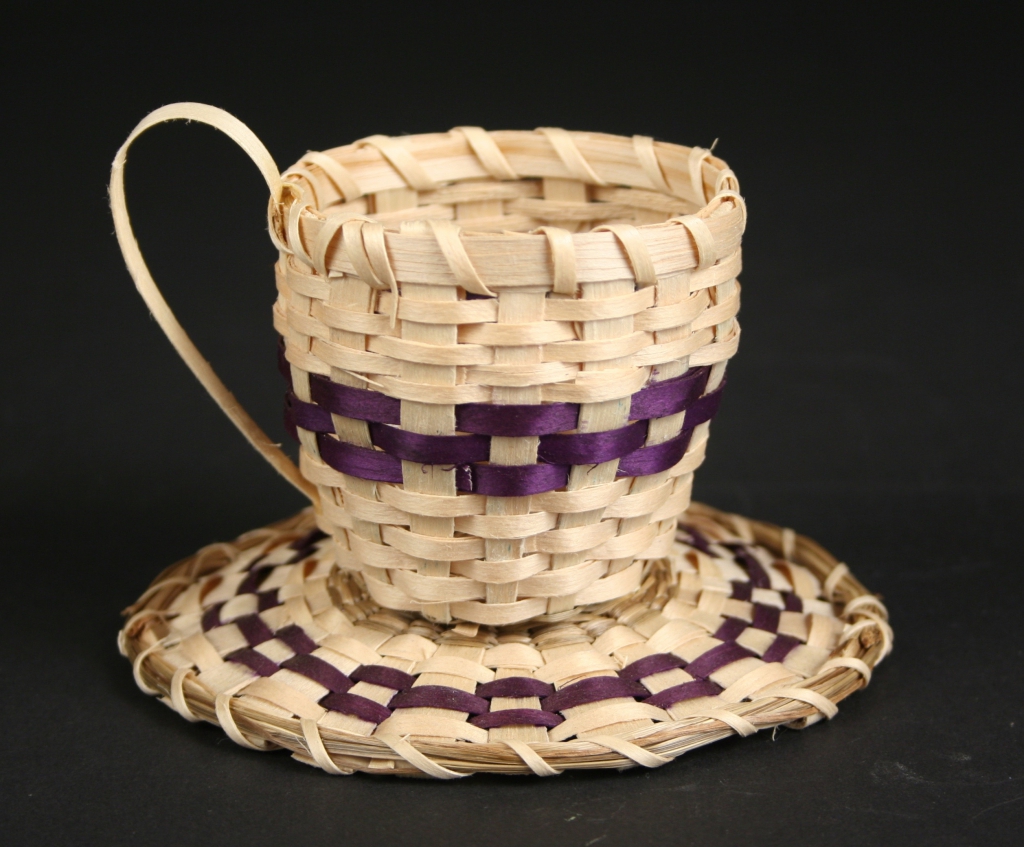 Robin Lazore, Mohawk basketmaker (Native American, Akwesasne, a Mohawk community)
Mohawk cup and saucer basketry, 2016
black ash and sweetgrass, woven, with Welch's grape juice dye
Museum Purchase, 2016.55
This one-piece cup and saucer, woven by Mohawk basketmaker Robin Lazore was purchased at the Adirondack Museum in Blue Mountain Lake, New York. The artist, who is from the Akwesasne Reservation, has been weaving baskets for more than twenty years. She was presenting a demonstration of traditional Mohawk basket weaving that utilized black ash and sweetgrass. It was a surprise to learn from her that contemporary basket weavers use Welch's grape juice as the purple dye. She is best known for her strawberry and pineapple twist baskets. She believes there is power within the baskets that comes from the earth and the weavers who make them.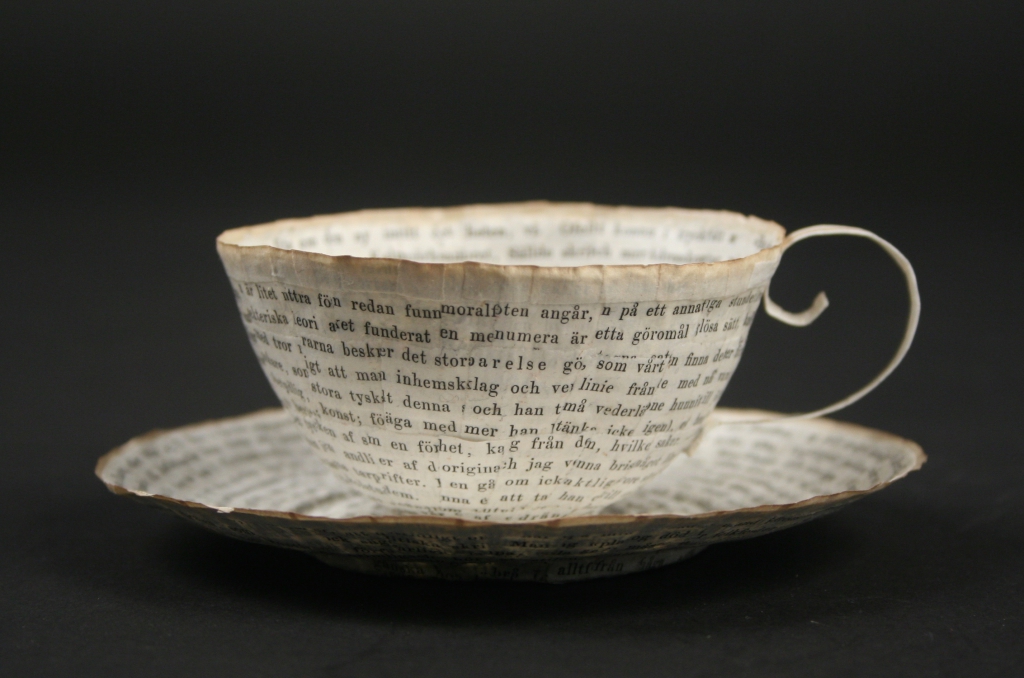 Cecilia Levy (Swedish)
cup and saucer, paper art object, 2016
old book pages and wheat starch paste
Museum Purchase, 2016.16
Cecilia Levy's artwork is often created from old books which are fragile and perishable. She describes her work as using a papier-mâché technique, recreating the book, in a way. She refers to the process as "meditative." She began experimenting with three-dimensional paper objects in 2009. She was formerly a graphic designer and bookbinder. Subsequent to this work, she has created cups and saucers from Spiderman comic books.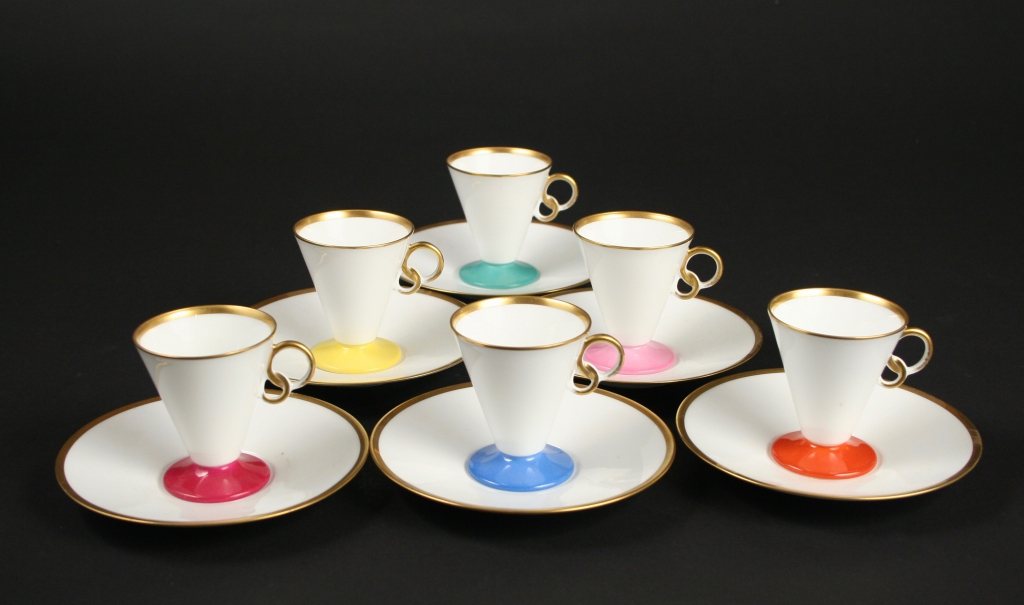 Japanese
set of 6 Okura Art China Art Deco demitasse cups and saucers, 1940s
ceramic, glazed
Gift of Kristin Ohberg, 2013.158
Art Deco era cups and saucers from the 1930s and 1940s provide some of the most striking designs. The set of six Okura Art China demitasse cups and saucers display an alluring delicate façade within a strong form. It is difficult to resist touching the lyrical handles on each cup.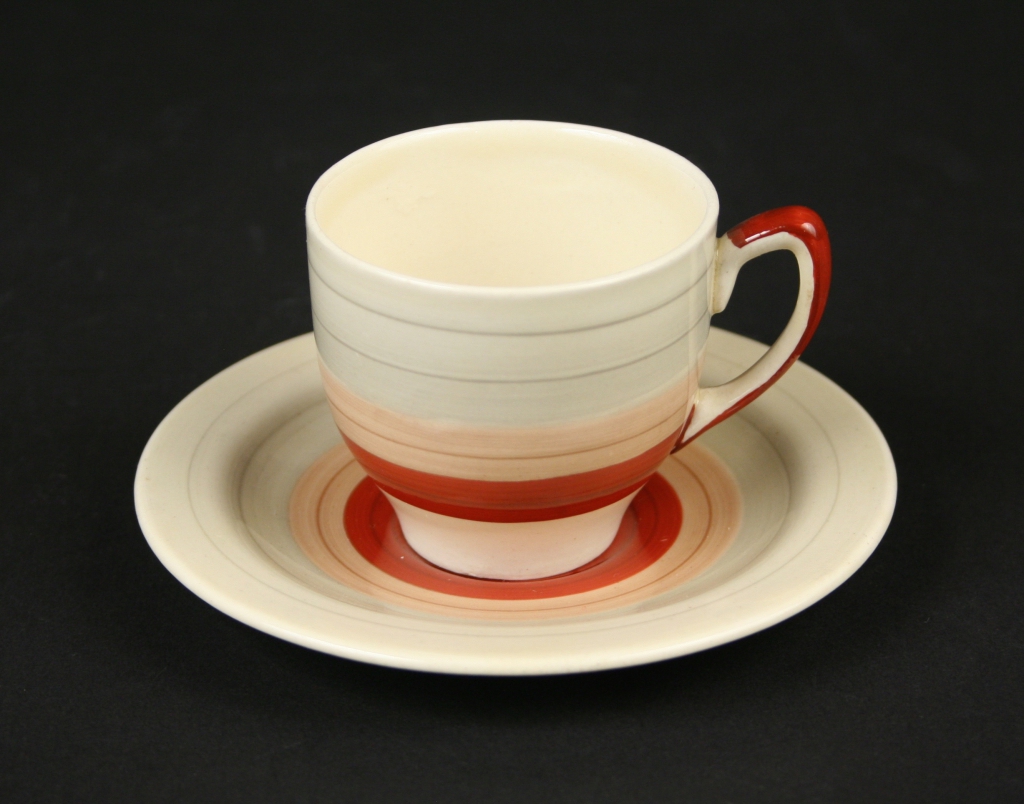 Crown Works, Burslem, England
Susie Cooper (English 1902-1995)
Susie Cooper designed Kestral shape, Wedding Band pattern, cup and saucer,
circa 1932
semi-vitreous china, glazed and decorated
Museum Purchase, 2017.195
Susie Cooper was a leading English designer who designed this demitasse set Kestral shape with its Wedding Band pattern circa 1932. It was produced by Crown Works, Burslem, England. She worked at various Stoke-on-Trent potteries from the 1920s to the 1980s. It has been said that Queen Elizabeth was an admirer of her work.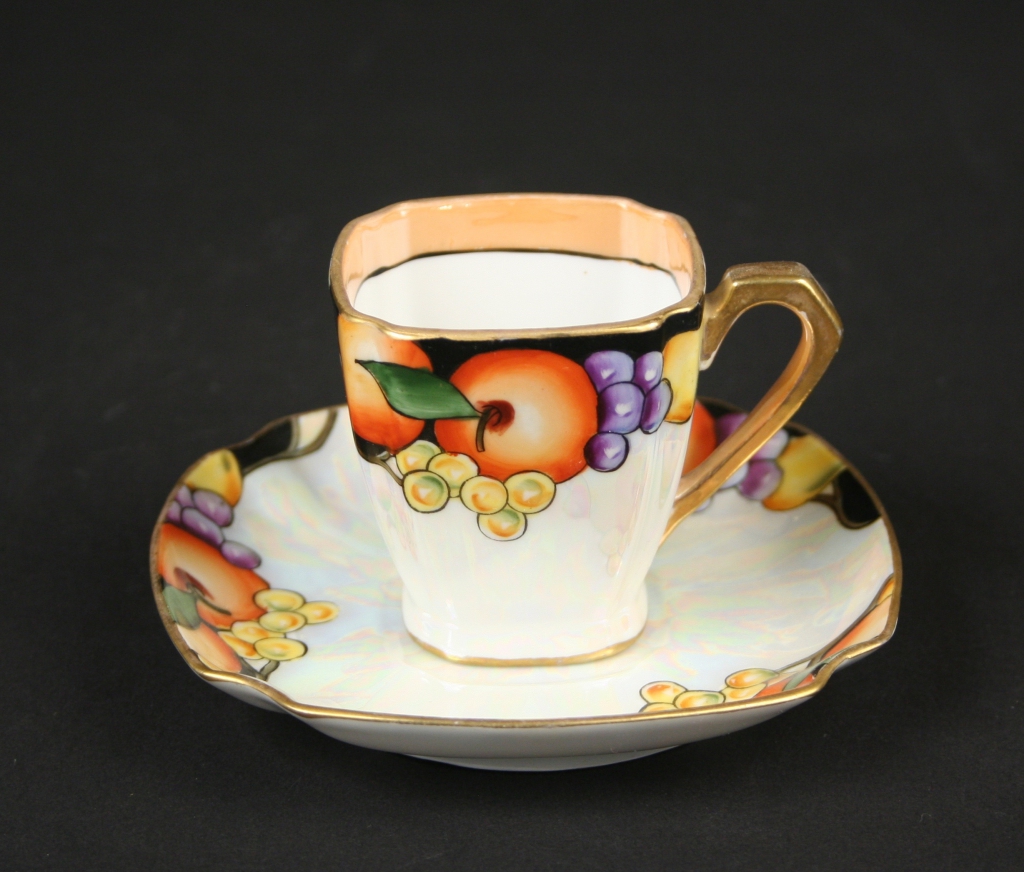 Noritake Co., Japan (1904-present)
Noritake demitasse cup and saucer with fruit motif, 1926-1931
porcelain with mother of pearl lustre
Gift of Judith and Martin Schwartz, 2018.56
Noritake China can't be surpassed when it comes to great Art Deco shapes and decorative motifs. This demitasse cup and saucer with its fruit motif on porcelain with mother of pearl lustre glaze is captivating. This is part of a stunning 34-piece Noritake dinnerware set that dates between 1926-1931 in the collection of the International Museum of Dinnerware Design. It's all hand-painted, of course.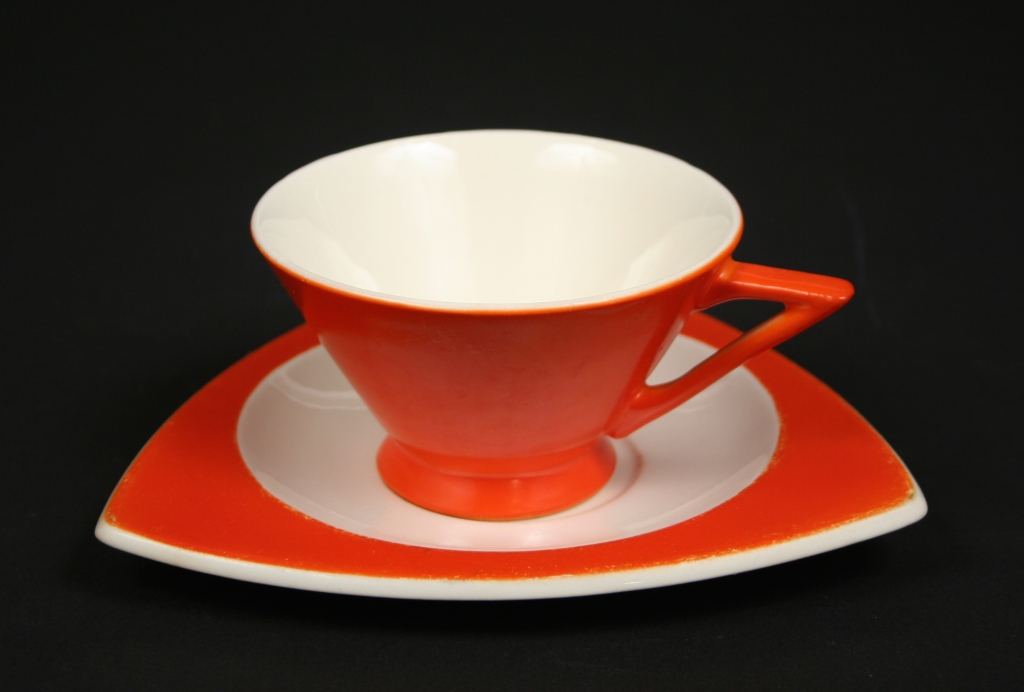 Salem China, Salem, Ohio (1898-
Vincent Bloomhall, Herbert Smith, Don Schreckengost, et al, designers
Mandarin Tricorne Art Deco orange cup and saucer, 1930s (patented)
china, glazed
Gift of Margaret Carney and Bill Walker, 2019.174
In contrast the Mandarin Tricorne forms from Salem China, patented in 1935, have no apparent delicacy in their angular Art Deco forms. The delicacy comes in the form of the lightweight ceramic body, which makes each piece a delight and a danger to handle. When the stunning coffee pot, cream and sugar are added to the set, it is irresistible. The orange color glaze does not come from Uranium, and the pieces are not radioactive like the original orange/red Fiesta ware of the same era.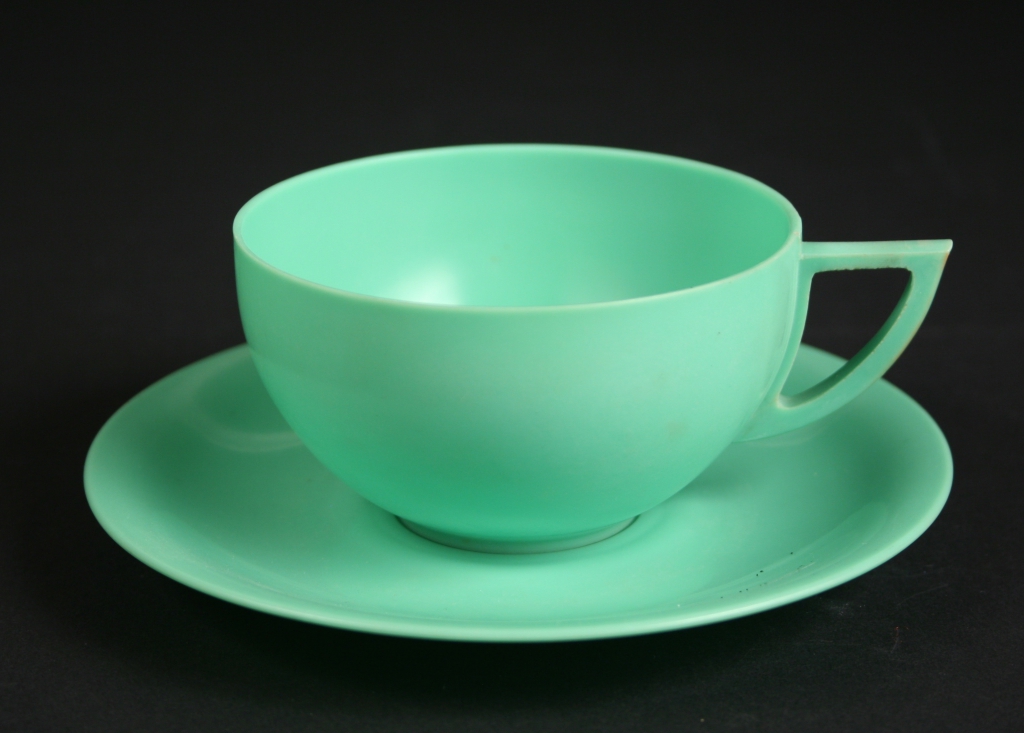 Beetleware Corporation, a division of the American Cyanamid Company,
New York City, New York
green Beetleware plastic cup and saucer set, circa 1936
plastic
Museum Purchase, 2017.47
There was a little Art Deco early plastic dinnerware, too. The green 1930s Beetleware cup and saucer in this exhibition is an excellent example. Note that it is thinner than the late Melmac and Melamine plastic ware.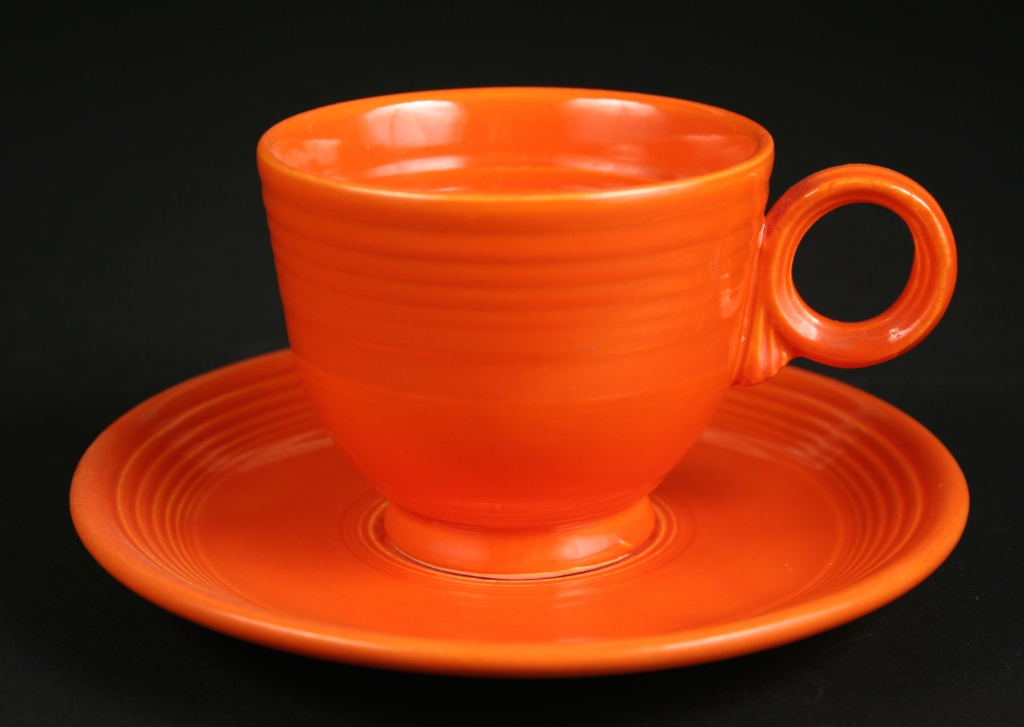 Homer Laughlin China Co., manufacturer, Newell, West Virginia (1871-)
Frederick Hurten Rhead, designer (1880-1942)
Fiesta Ware red cup and saucer, 1939
ceramic, uranium glaze
Museum Purchase, 2013.122, Gift of Walter and Nesta Spink, 2014.224
The original Fiesta Ware designed by Frederick Hurten Rhead for Homer Laughlin China Company in 1936, came in 6 colors. This cup and saucer, with a Uranium orange/red glaze is one of the originals. While some say the glaze is harmless, a Geiger counter indicates otherwise. This particular glaze was discontinued in 1942, allegedly because the Uranium was needed for the atom bomb. All of the other glaze colors, old and new are harmless except for perhaps a bit of lead in the original colors.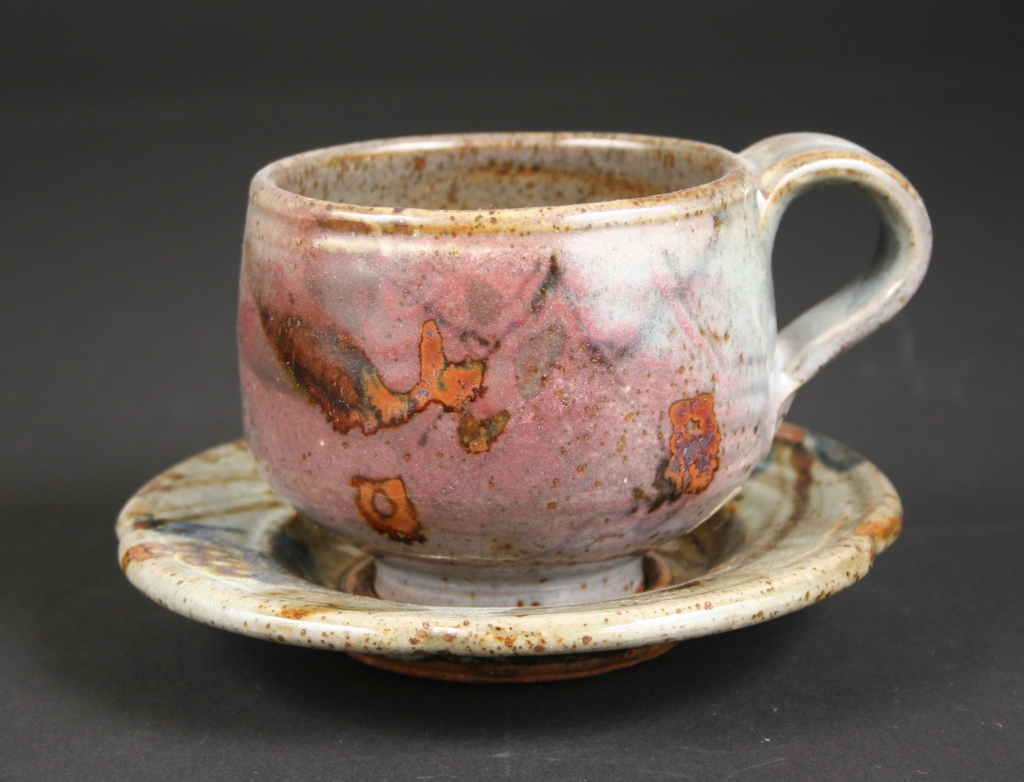 John Glick (American, 1938-2017)
cup and saucer, part of a 6-piece place setting created by John Glick, 1979, commissioned by Walter and Joan Mondale for the Vice Presidential Mansion
stoneware, reduction fired, Cone 10, multiple slips & glazes, brush work/calligraphy
Gift of the Artist, 2014.70
Contemporary artists have been creating cups and saucers for over a hundred years, each unique with an unlimited variety of clay bodies, forms, and glazes. The stoneware cup and saucer set created by John Glick were part of a 6-piece place setting created by the artist in 1979 as a commission by Walter and Joan Mondale for the Vice Presidential Mansion, on the grounds of the Naval Observatory in Washington, D.C. Generally, when artists create commissioned work, they prepare an extra set or two, as backups, in case there are any problems in the firing on the work. And these are part of this set which IMoDD is proud to possess.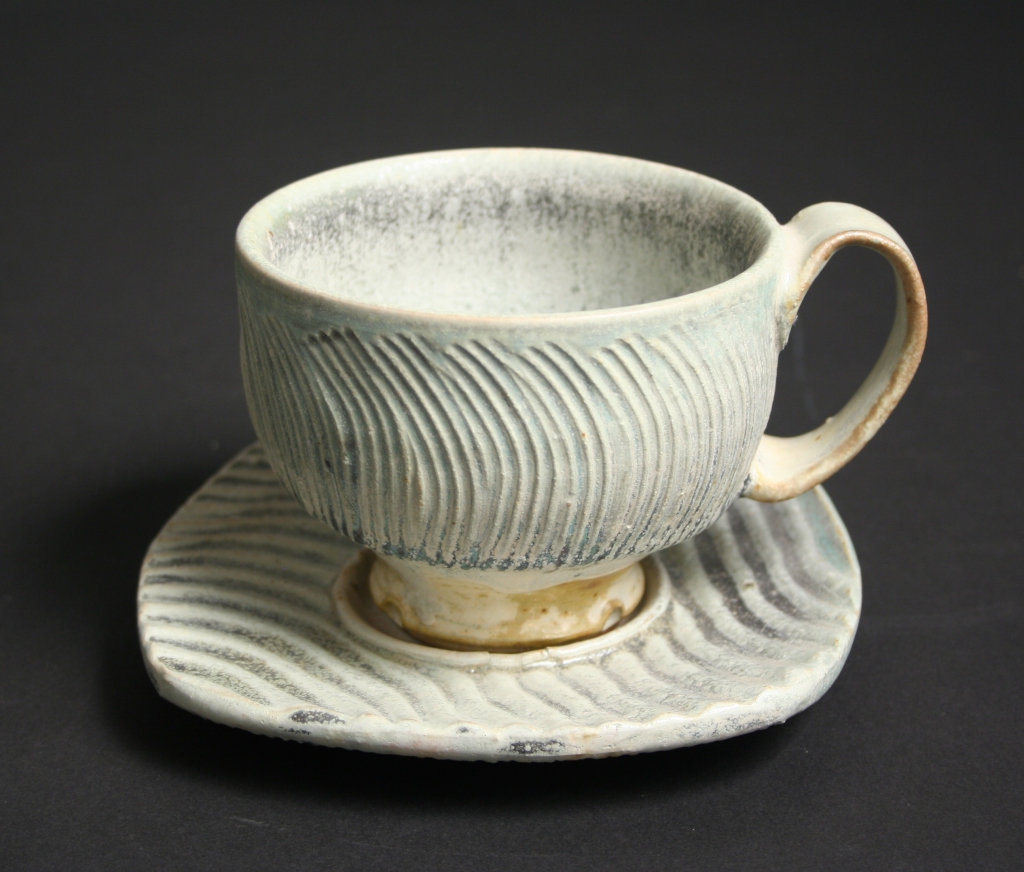 Robert Sutherland (American, b. 20thcentury)
salt-fired stoneware cup and saucer with striations, 1990s
stoneware, salt-fired
Gift of Margaret Carney and Bill Walker, 2019.173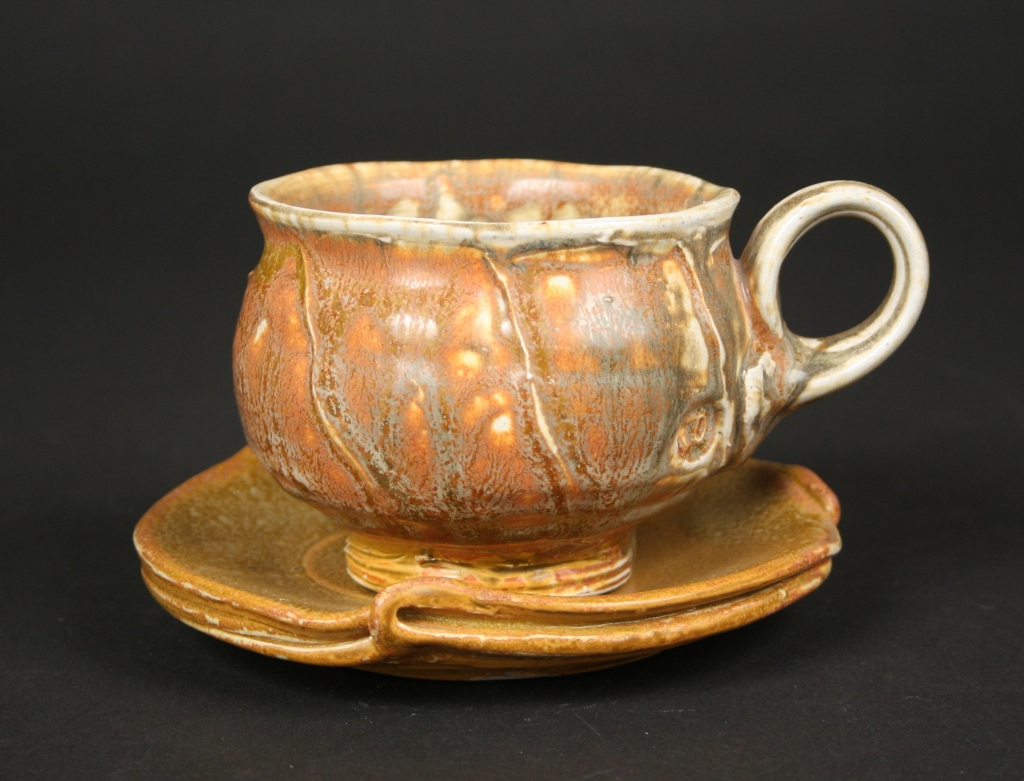 Josh DeWeese (American, b. 1963)
soda fired cup and saucer, 2019
porcelain, glazed
Museum Purchase, 2019.166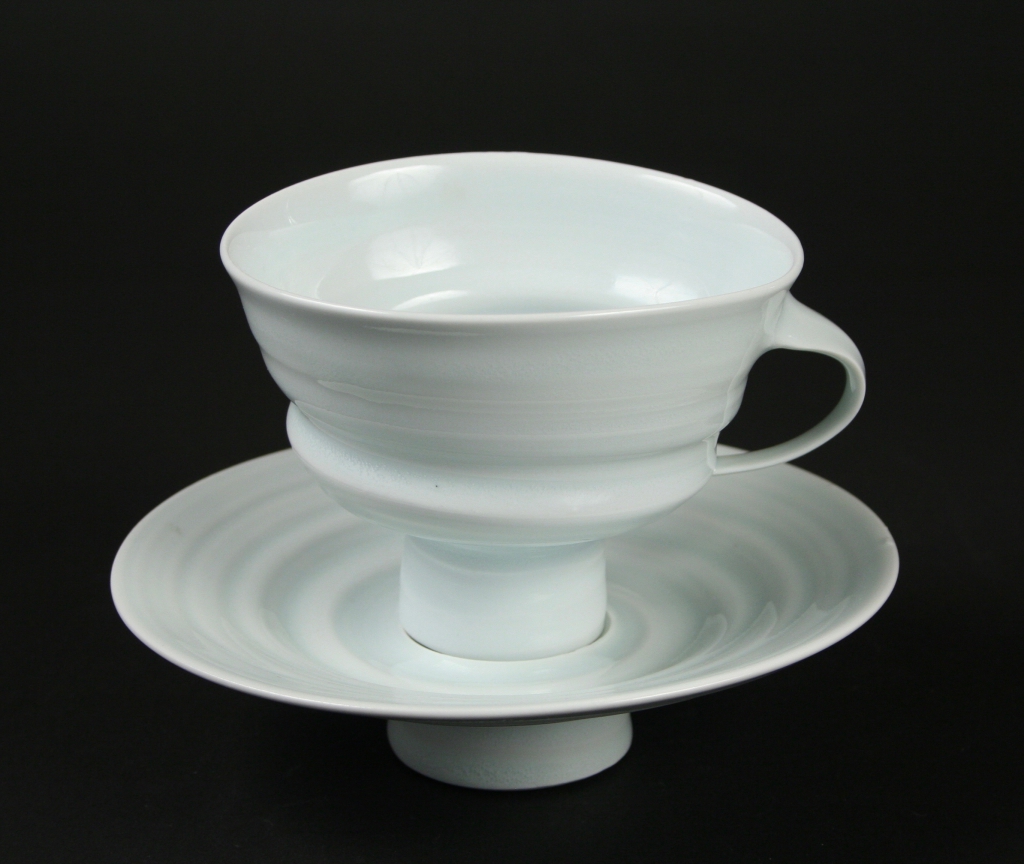 Jim Makins, (American, b. 1946)
footed cup and saucer, 1990s
porcelain, celadon glaze
Museum Purchase, 2017.221
There are many ways to acquire wonderful examples of contemporary ceramic dinnerware. Rob Sutherland's cup and saucer set was a purchase directly from the artist at Alfred in the 1990s. Josh DeWeese's soda fired cup and saucer was purchased at the Northern Clay Center in Minneapolis. He currently teaches at Montana State University and his art work is exhibited worldwide. He served as the resident director of the Archie Bray Foundation from 1992-2006. The Jim Makins porcelain footed cup and saucer with its sublime celadon glaze was acquired from the Schaller Gallery, on line. He is known for both his functional porcelain dinnerware, as well as his sculpture pieces.
The International Museum of Dinnerware Design collects restaurant ware, with many cups and saucer sets in its permanent collection. Favorites include dinnerware from the Well of the Sea restaurant that was located in the Hotel Sherman in Chicago between 1948-1972. The dinnerware features abstract fish and lure motifs based on the painted undersea murals designed by artist and designer Richard Koppe.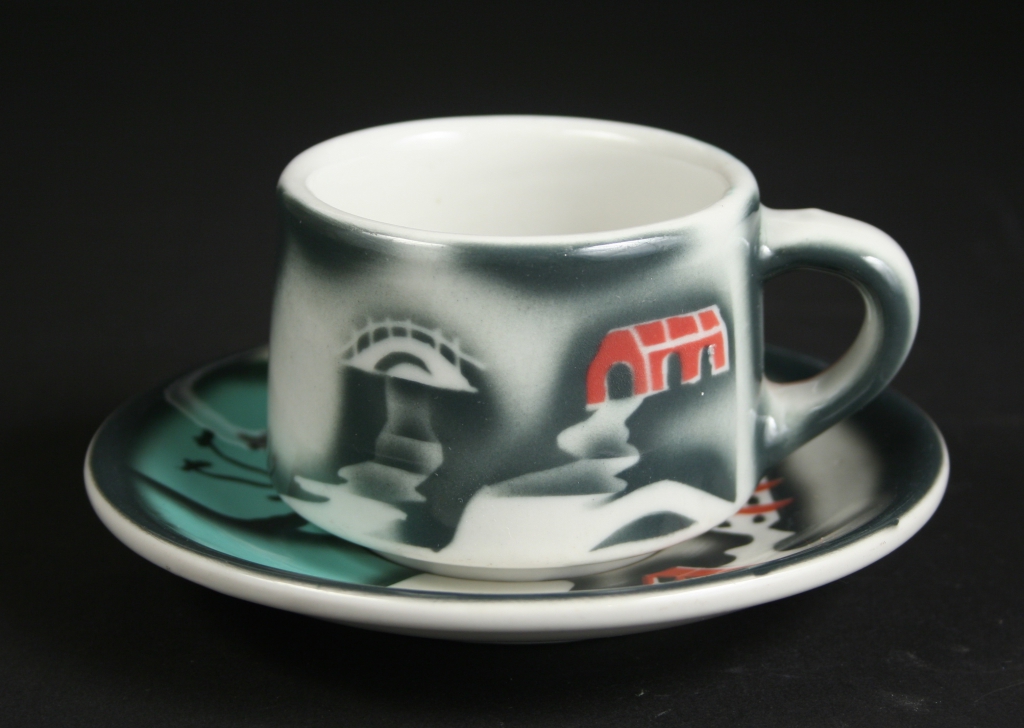 TEPCO China (Technical Porcelain and China Ware Company), El Cerrito, California (1930-1968)
TEPCO restaurant ware coffee cup and saucer in the Confucius pattern
restaurant china, glazed with decoration
Museum Purchase, 2018.1 and Gift of Nancy and Steve Selvin, 2015.145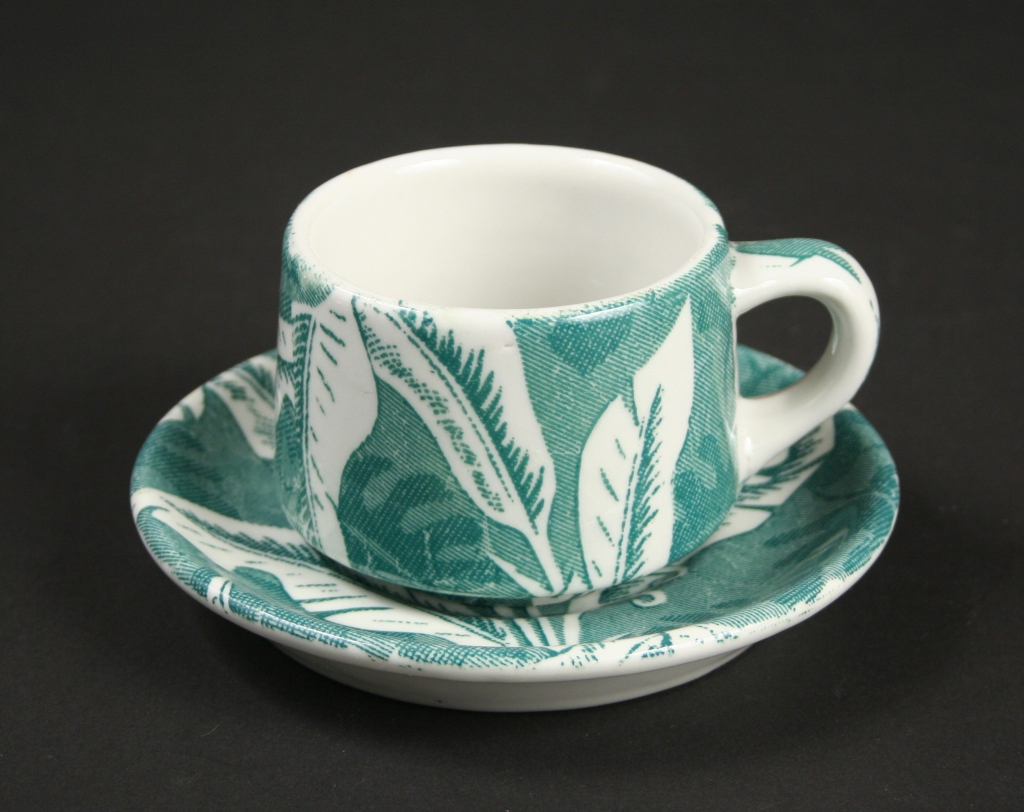 TEPCO (Technical Porcelain and China Ware Company, El Cerrito, California, (1930-1968)
TEPCO cup and saucer in Banana Leaf pattern
restaurant china, decorated with decals and glazed
Gift of Nancy and Steve Selvin, 2016.227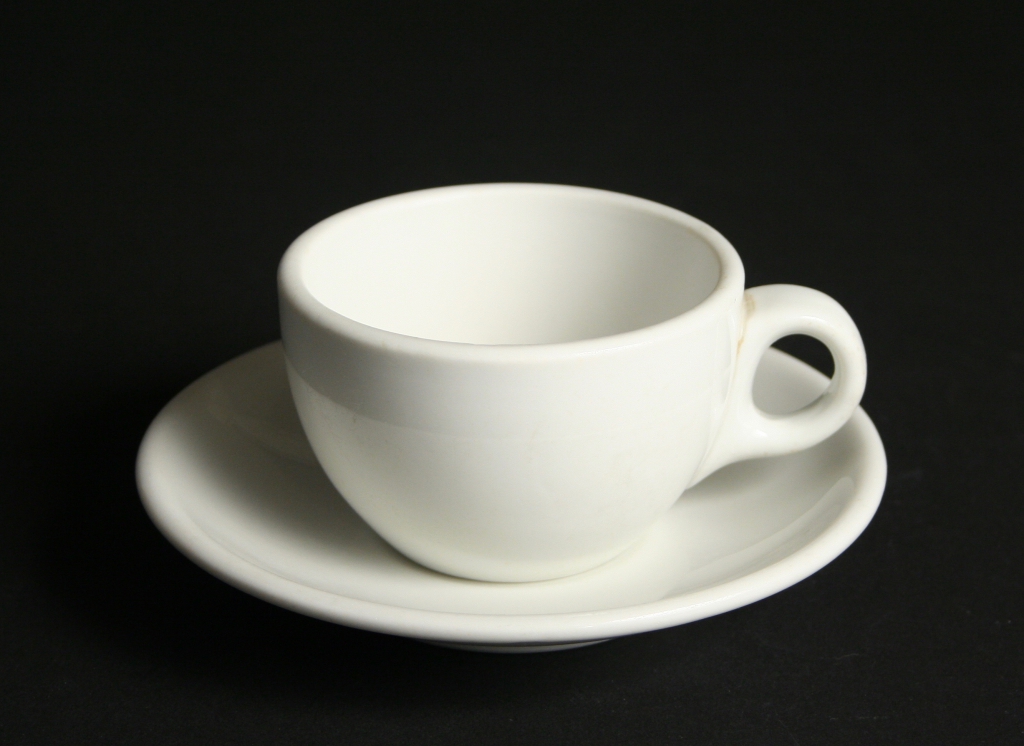 Shenango China, New Castle, Pennsylvania (1901-1991)
restaurant ware white cup and saucer
restaurant ware, glazed
Gift of Margaret Carney and Bill Walker, 2019.172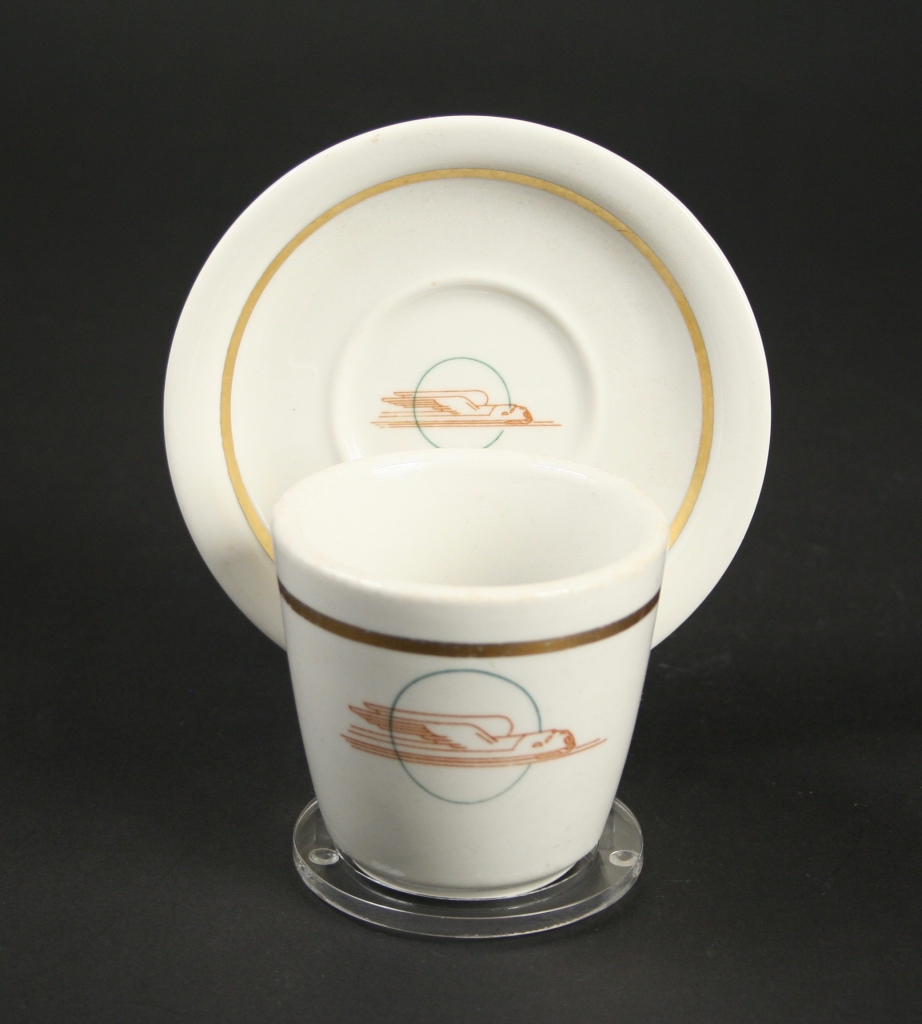 Sterling China, East Liverpool, Ohio (1917-circa 2006)
Union Pacific Railroad Winged Streamliner cup and saucer, 1969
restaurant china, glazed with decals
Museum Purchase, 2015.149
Another favorite is the cup and saucer with the Asian motif that was allegedly used at a Chinese restaurant in San Francisco. The pattern is titled Confucius, with red pagodas and bridges in a Chinese landscape. Tepco China, manufactured in El Cerrito, California was a well-known producer of restaurant ware from the 1930s-1960s. Another of the hundreds Tepco designs was the memorable Banana Leaf.
Other manufacturers of restaurant ware included Shenango China located in New Castle, Pennsylvania and Sterling China in East Liverpool, Ohio. The Shenango China cup and saucer included in this exhibition is undecorated and so sturdy one could probably use it like a hammer to pound a nail. The Sterling China Winged Streamliner cup and saucer were made for the railroad to use in the dining cars on the Union Pacific lines. The streamliner logo is magical.
There is a selection of cups and saucers in this exhibition that were designed and produced in the Mid-Century (1950s-1960s) in the United States, created from ceramic or plastic. The Mid-Century "look" is recognizable in either material and popular among collectors. Well-known designers such as Eva Zeisel, Russel Wright, Viktor Schreckengost, Ben Seibel, Kaye LaMoyne, and others are among the visionaries who created this body of 1950s work.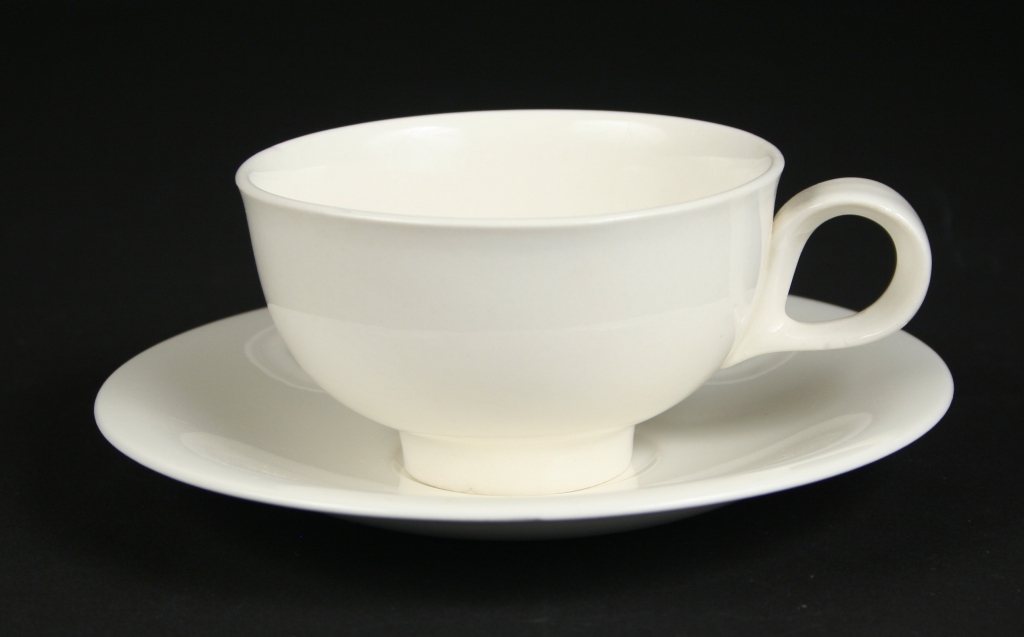 Hall China, Co., East Liverpool, Ohio (est, 1903)
Eva Zeisel, designer (American, b. Budapest 1906-2011)
Hallcraft Tomorrow's Classic white cup and saucer, 1950s
china, glazed
Gift of Margaret Carney and Bill Walker, 2019.171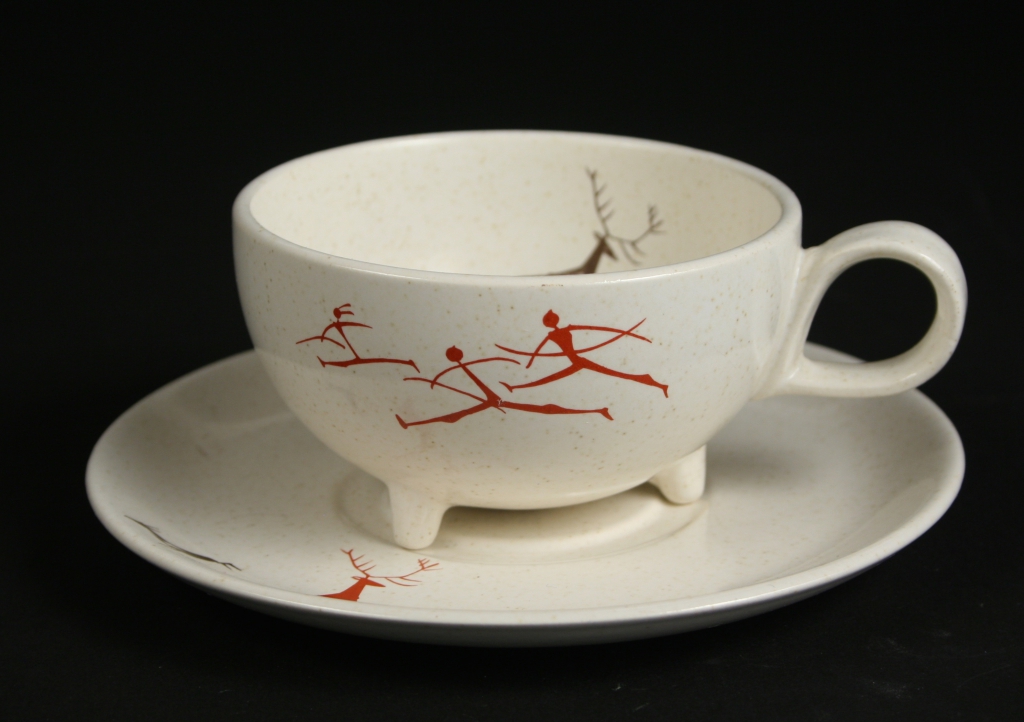 Salem China Co., Salem, Ohio, manufacturer, 1898-1967
Viktor Schreckengost, designer (American, 1906-2008)
Free Form shape, Primitive pattern, cup and saucer, 1955
china, semi-vitreous
Gift of Virgene G. Schreckengost, 2013.44, 2013.45
Eva Zeisel's popular 1950s Hallcraft Tomorrow's Classic dinnerware, was both affordable and beautiful. It was one of two lines she designed for Hall China in the 1950s, the other being Century. Designed in white, other patterns were soon added for consumers who delighted in so many choices for their everyday dishes. Viktor Schreckengost's most well-known dinnerware design is his Salem China Free Form shape with the Primitive pattern, from 1955. The tripod feet on the serving pieces and cups was quite an innovation.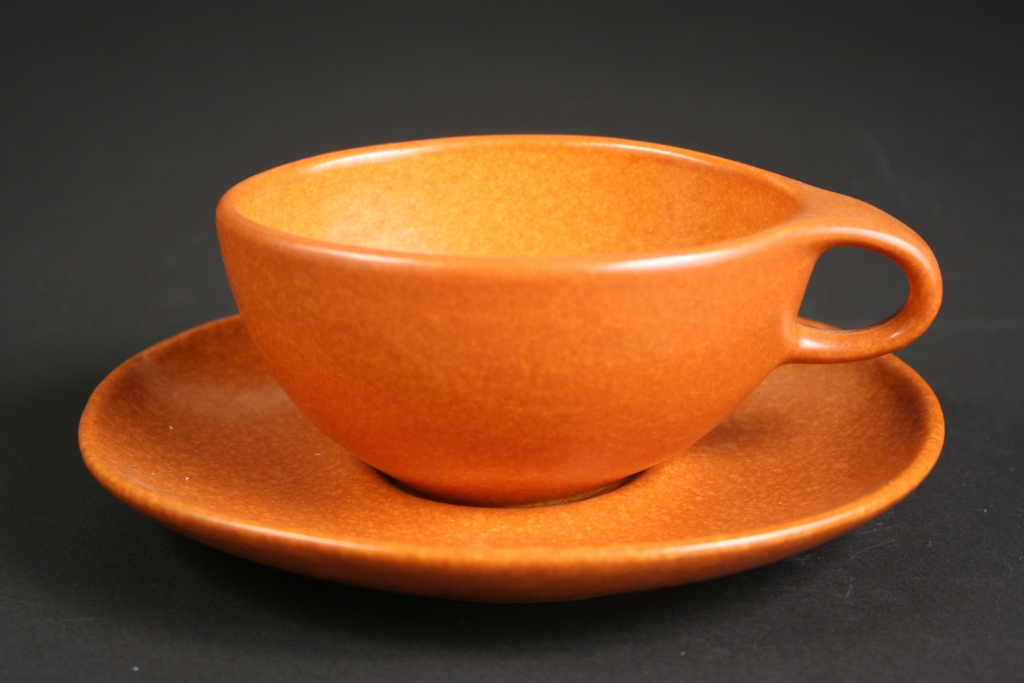 Raymor by Roseville, manufacturer, Roseville, Ohio (1890-1953)
Ben Seibel, designer (1918-1985)
terra cotta (pumpkin) Raymor Modern Stoneware cup and saucer, 1952-1954
stoneware, Ram-pressed, glazed
Museum Purchase, 2016.215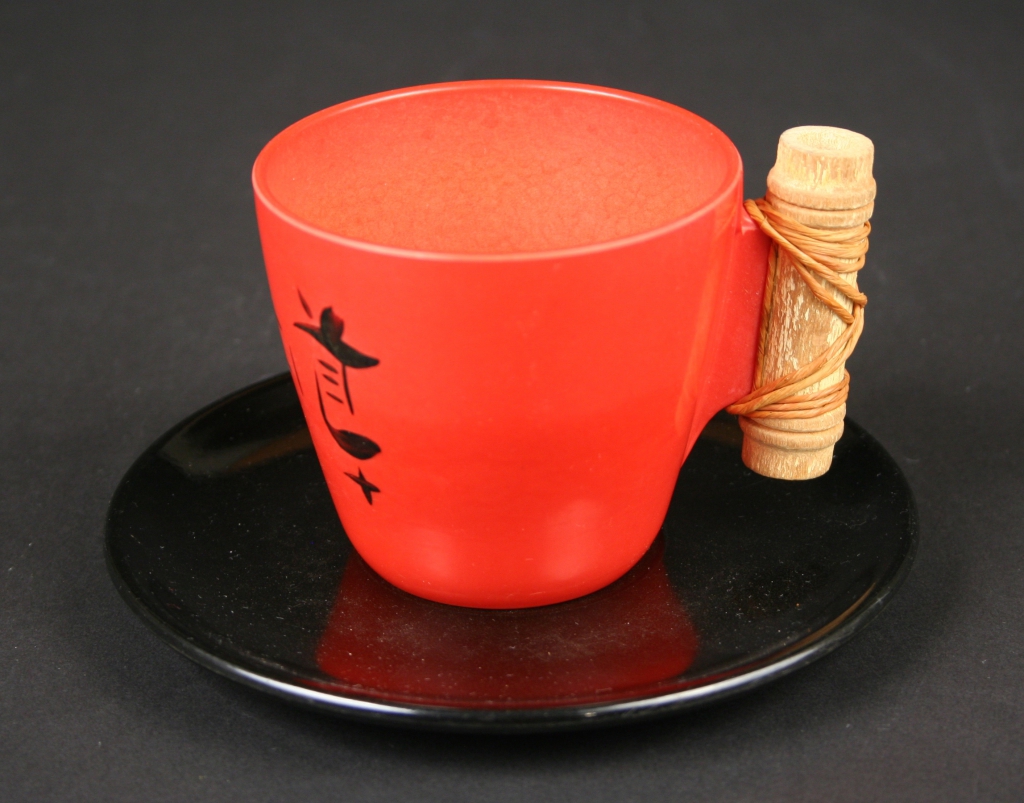 predecessor of Branchell, Co., St. Louis, Missouri (pre-1952)
Kaye La Moyne, designer (American, 1918-1992)
red melamine/plastic Ebonyte cup and saucer with bamboo handles and Oriental characters, ca. 1949-early 1950s
plastic, with bamboo handles on some pieces
Museum Purchase, 2019.104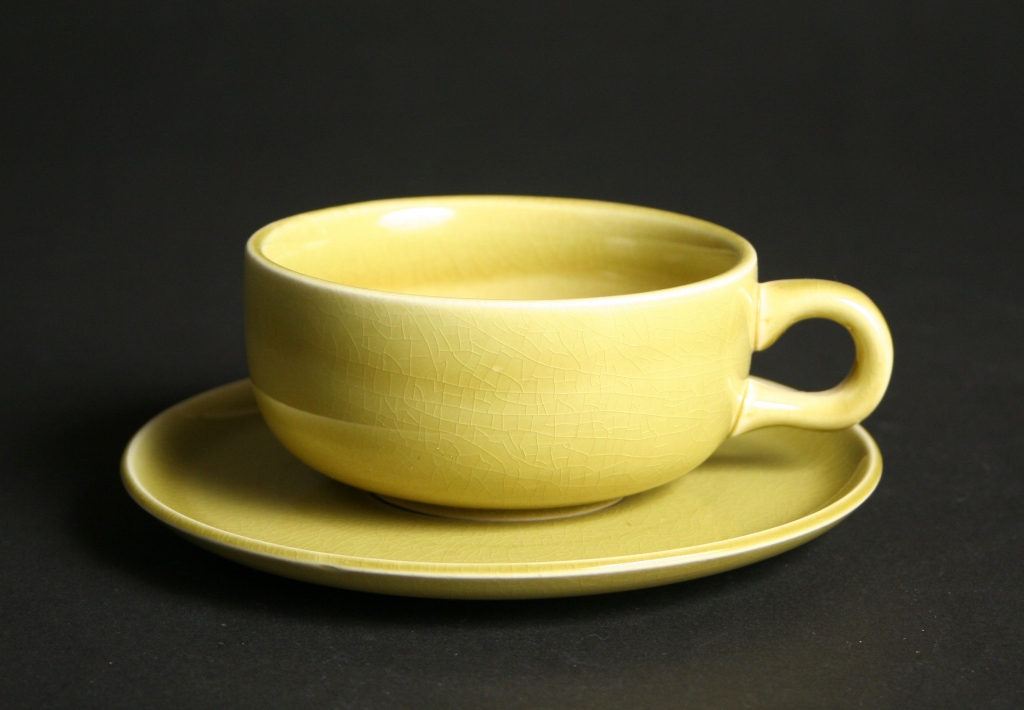 Steubenville Pottery Company, Steubenville, Ohio, manufacturer (1879-1959)
Russel Wright, designer (American, 1904-1976)
American Modern chartreuse cup and saucer set, ca. 1939
earthenware, glazed
Gift of Doris and Jim McEwen, 2013.40

Prolon, Florence, Mass., manufacturer (established 1854)
Irving Harper, designer (1916-2015)
Regatta Melmac turquoise with a black on a white background
cup and saucer, 1958
plastic
Museum Purchase, 2016.177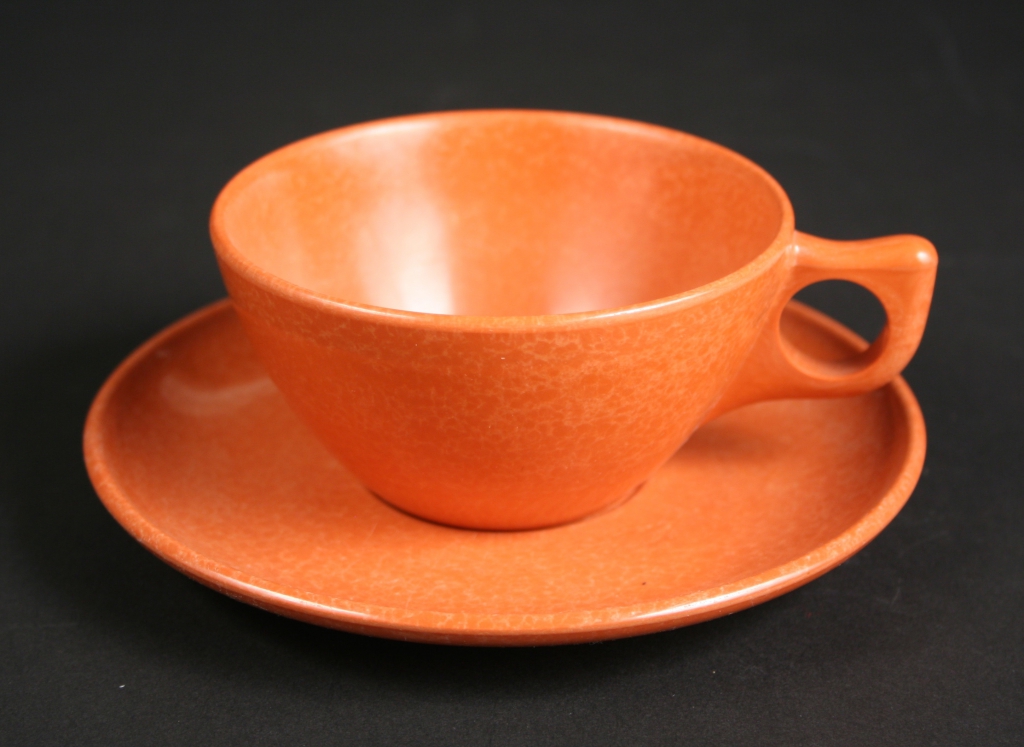 The Branchell Company, St. Louis, Missouri (est. 1952)
Kaye LaMoyne, designer (American, 1918-1992)
Color-Flyte Melmac Designers Dinnerware cup and saucer in glow copper
(coral), 1952-1958
melmac/plastic
Museum Purchase, 2018.76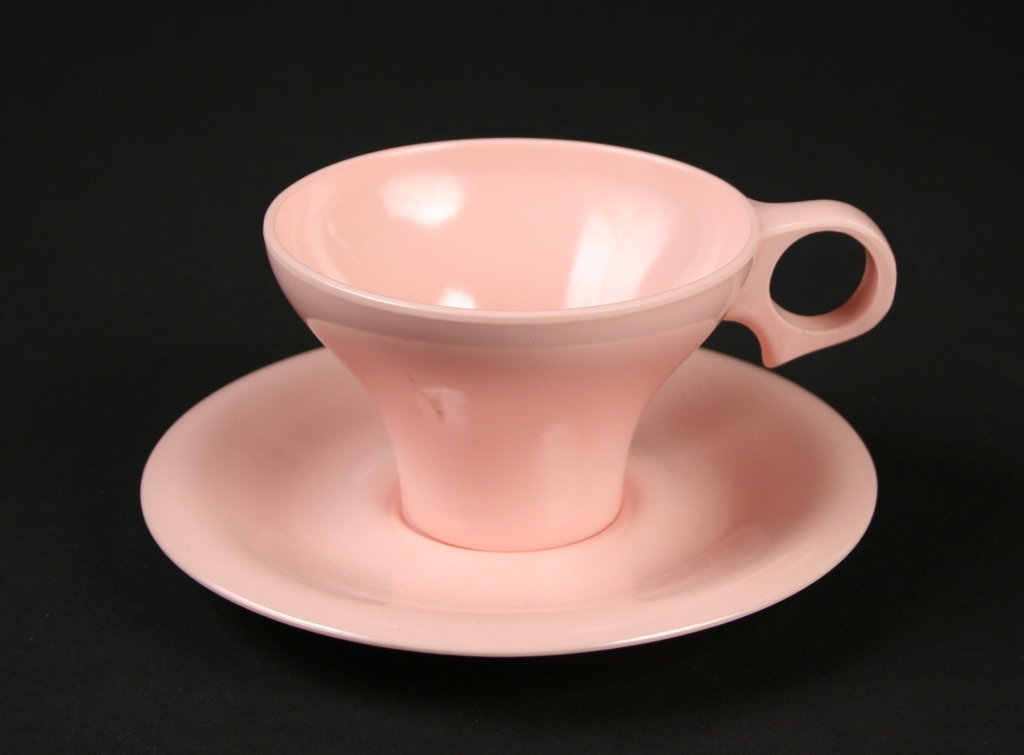 The Northern Industrial Chemical Company, Boston, MA (manufacturer)
Russel Wright, designer (American, 1904-1976)
Northern Flair pink cup and saucer, 1959-1962
plastic
Gift of Margaret Carney and Bill Walker, 2016.121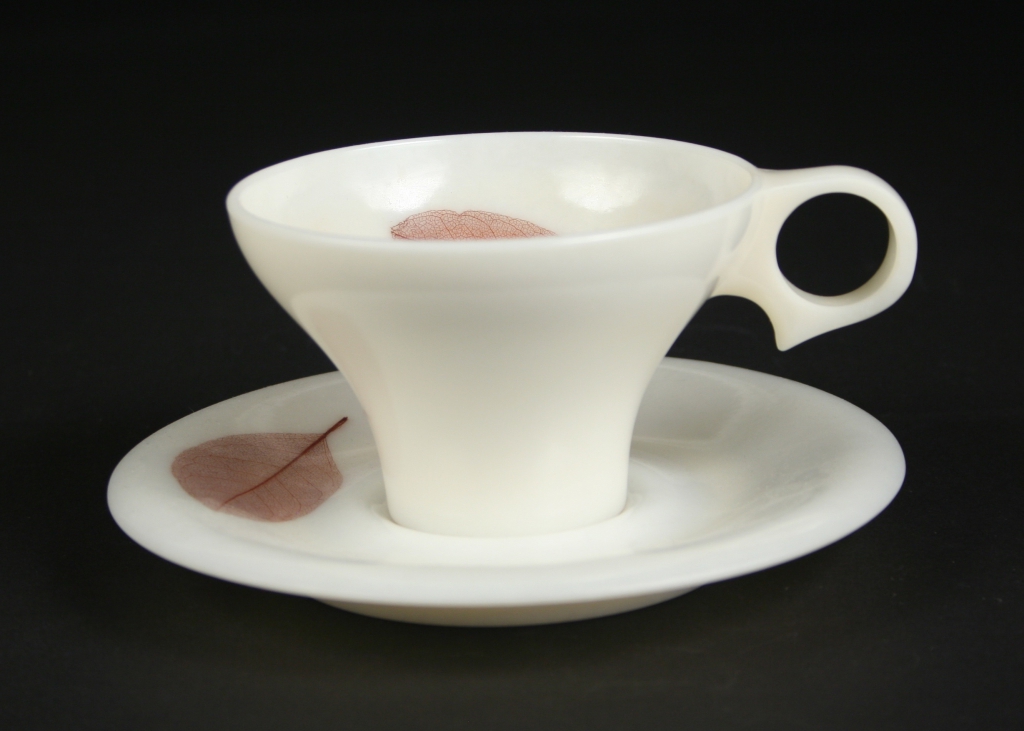 The Northern Industrial Chemical Company, Boston, MA (manufacturer)
Russel Wright, designer (American, 1904-1976)
Northern Flair cup and saucer in Ming Lace, 1959-1962
plastic
Museum Purchase, 2016.155
While Russel Wright's Steubenville Pottery American Modern dinnerware was a best-selling product for newlyweds from 1939-1959, it was his mix and match colors that truly attracted consumers. People matched chartreuse cups with brown chutney saucers and coral creamers with granite sugars. However, most remarkable may be his use of actual Chinese jade leaves imbedded in each piece of his melamine Ming Lace dinnerware. Each piece was unique.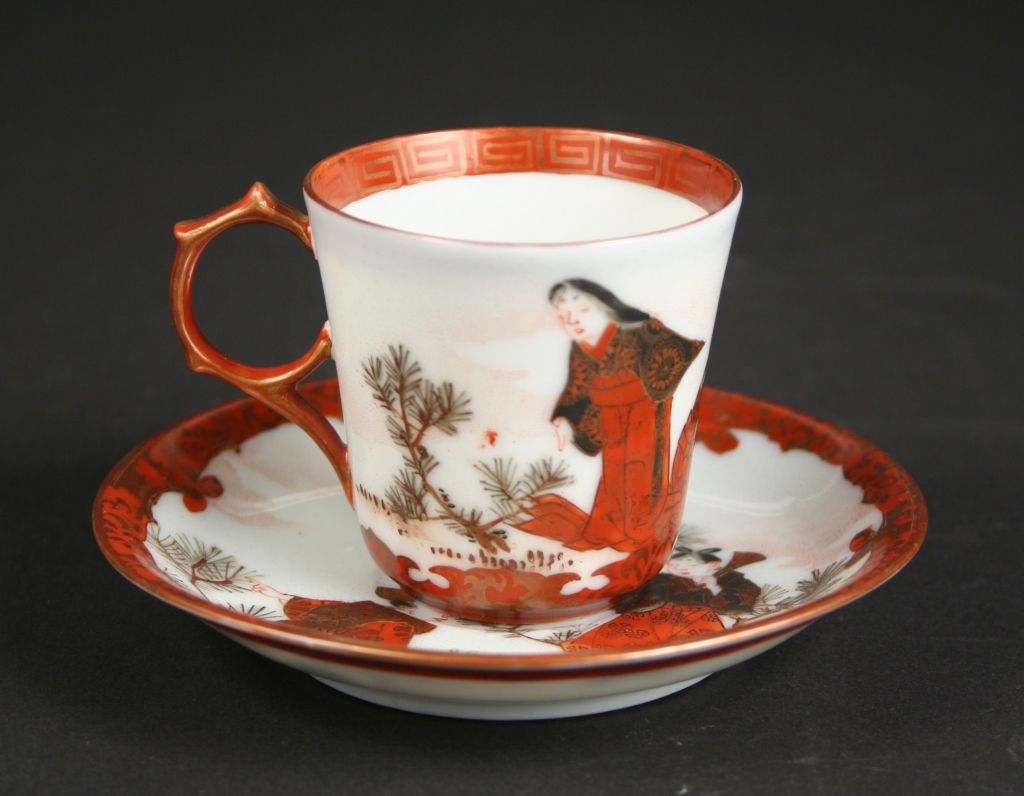 Japan, 19thcentury
Red Kutani ware hand-painted cup and saucer, 1875
porcelain, hand-painted
Gift of Margaret Carney and Bill Walker, 2019.177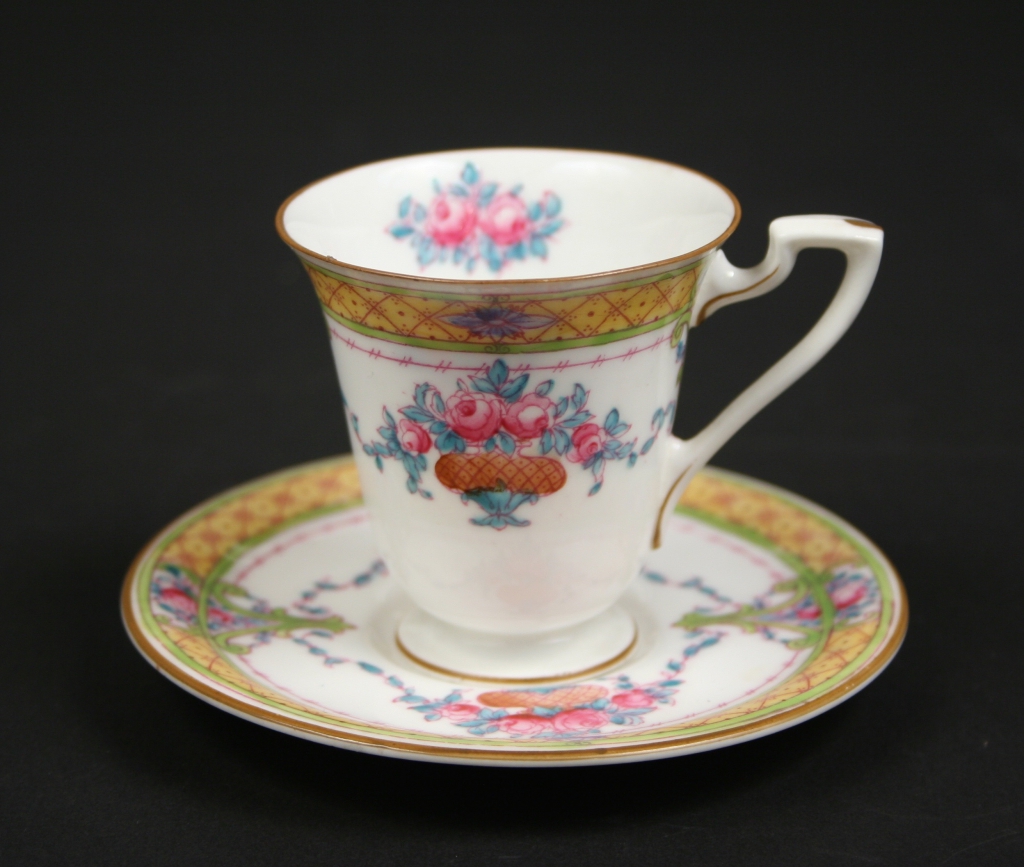 Royal Worcester Porcelain Company, Worcester, England (established 1751)
demitasse cup and saucer, 1923
porcelain, decals, glazed
Gift of Margaret Carney and Bill Walker, 2012.57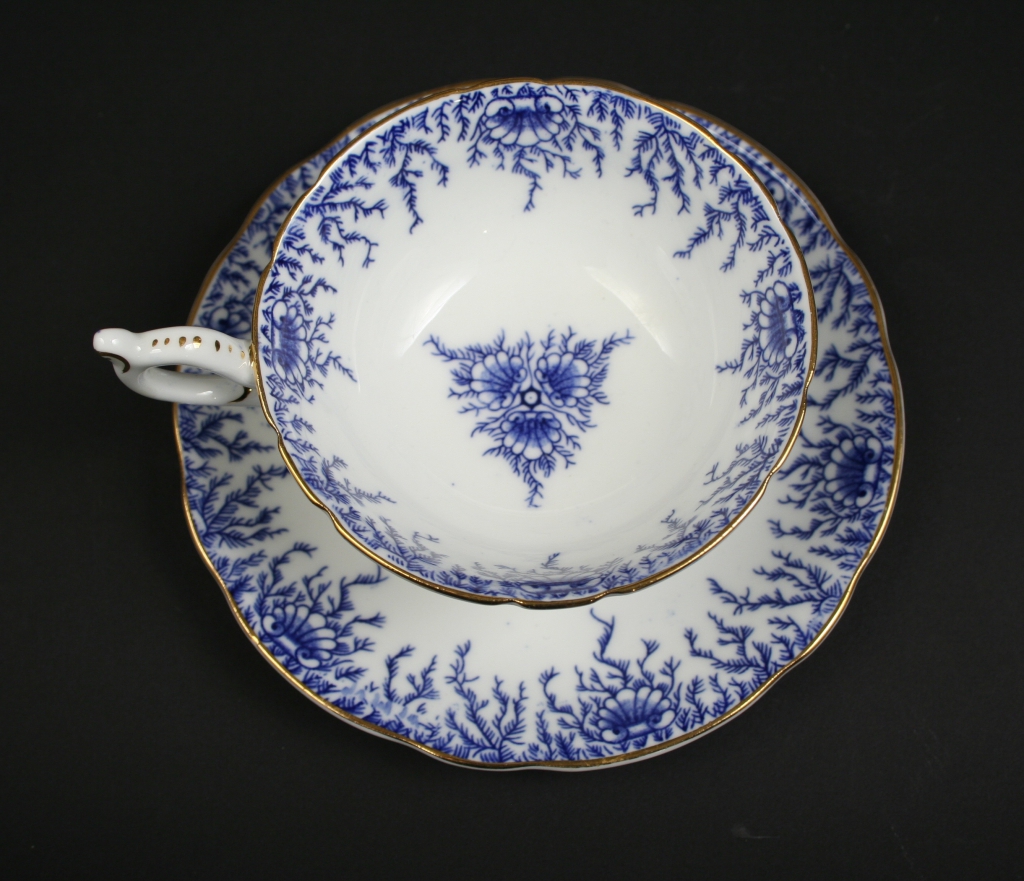 Coalport Porcelain Works, Shropshire, England (1795-present)
cup and saucer blue and white pattern with scalloped rim, 20thcentury
bone china, decals, glazed
Gift of Debbie Thompson, 2013.135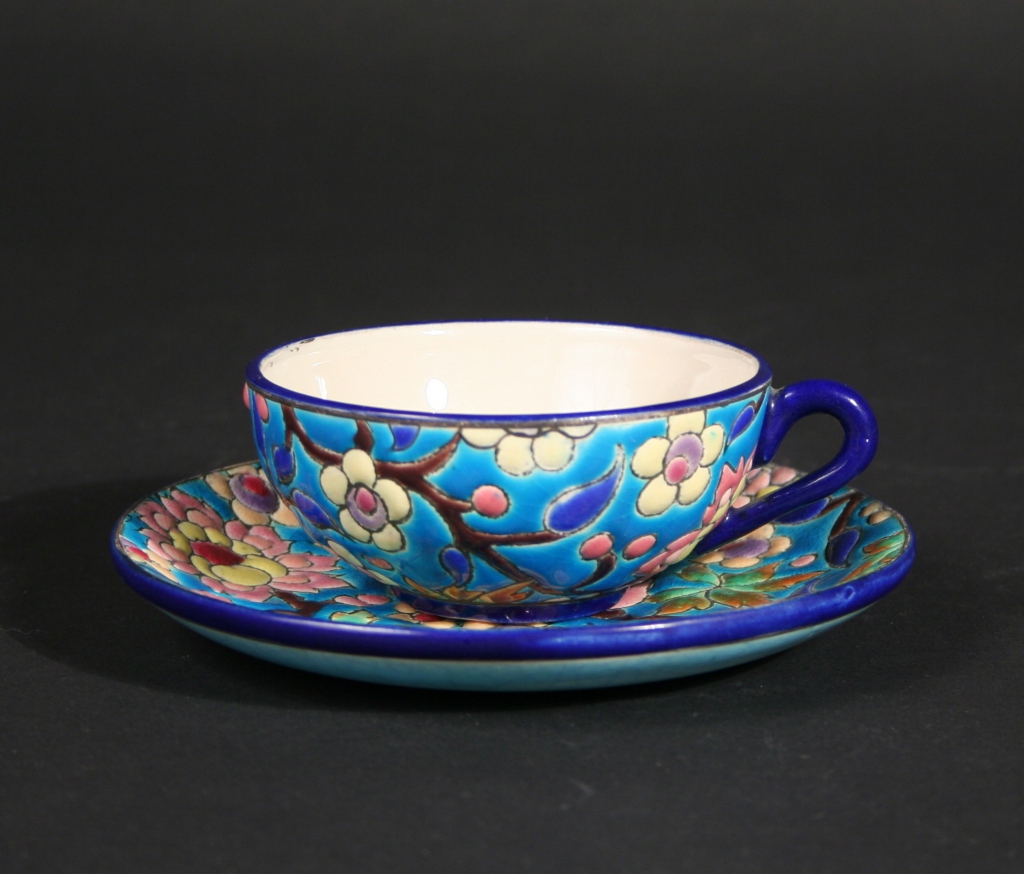 French, 20thcentury
Longwy Ware cup & saucer, after 1930
earthenware, enamels and glaze
Gift of Bill Walker and Margaret Carney, 2014.225
It is no surprise that there is more clay-based work than anything else in this Defining Cups and Saucers exhibition at Albion College. One of the oldest pieces on exhibition is a hand-painted Japanese Red Kutani ware cup and saucer demitasse set that dates to approximately 1875. This originally was in the family of Ann Smeltzer of Fort Dodge, Iowa. It is one of a set of six cups and saucers, each with a related but unique hand-painted design.
One of a group of six Royal Worcester porcelain demitasse cups and saucers, this delicate set has a classic look to it, from the shape of the cup and handle to its saucer. The floral motif comprised of small rose clusters, foliage and patterned yellow banding, makes it such an attractive presentation.
One of the most traditional English cups and saucers to be chosen for this special exhibition is the beautiful blue and white Coalport Porcelain Works example with its stunning symmetrical floral design. It looks classic but the pattern is so unexpected.
The French Longwy Ware enameled cup and saucer selected for this exhibition possesses a brilliant color palette for the user to enjoy. The date is uncertain, but probably it dates around the end of the first quarter of the 20th century.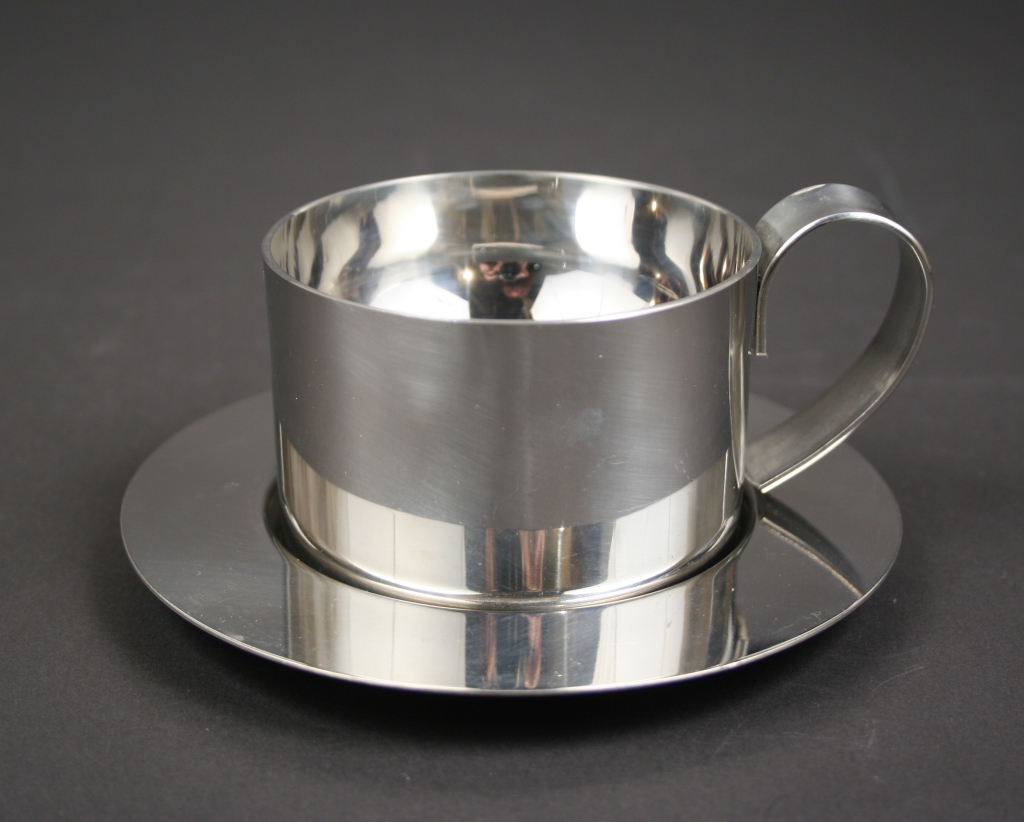 Vemi, Italy
Vemi designed stainless steel cup and saucer
stainless steel
Museum Purchase, 2017.128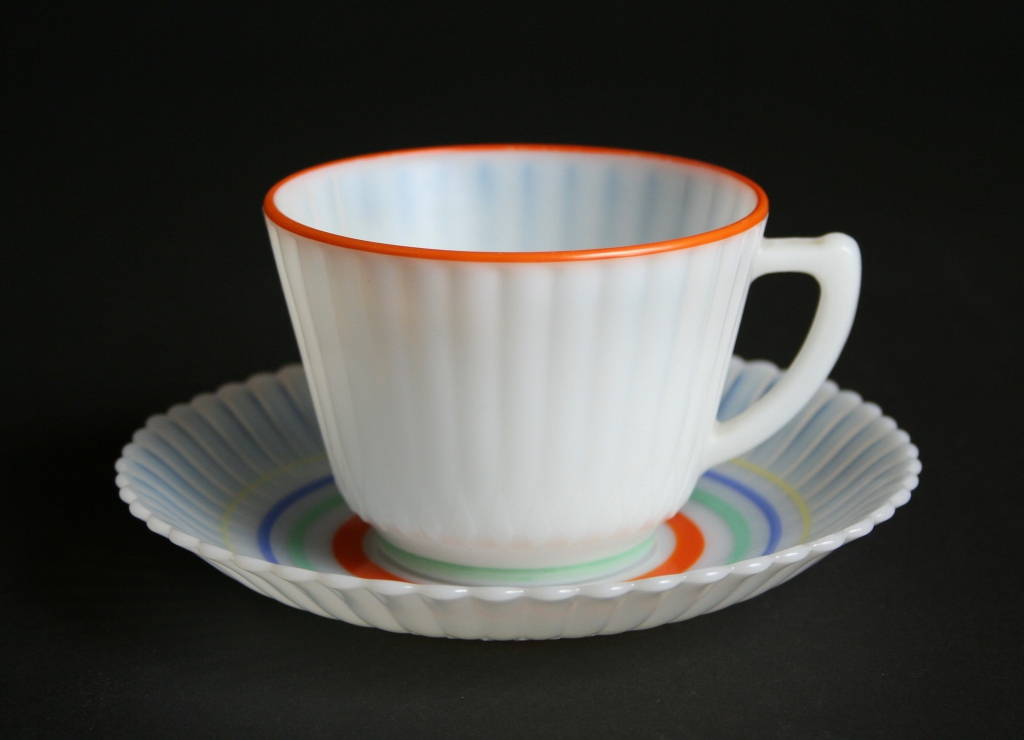 Macbeth Evans Glass Company, 1930-1940
Irvene Petalware Monax primary striped cup and saucer
glass with banding
Gift of Maggie Hughes, 2015.60
There is quite a variety of non-clay materials that were used in creating other innovative cups and saucers included in this exhibition. The Italian company Vemi created striking stainless steel cups and saucers. Although the date of origin is unknown, the design is memorable most likely dates to the 1960s. The same company made other useful dining accessories.
There are many wonderful examples of glass cups and saucers that could have been included in this exhibition, but the Macbeth Evans Glass Company's, circa 1930s-1940s Irvene Petalware Monax primary striped cup and saucer, sums up the beauty of glass as a medium for dinnerware. The opaque ribbed glass with its luminous bands of yellow, blue, green, and red are almost mesmerizing. It's a favorite.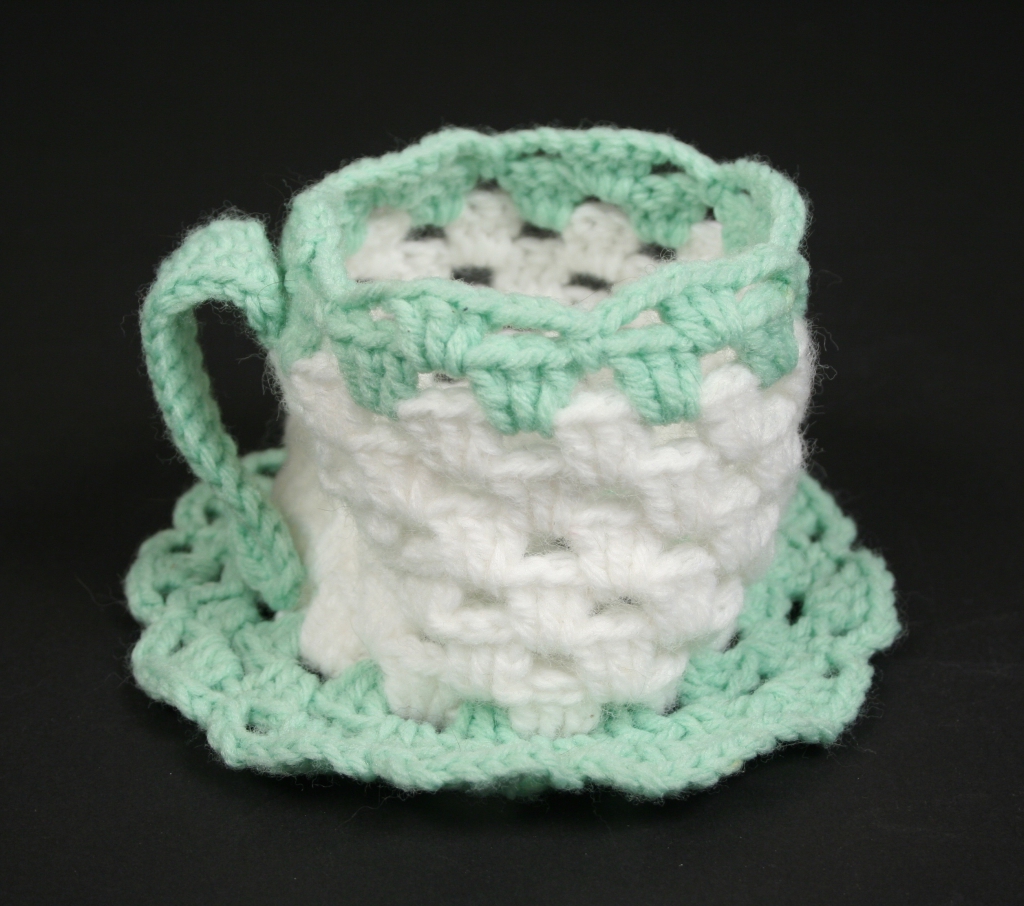 unknown maker, 21stcentury
pastel green and white one-piece crocheted cup and saucer, ca. 2013
yarn
Gift of Mary Jo Bole, 2019.73
What is more fun than crocheting a cup and saucer "onesy"? This isn't the only non-functional cup and saucer in the exhibition, but judging by the number of images of crocheted cups and saucers available, it must be a popular pastime for yarn enthusiasts. It goes well alongside clay, glass, paper, metal, plastic, and basketry.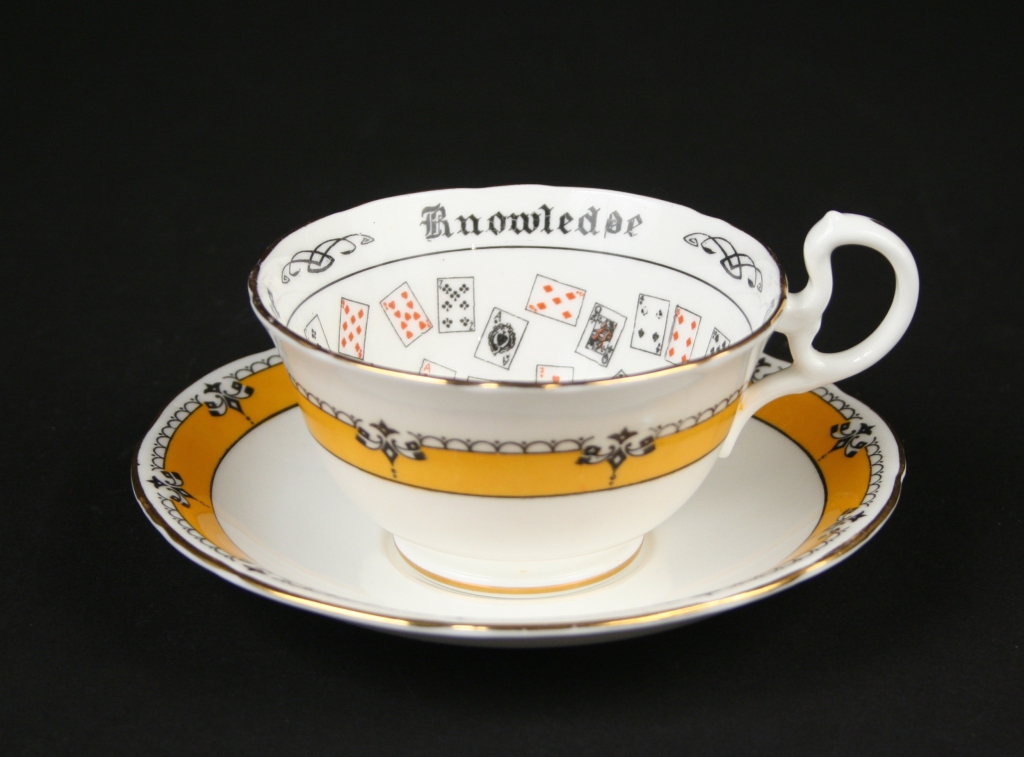 Aynsley China, Stoke-on-Trent, England (established 1775-2014)
Aynsley bone china fortune telling cup and saucer, 1935-1970
bone china, glaze and with decals
Museum Purchase, 2019.17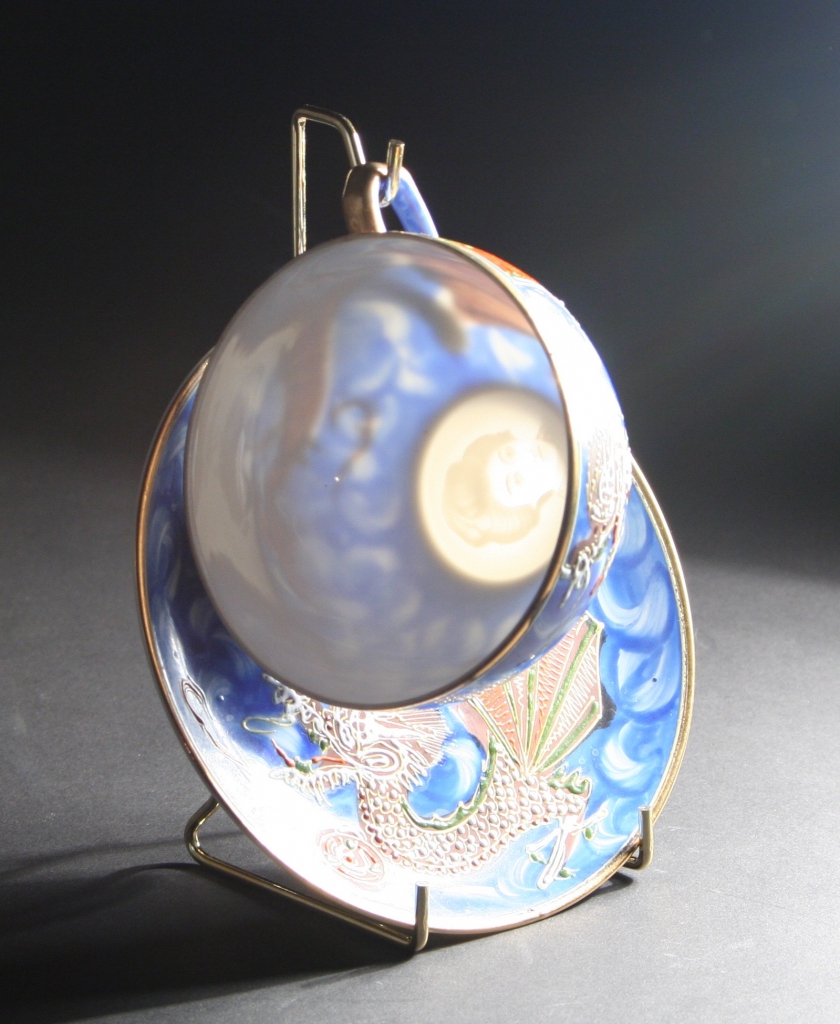 Japanese, unknown manufacturer
Japanese Satsuma geisha head lithophane cup and saucer, ca. 1960s
porcelain, hand-painted, glazed
Museum Purchase, 2018.228
There is magic and some fortune telling involved in some varieties of cups and saucers. So function does not just have to do with drinking tea and coffee. In the case of the English 20th century Aynsley China bone china fortune telling cup and saucer, it is the empty tea cup that possesses the important function for the set. Divination was made easy with several types of fortune-telling tea cups. That isn't to say that reading tea leaves, is easy. The practice has been around for centuries in numerous cultures worldwide. Some sources say that these fortune telling cups were first created in the early twentieth century. Older images of fortune telling with tea cups, show no zodiac signs, or decks of playing cards on the interiors of the cups. These new kinds of cups might be compared to a paint-by-numbers approach to fortune telling.
Other "magical" cups and saucers include the Japanese Satsuma ware cup and saucer with the lithophane of a geisha head in the bottom of the cup. Lithophanes are 3-dimensional porcelain plaques that are carved or mold made that must be back-lit to have the image magically appear before the viewer. The tea cups and sake cups with lithophanous geisha heads and reclining nudes were mostly made for U.S. service men to purchase in Japan between 1930-1970.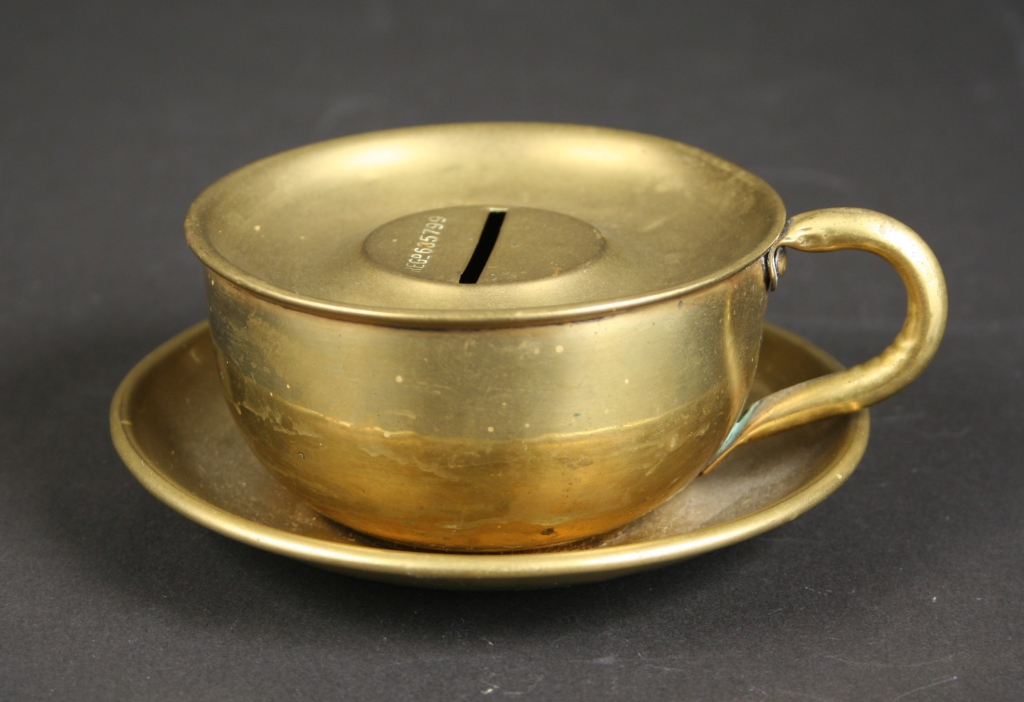 possibly Germany, 20thcentury
brass still bank in the form of a cup and saucer with coin slot in the top of
the cup, 1920s
cup unscrews from the saucer
Gift of Margaret Carney and Bill Walker, 2019.175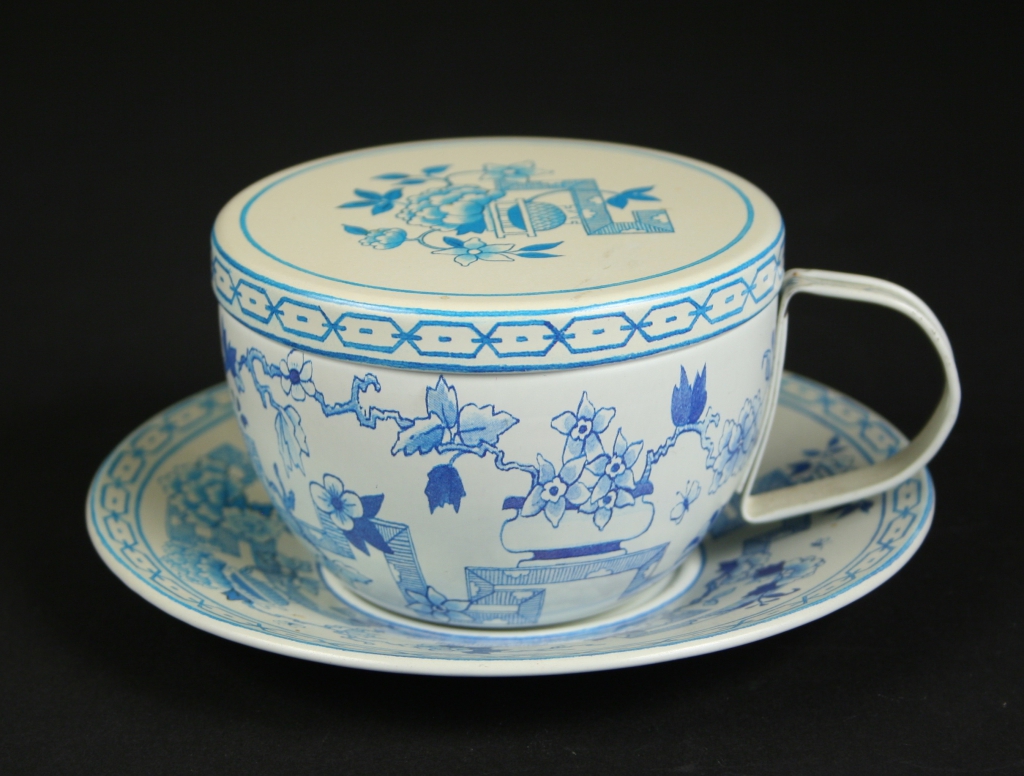 Elite Gift Boxes
Dana Kubick, designer
Blue Onion Danube Elite Gift Box, 1997
tin litho
Gift of Margaret Carney and Bill Walker, 2019.176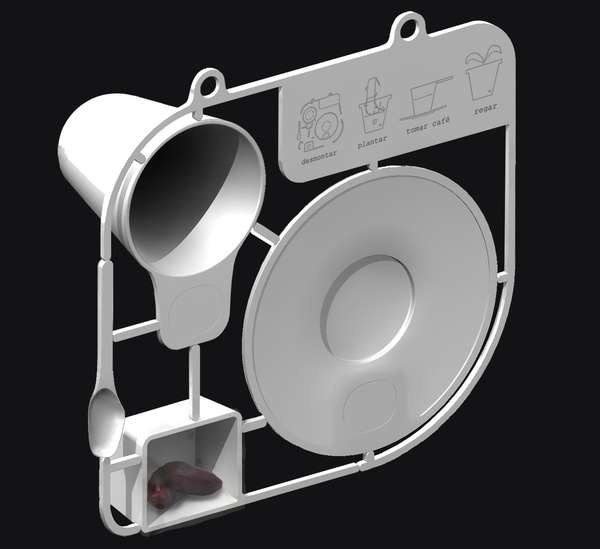 Joana Carvalho (Portuguese, b. 1990)
Kit Café (Kit for Coffee)
prototype designed, 2009-2010
fabricated by Federal-Mogul Corporation by rapid prototyping, 2013
plastic
Gift of the Artist, 2013.37
Perhaps the most unusual cups and saucers included in this special exhibition are the last to be described. The small brass still bank in the form of a cup and saucer, has a slot in the lid of the cup. The cup screws off of the base so the savings can be removed if so desired. It has been suggested that it was produced in Germany, probably in the 1920s. It shows a few signs of wear, which means the owner(s) used it. It's only limit is that a cup isn't terribly large.
A gift box from the 1990s, with a blue and white design one first identifies as Blue Willow, claims to actually be the Blue Onion Danube pattern. Like the brass still bank, it has a lid. It was intended as a gift box with a lovely tin litho design to please the recipient.
A wonderful and innovative design by Portuguese designer Joana Carvalho is the Kit Café or (Kit for Coffee) that she designed 2009-2010. The small cup, saucer and spoon pop out of the frame like plastic model airplane parts from the 1950s. Her design called for this diminutive set to be composed of biodegradable materials. After the coffee is consumed, the consumer would place the new coffee bean that comes with the kit, inside the small cup and plant it in the earth using the small spoon as a garden trowel. It would all biodegrade. At the time this prototype was created, no biodegradable materials were available, so it was produced in plastic. It is, perhaps, the only prototype that was ever created from her design. A great innovation.