Virtual Exhibition opening December 8, 2021
Holidays are all about celebrations with family and friends. Frequently these get togethers involve food and dining. The special holiday plates and serving bowls reserved for such occasions are ceremoniously retrieved from the china cupboard, washed, and lavishly filled with all the joyful foods savored at these gatherings of loved ones.
The International Museum of Dinnerware Design is getting out the special holiday dishes this year, too. We received four holiday themed donations this year. Plans were devised for a pop up exhibition titled Holiday Dining. Due to high Covid rates in Michigan, it was decided to install the exhibition just long enough to photograph it and then create a virtual exhibition at our website for everyone to enjoy.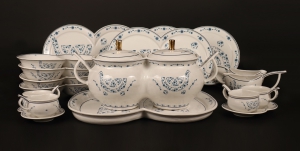 The Kroger Company has just unveiled a bespoke set of Doubly Special Dinnerware, designed by ceramicist David Kim, which is intended to double the holiday celebration in 2021 to make up for the holiday void last year during the pandemic. Individual pieces are joined together to become double-sized, including platters, dinner plates, cups and saucers, soup tureens, and even gravy boats. The Kroger Company's shopping cart logo is still featured, but within a familiar blue and white pattern design with a nod to ceramic history (think Blue Willow or Chinese blue and white porcelains). The Kroger Company has generously donated a 13-piece set of their Doubly Special Dinnerware to IMoDD.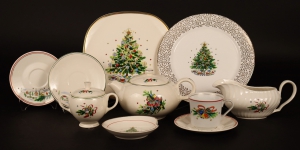 The Schreckengost family recently donated a variety of Christmas Eve patterned dinnerware designed beginning in the 1950s by Viktor Schreckengost (1906-2008). The shapes are varied and some pieces are English bone china. The Christmas Eve pattern with the decorated tree and toys, bears the "VS" initials in the lower right corner. He designed the decoration, not necessarily the shapes of the dinnerware. One piece has a 1966 date on it.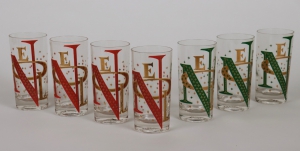 The Schreckengost family also donated a boxed set of glassware stylistically decorated with the word Noel in red, green and gold, and marked "Gay Fad." It is unknown whether Viktor or Don Schreckengost designed these tumblers, but it is unlikely. Both Viktor and Don designed holiday dinnerware with Christmas trees and Christmas motifs which were produced by Salem China and other manufacturers. Fran Taylor's Gay Fad Studios, located in Lancaster, Ohio (ca, 1939 – late1950s), purchased glass blanks from Hazel Atlas, Federal Glass, and West Virginia Specialty Glass Company, and then the decorations were hand-painted or silk-screened onto these blanks. These popular Mid-Century Modern designs in cocktail ware were produced and enjoyed by consumers everywhere.

Glidden Pottery is a unique stoneware bodied dinnerware that was produced in Alfred, New York from 1940 to 1957. Among the many hundreds of designs, is the favorite Christmas Tree motif that appeared in advertisements as early as July 1953. IMoDD recently acquired a second and a third version of the no. 35 canape plate, measuring 5.5" square as gifts of Vincent van Zwanenberg and James Sherrard. This design on these plates may seem identical to one donated to the collection in 2012 and also the large tumbler (no. 1127) donated the same year by Bill Rhodes. However, the true beauty of this Christmas motif is that each piece was individually hand-painted, so no two are identical.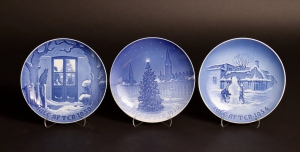 Bing & Grondahl blue and white Christmas plates from Denmark were the first Christmas plates in the world, introduced in 1895, with a new design each year. In 2016, 109 of these porcelain Christmas plates, a nearly complete set, were donated to IMoDD by the family of Kathryn Shirley O'Leary Haggard, who had collected them from every year up to 2003. People sometimes confuse Bing & Grondahl with Royal Copenhagen. The two merged in 1987, and Bing & Grondahl is now marketed under the Royal Copenhagen brand.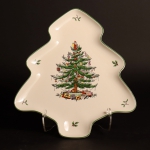 Dinnerware and the holidays also conjure up visions of cookies and milk left out for Santa Claus to enjoy as he delivers gifts to good children everywhere on Christmas eve. What better cookie platter is there than the 14-inch Christmas tree-shaped dish created by the English manufacturer, Spode. The company was established in 1770. The first Spode Christmas tree dish was created in 1938, by Spode designer Harold Holdway. This 2021 version tree is decorated with children's toys, wrapped gifts under the tree, and a Santa tree topper. The borders are decorated with visions of mistletoe and holly. It would almost be a shame to cover the design with cookies!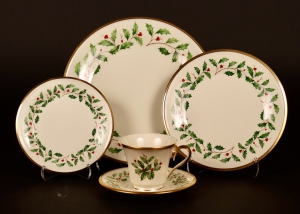 Sometimes the Christmas table is set with individual place settings with a holiday theme. Many important manufacturers create these special sets, including Spode, Mikasa, Royal Worcester, Fitz & Floyd, among others. The U.S. company, Lenox China, has created their own fine bone china dishes with borders of holly on each dinner plate, salad plate, bread and butter plate, cup and saucer. The pieces are marked "dishwasher safe" yet the beautiful platinum banding signals to the hostess to hand wash only.
No matter what holidays you celebrate, how you set the table becomes a special event involving family and friends. From all of us at the International Museum of Dinnerware Design, we wish you happy holidays and the best in 2022.
---
Tour of the Exhibition
---
Catalogue of the Exhibition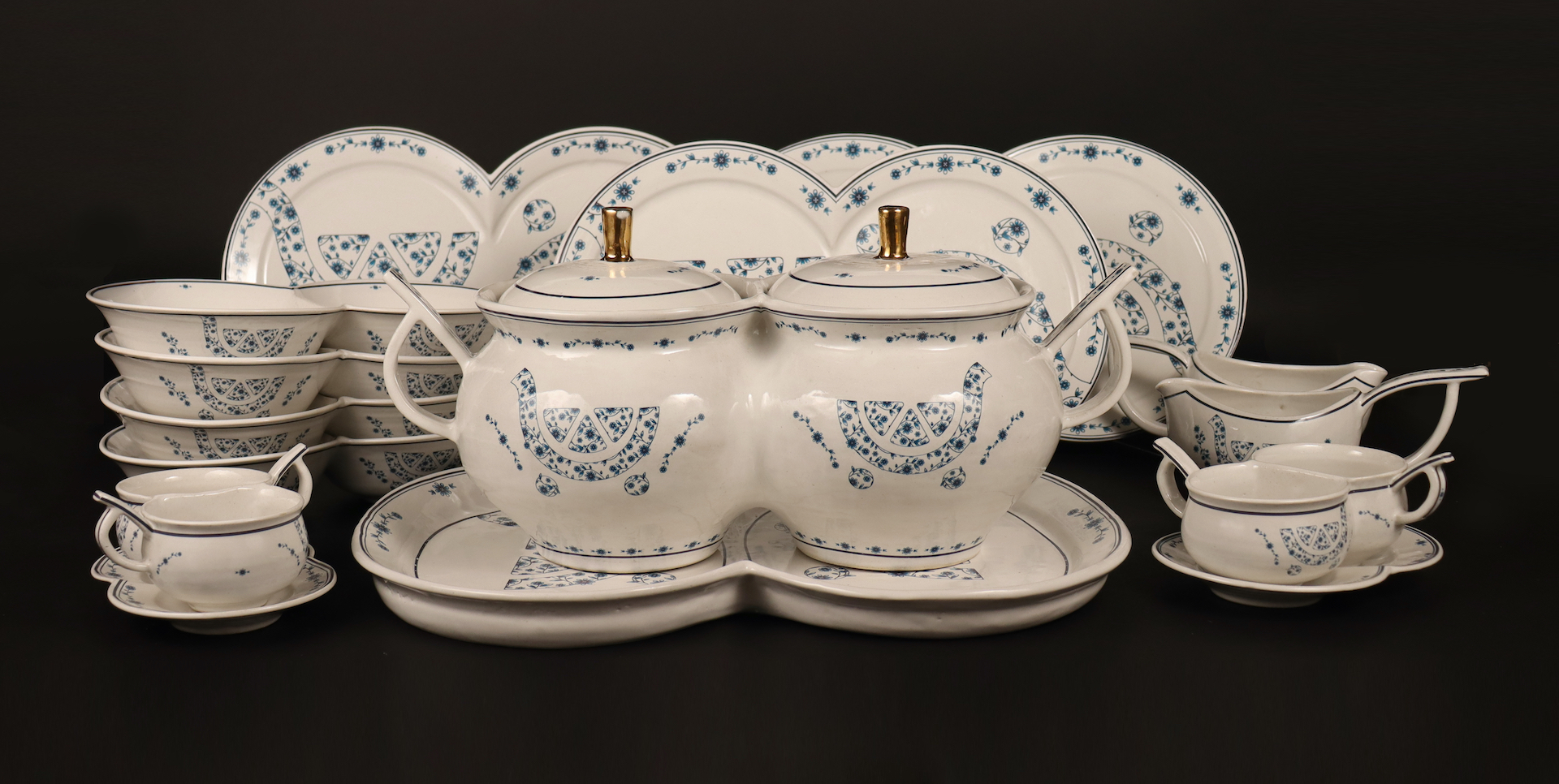 DTK Ceramics, Chicago
David Taegun Kim, designer (b. 1990)
Doubly Special Dinnerware, 2021
4 double dinner plates H: 1.25" L: 18" W: 10.75"
4 double bowls H: 2.75" L: 13.5" W: 7.5"
1 double soup tureen with lids H: 9.5" L: 20.25" W: 9"
1 double platter H: 1.625" L: 21.5" W: 15.5"
2 double cups H: 3.75" L: 7" W: 6.75"
2 double saucers H: 1" L: 8.375" W: 5.875"
1 double gravy boat H: 4.75" L: 13" W: 9.25"
ceramic, glazed, with decals
mark: chop mark "DTK"
2021.121 Gift of the Kroger Company

---
Salem China, Salem, Ohio (1898-1967)
Viktor Schreckengost, designer (American, 1906-2008)
10-piece grouping of the Christmas Eve Christmas tree pattern and other variations including stockings and greenery, toys, and village scenes, designed by Viktor Schreckengost on various Salem China shapes, various years, some signed "VS" in the bottom right including a lidded teapot, 2 large plates, a lidded sugar, a gravy boat, 3 saucers and a cup and ashtray/nut dish
lidded teapot with drum, candy cane, and stars H: 5" L: 9" W: 6.25"
round plate with Christmas tree motif and gold designed border Diam: 10.5"
squarish plate with Christmas tree motif L: 10.25" W: 10.25"
gravy boat with candles and stocking motif H: 3.75" L: 8.5" W: 3.5"
lidded sugar H: 4.5" L: 5.75" W: 3.5"
3 assorted saucers with village scenes Diam: 6"
cup/mug with Christmas bells and present motif H: 3" L: 4" Diam: 3.25"
ashtray/nut dish H: 1" L: 5.25" W: 5"
marks: teapot and squarish plate marked "Salem China Christmas Eve original by Viktor Schreckengost" with a green and red wreath on base; round plate "Salem English Bone China Christmas Eve Salem England"; gravy marked "Salem Swirl"; lidded sugar marked the same as teapot except with gold wreath; saucers unmarked; cup/mug marked with green and red wreath encircling "Salem"; ashtray/nut dish marked with Santa in gold on base "1966 Seasons greetings from Salem #15"
provenance: collection of Viktor Schreckengost
2021.100 Gift of the Schreckengost family

---
Gay Fad Studios, Lancaster, Ohio (ca. 1939-early 1960s)
7-piece Noel glass tumbler set with stenciled designs green, red and gold with stylized "Noel" on each piece, 1950s
glass
glass H: 5.5" Diam: 2.75"
mark: signed "Gay Fad" on exterior with decoration
provenance: collection of Viktor Schreckengost
2021.102 Gift of the Schreckengost family

---
Glidden Pottery, Alfred, New York, manufacturer (1940-1957)
Glidden Parker, designer (1930-1980)
Glidden Pottery Christmas Tree design tumbler, and 3 canape plates, ca. 1953
production no. 127 and no. 35
stoneware, hand-painted, glazed
tumbler H: 5.625" Diam: 3.5"
canape plates 5.5" square
2012.21 Gift of Bill Rhodes, 2012.37 Gift of Margaret Carney and Bill Walker,
2021.124 Gift of Vincent van Zwanenberg and James Sherrard

---
Bing & Grondahl, Copenhagen, Denmark
selection of 3 of 109 Christmas plates, 1895-2003
porcelain, with underglaze cobalt designs
average Diam: 7" to 7.25"
2016.7 Gift of the Estate of Kathryn Shirley O'Leary Haggard

---
Spode, Stoke-on-Trent, England (established 1770)
Harold Holdway, designer of first Spode Christmas Tree plate in 1938
14" Spode Christmas Tree shaped porcelain dish, ca. 2021
porcelain, glazed, with decals
H: 1" L: 14" W: 12.5"
mark: "Spode Christmas Tree Dishwasher Safe Microwave Safe c. 1938 + S3324-A13 www.spode.com"
2021.122 Museum Purchase

---
Lenox China, headquarters Bristol, Pennsylvania (established 1889)
5-piece place setting Holiday pattern Dimension dinnerware first introduced in 1974, with holly and berries motif with gold trim, ca. pre-2020
porcelain, glazed, with decals
dinner plate Diam: 10.5"
salad plate Diam: 8"
bread & butter plate Diam: 6.5"
cup H: 3" L: 4.5" Diam: 3.5"
saucer Diam: 6"
mark: "Dimension Collection Lenox Holiday Made in U.S.A."
2021.123 Museum Purchase
---