---
Wedding China in the IMoDD Permanent Collection
---
Wedding China is often defined as dishes and dinnerware that a couple receives as wedding gifts. Perhaps the couple has registered a specific china pattern at a department store, jewelry store, or big box store. Sometimes the "wedding china" is purchased years after the actual wedding event, but is always referred to as their wedding china. Usually it's not for use every day, but reserved for special occasions or fancy events.

The International Museum of Dinnerware Design is presenting Wedding China as a virtual exhibition based on wedding china that has been donated to the IMoDD permanent collection, and wedding china submitted by the museum's friends and supporters. We asked people to submit photographs of their wedding china, along with photos and stories from their weddings, and they are also part of the exhibition.
---
Haviland Limoges Silver Anniversary
Haviland Limoges Silver Anniversary pattern (1894-1931) porcelain wedding china. The two combined sets of 204 pieces now owned by IMoDD were from the wedding of Edward and Stella Clark Heath, who were married in Toledo in 1900, and the wedding of Percival and Alice Highum, who were married in St. Ansgar, Iowa in 1930.
Haviland Limoges (established 1853)
Silver Anniversary pattern dinnerware service, 1894 – 1931
porcelain, glazed with gold trim and scalloped edges
IMoDD 2014.54 101-pieces donated by Margaret Nance, granddaughter of Edward and Stella Clark Heath
IMoDD 2016.09 103-piece set donated by Eric and Robin Highum in honor of his parents and grandparents
---
Ceramano Epsilon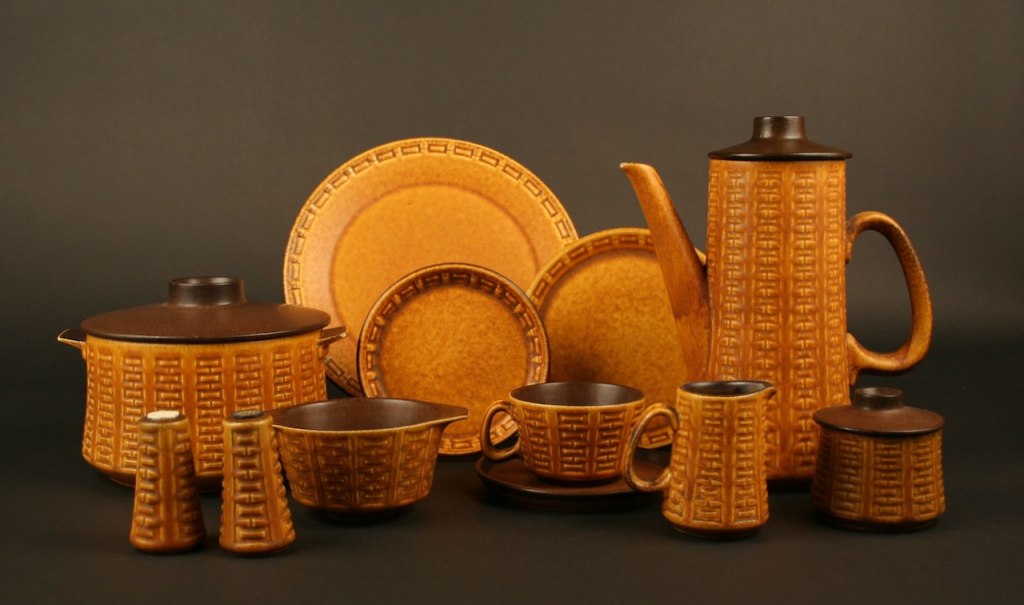 Ceramano (West Germany, 1959-1984)
Karl Leutner, designer
54-piece dinnerware set, Epsilon pattern in Harvest Gold, 1968
stoneware, glazed
IMoDD 2015.121 Gift of Sandra Xenakis
My maiden name was Sandra Addy and his is Richard Bunnell. The wedding was October 5, 1968 at First Congregational Church in Detroit. I made the wedding dress, and the mantilla is from Spain. I studied in Barcelona in my last year of college. The Ceramano set was purchased at Hudson's in Detroit.
Sandra Xenakis
---
Mancioli Pottery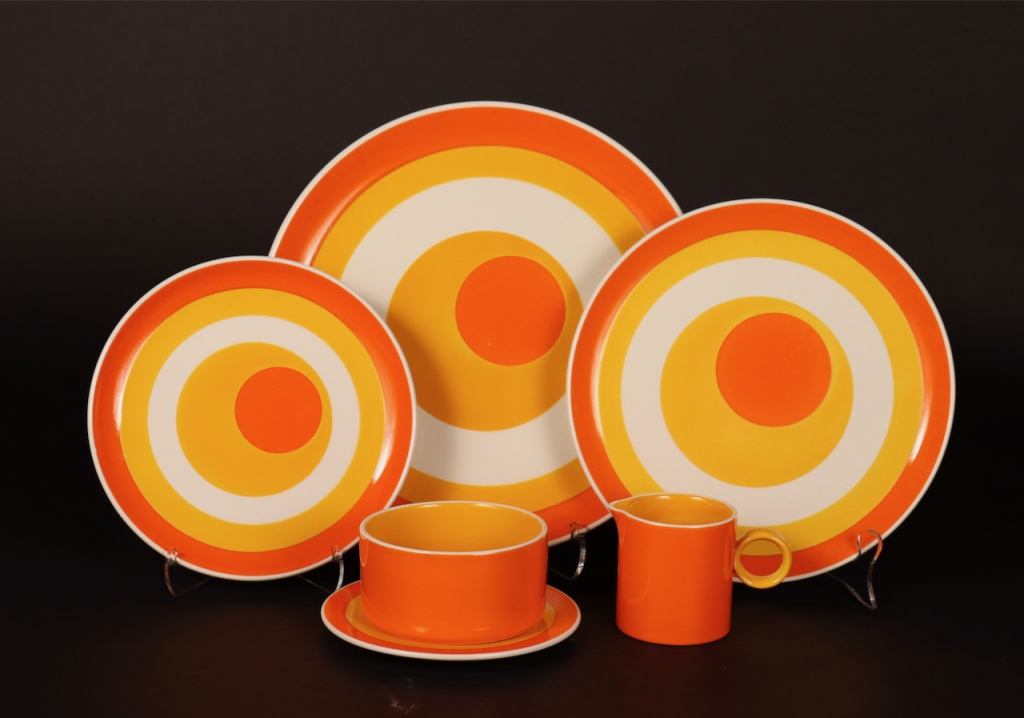 Mancioli Pottery, Montelupo Fiorentino, Italy (established 1946)
6-piece set of colorful orange, yellowish-orange and off-white earthenware Mid-Century Modern Italian dishes with concentric ring design, designed 1950-59, manufactured, 1960-69
earthenware, glazed and decorated
IMoDD 2021.29 Gift of Fran Morris Rosman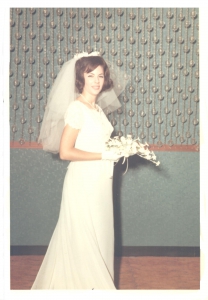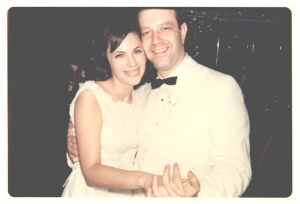 Ellen and Robert Bimston were married in August 21, 1966 in Queens, New York. Their wedding china was purchased at Bloomingdale's, in New York City.
"Years back, Cousin Ellen was visiting us and noticed our bright yellow-and-orange kitchen (my favorite colors). She grabbed me in a hug and promised me all of her wedding china. And she packed it all up and shipped it to us. We love using it on holidays and special occasions, it makes everything look so festive!"
Fran Morris Rosman, April 2021
The groom was Fran's mother-in-law's first cousin
---
Hutschenreuther Bianca Tavola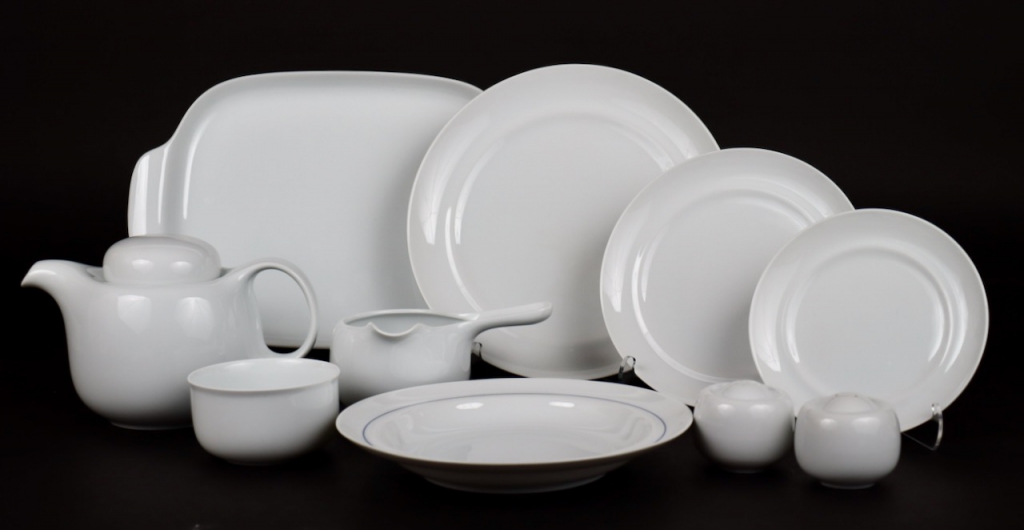 Hutschenreuther, Germany (established 1814)
Hutschenreuther white porcelain Bianca wedding china place setting from their Tavola line including lidded teapot, platter, plates, cream, sugar, bowl, and salt and pepper, 1980
IMoDD 2022.41 Gift of Fran Morris-Rosman and Richard Rosman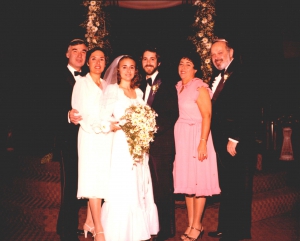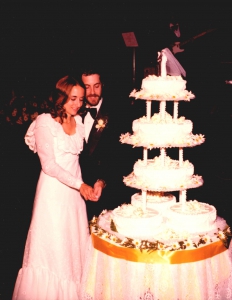 Fran Morris-Rosman and Richard Rosman were married on November 22, 1980 at Stephen S. Wise Temple in Bel Air, California.
"I picked out 'my' china in the summer of 1980. I grabbed my cousin, Geri Morris, and we schlepped to the Century City Shopping Mall and searched for plain white modern china. Score! Thankfully, Rich liked it too."
Fran Morris-Rosman, April 18, 2022
---
Monogrammed Ranchero, Cavitt Shaw Pottery, a Division of W.S. George Pottery Company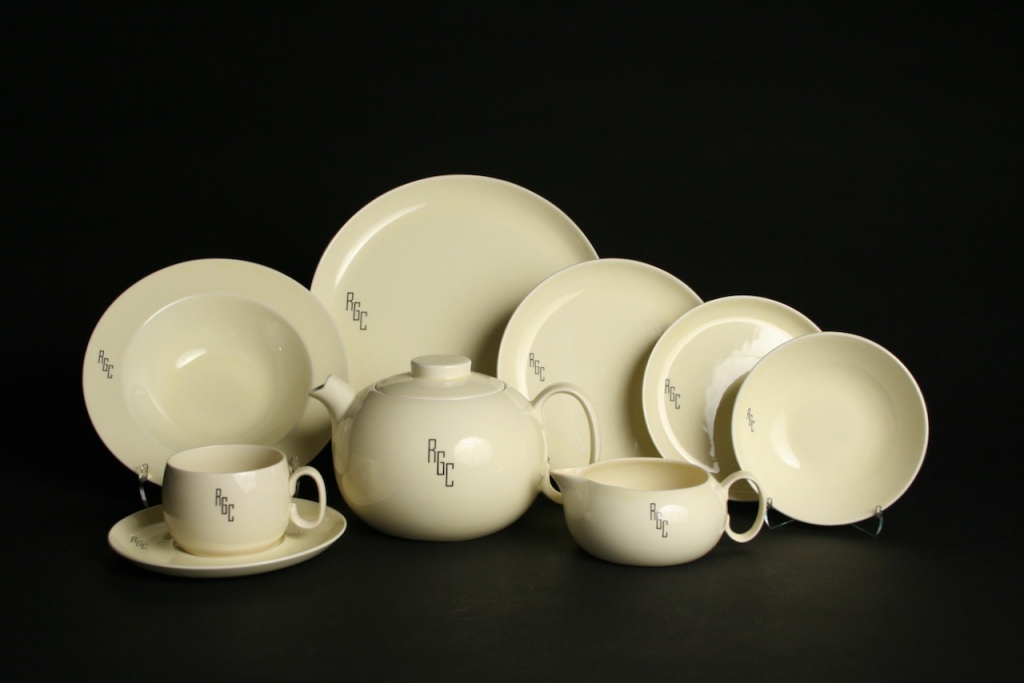 Cavitt-Shaw Pottery, a Division of W.S. George Pottery Company, Ohio and Pennsylvania, between 1904 and 1960
Simon Slobodkin, designer
7-piece Ranchero dinnerware set monogrammed "RGC", 1939
earthenware, glazed
IMoDD 2017.122 Gift of Dr. and Mrs. Robert G. Carney, Jr.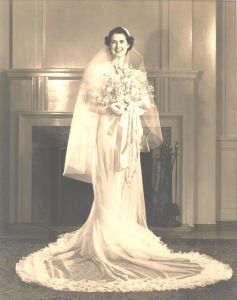 This set was the wedding china of Dr. Robert G. Carney and Dorothy Briscoe Carney who were married at the Michigan League in Ann Arbor, Michigan, June 18, 1939. They are the parents of IMoDD founder Margaret Carney.
---
Quimper faience, France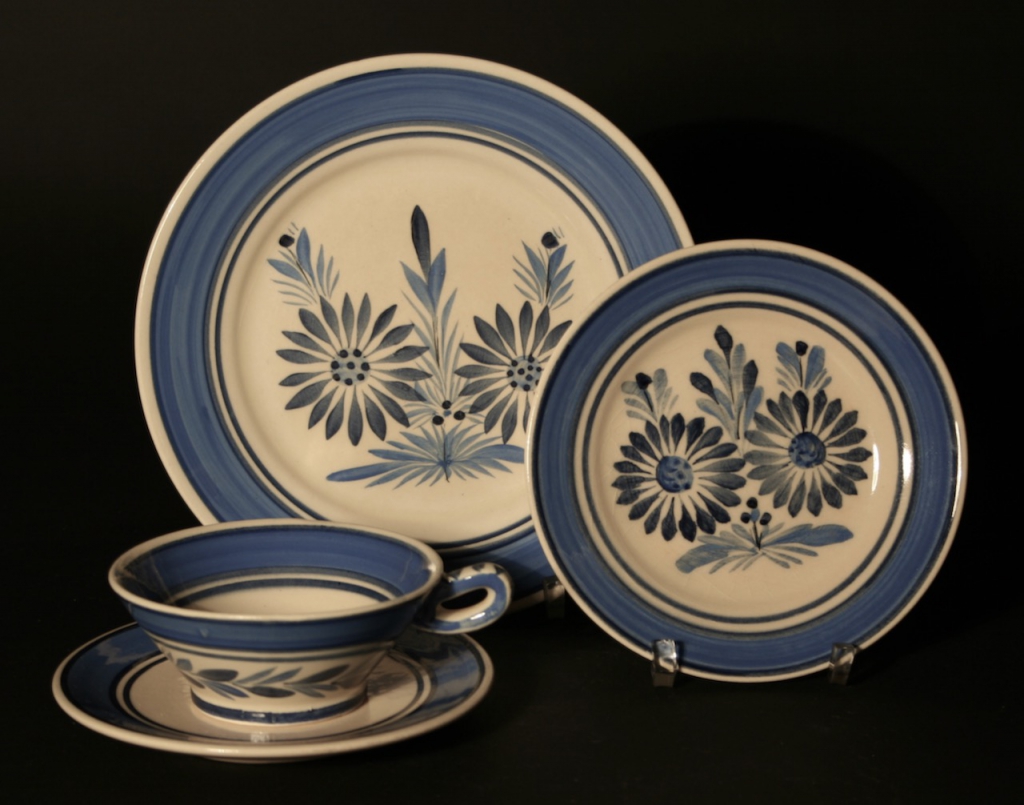 Quimper faience, Quimper, Brittany, France (established 1708)
18-piece set of Quimper faience with a blue floral decoration, 1939
earthenware, tin-glazed
IMoDD 2015.177 Gift of Margaret Carney and Bill Walker
Wedding china gifted to Robert Carney and Dorothy Briscoe Carney by Bob's sister Frances. Hand-carried from Paris, France to Ann Arbor in 1939.
---
Pickard Garland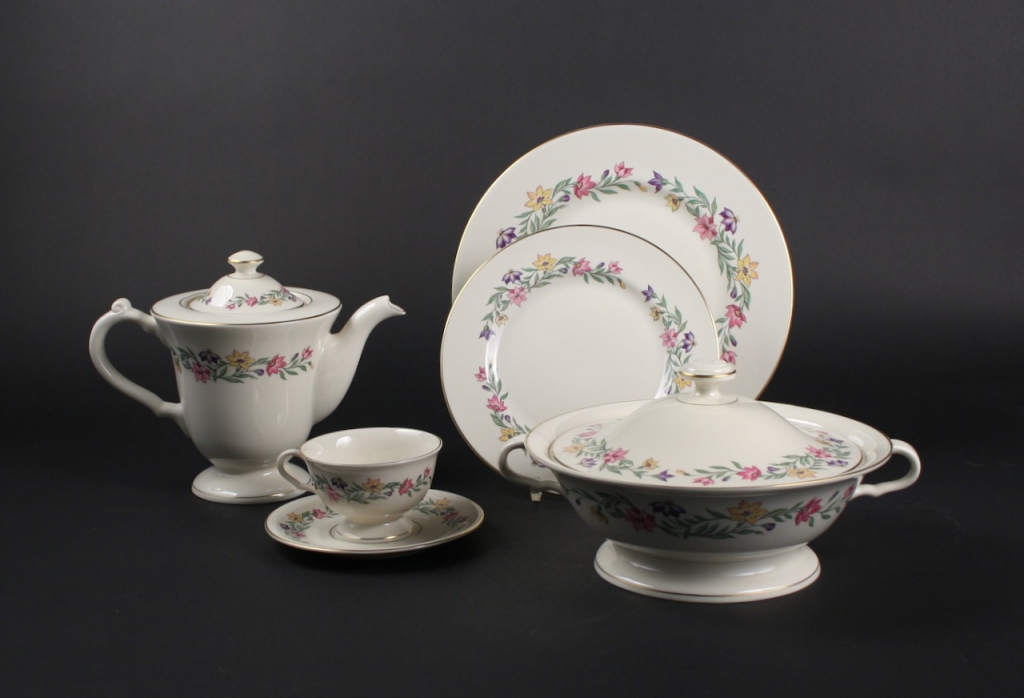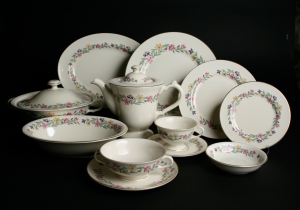 Pickard China Co., Antioch, IL (1893-)
53-piece Garland pattern dinnerware set, 1948
porcelain, glazed and decorated
IMoDD 2015.23 Given in loving memory of Barbara Bostwick Hallock and James W. Hallock by their children, Susan Hallock Pollack, Charles W. Hallock, and Nancy L. Hallock
This beautiful set of 1948 wedding china belonged to Barbara Bostwick Hallock and James W. Hallock.
---
Syracuse China Silhouette Wedding Ring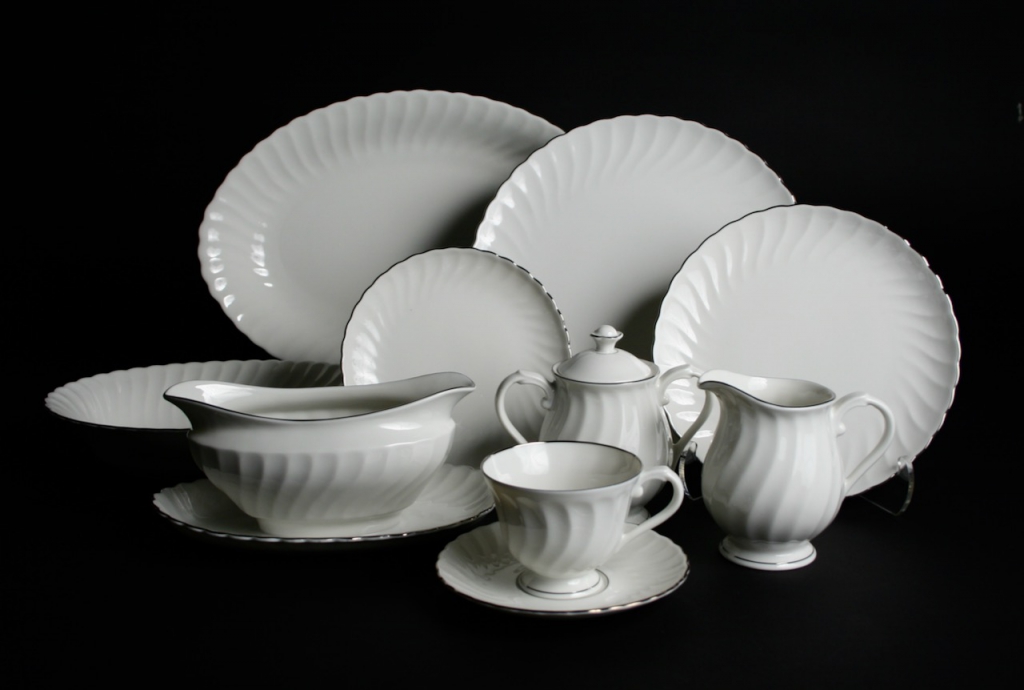 Syracuse China, Syracuse, New York
67-piece Silhouette shape Wedding Ring design dinnerware service with platinum trim, manufactured 1961-1970
porcelain
IMoDD 2016.10 Gift of Eric and Robin Highum in honor of Edward and Audrey Highum (parents), Kasson, MN, and Percival and Alice Highum (grandparents), Mantorville, MN
Edward and Audrey Highum married in 1959 and this was their wedding china, purchased a couple of years later.
---
Steubenville Pottery American Modern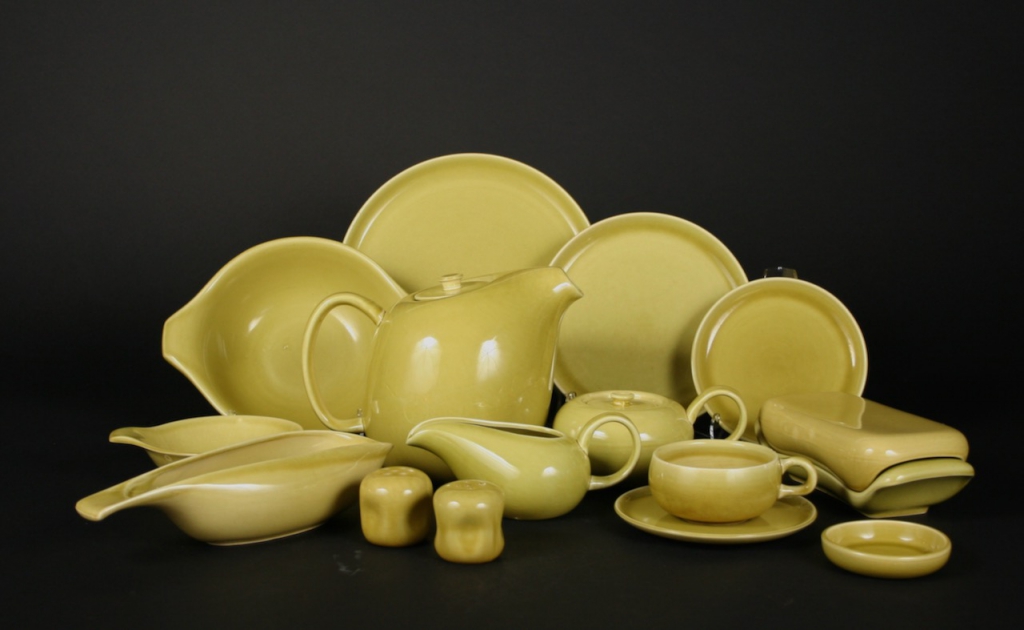 Steubenville Pottery Company, Steubenville, Ohio, manufacturer (1879-1959)
Russel Wright, designer (American, 1904-1976)
50-piece American Modern chartreuse dinnerware, 1950
earthenware, glazed
IMoDD 2013.40 Gift of Doris and James McEwen
This Russel Wright-designed chartreuse dinnerware was the wedding china from the wedding of Doris and James McEwan in 1950.
---
Haviland China created for Magnus and Henrietta Butzel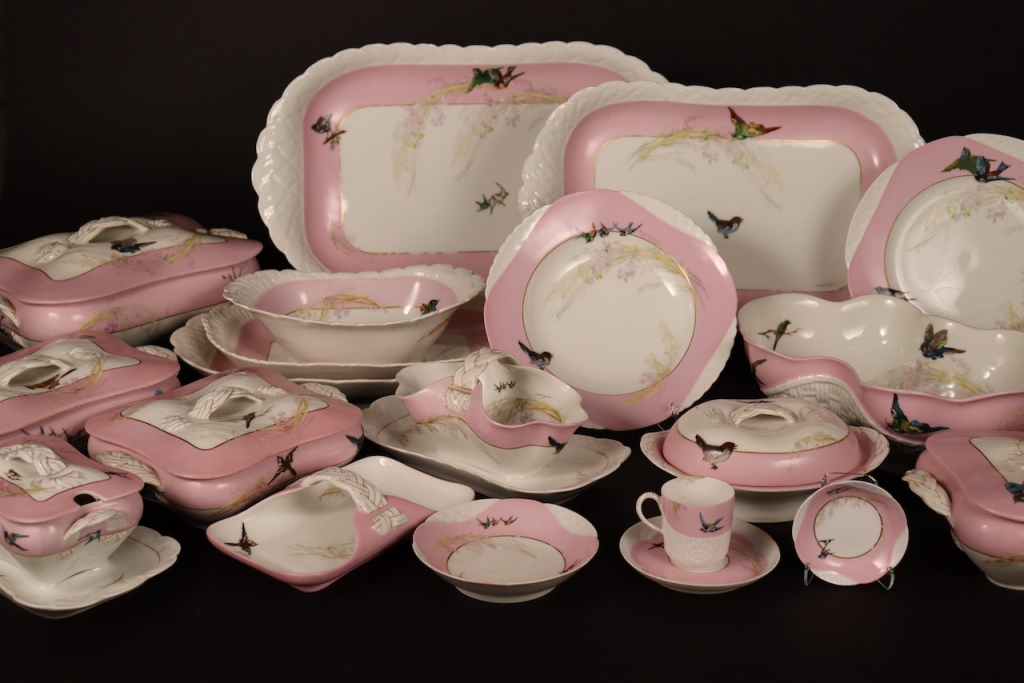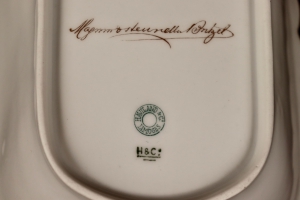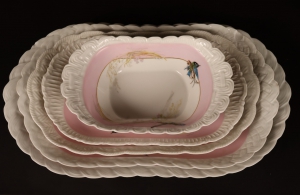 Haviland & Co., Limoges, France (established 1842)
77-piece Haviland China porcelain dinnerware service commissioned circa 1879 by Henrietta and Magnus Butzel who were married in 1869, with bird and floral motifs
porcelain, hand-painted and decals, glazed
mark: green circle backstamp "Haviland & Co., Limoges" and "H & Co." underlined
note: nearly all pieces are marked in gold script "Magnus and Henrietta Butzel"
IMoDD 2021.53 Gift of Richard Simon, Judith Simon Cooper, and Mary Simon Loesberg