Upcoming Exhibitions: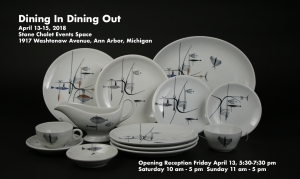 There are fifteen reasons to mark your calendar to visit the International Museum of Dinnerware Design's special 3-day-only exhibition, Dining In Dining Out. It is a true celebration of dining experiences guaranteed to make the viewer smile. Fifteen dining vignettes will be presented free to the public April 13-15, in the beautiful Mid-Century Modern events space, part of the Stone Chalet at 1917 Washtenaw Avenue in Ann Arbor. The free public reception is Friday evening 5:30-7:30 p.m. Light refreshments will be served. Each minimalist vignette will remind the viewer of a memorable dining experience.
---

Butter
Third Biennial National Juried Exhibition
presented by the International Museum of Dinnerware Design
An exhibition to showcase the best in contemporary butter accessories for the table created by artists in all media, for the casual to fancy diner.
Exhibition dates: April 6 – August 25, 2019
Opening reception Saturday April 6, 2019, 1-4 p.m.
Location: Museum on Main Street
part of the Washtenaw County Historical Society
500 N. Main St., Ann Arbor, MI 48104
---
Recent Exhibition:

Timeless Dinnerware Design
at SOFA Chicago 2017, Navy Pier, November 2-5 2017
LINK to Online Catalogue
---