CALL FOR ENTRIES
2ND ANNUAL DINNERWARE MUSEUM JURIED COMPETITION, part of the special exhibition
Cake
Exhibition dates: April 9 - September 4, 2016
Opening reception Saturday April 9, 2016, 1-4 p.m.
Location: Museum on Main Street
part of the Washtenaw County Historical Society
500 N. Main St., Ann Arbor, MI 48104
Entry Deadline: February 1, 2016
Entry Fee: $35 for 3 images payable by check, money order or PayPal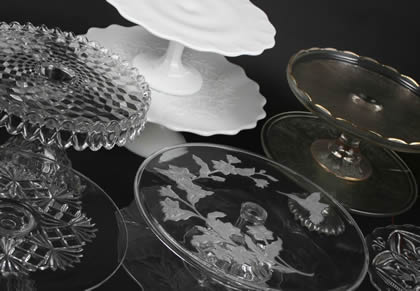 The intention of this juried exhibition is to showcase the best in contemporary dinnerware as it relates to the theme Cake, either functional pedestal cake stands or a sculptural work of cake that could be displayed on a cake stand, as created by artists in all media from the United States and Canada. The Dinnerware Museum is the only museum in the world devoted to the subject of dinnerware, international in scope, no material limitations, including functional ware, ancient to futuristic, and fine art referencing dinnerware.
Eligibility and Rules
No media restrictions. Open to all artists in the U.S. and Canada. Each entry must demonstrate the artist's personal interpretation of the theme "cake" whether that be in the form of a pedestal cake stand or sculpture. Work should be no larger than a traditional 10" cake or the cake stand upon which it would be displayed. Entries will be juried on creativity and artistic merit. If an entry is a cake stand, one image would preferably include a cake displayed on the stand. No wall pieces will be accepted. All work must have been completed in the last two years. Work submitted may not include perishable materials. Please include the dimensions of the work, as well as materials, along with a brief biography and artist's statement about this particular work. The work does not need to be for sale. However, the Dinnerware Museum will retain a 35% commission on any work sold during exhibition.
Juror
Heather Anne Leavitt
Juror's statement
Heather Anne Leavitt has been using cake as her medium since 2005. Her first cakes were conceptual pieces displayed as part of an interactive performance that she put on while attending the University of Michigan School of Art and Design. After graduating she opened Sweet Heather Anne, a bakery in Ann Arbor, Michigan specializing in creatively designed cakes.
Application Deadline & Fees
Application forms can be submitted via mail or scanned into an email. Get Entry Form. High resolution digital images can be submitted by email or by mailing a CD. Information about each image should be included on the entry form. Also include an artist's statement and brief biography. Email to director@dinnerwaremuseum.org. Artists will be notified of acceptance of work by February 15, 2016. Accepted work must be received no later than March 1, 2016.
Entry fee: $35 for 3 images, payable by check, money order or PayPal.
Prizes
Prizes supported in part by "JIFFY" Mixes of Chelsea Milling Co.
Liability & Insurance
Artists must maintain their own insurance. Artists are responsible for insurance on in-bound and out-bound shipping as well as while on the exhibition site. Every reasonable precaution will be taken during the receiving, installation, exhibition, and return of work. The Dinnerware Museum will assume no responsibility for any loss or damage.
Receipt and return of art work
Artwork must be shipped (at the artist's expense) via UPS, FedEX or USPS in a sturdy reusable container. No COD shipments will be accepted. All accepted work shipped and hand delivered must be received no later than the March 1, 2016 deadline. Hand delivered work must be delivered to Ann Arbor by prior appointment during office hours Monday-Friday 10 a.m. – 5 p.m. Accepted artists shipping their work must include prepaid charges for return shipping (USPS Return Postage or prepaid UPS or FedEx shipping label).
Online catalogue
An online catalogue will be created from images and label copy submitted by the artist and will be available at the Dinnerware Museum's website at www.dinnerwaremuseum.org
Rules
1. All work must remain for the duration of the exhibition April 9 – September 4, 2016.
2. The museum reserves the right to photograph works for publicity and other purposes.
3. Payment of the entry fee signifies the artist's understanding and acceptance of the rules and conditions of the competition.
4. All entrants must include their name, address, city, state, zipcode, country, phone, email, title of work, date of work, materials and techniques, dimensions, price.
Calendar
February 1, 2016 - Deadline for entries
February 15, 2016 - Notification of accepted work
March 1, 2016 - Deadline for receipt of accepted work
April 9 – September 4, 2016 - Exhibition dates
April 9 - Opening reception, 1-4 pm
September 15, 2016 - Return of all work will begin
Contact
Dr. Margaret Carney, Director
The Dinnerware Museum
520 N. Main Street Ann Arbor, MI 48104
607-382-1415 cell
director@dinnerwaremuseum.org
www.dinnerwaremuseum.org